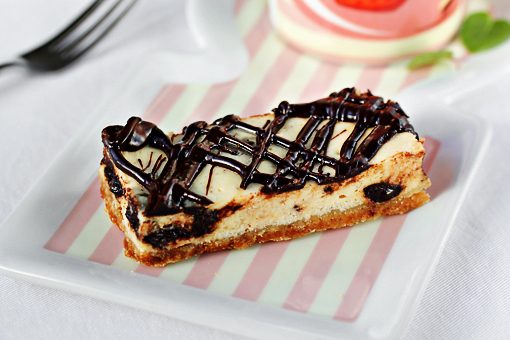 Are you one of those people who, like me, had thought that cheesecake and chocolate are not possible together?
Well, then I have something to tell you.
Something very important.
Something enlightening!
Dear friends, cheesecake and chocolate ARE possible to exist together.
SO possible.
Beyond possible!
Finger-licking possible!
Let me show you…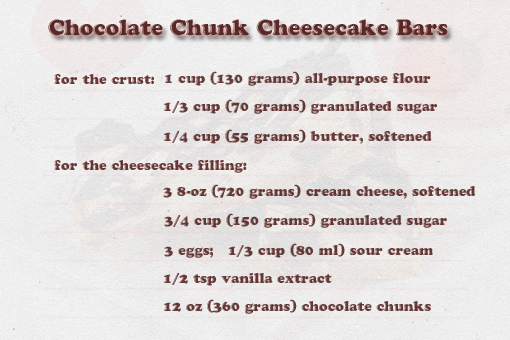 These are our lovely ingredients.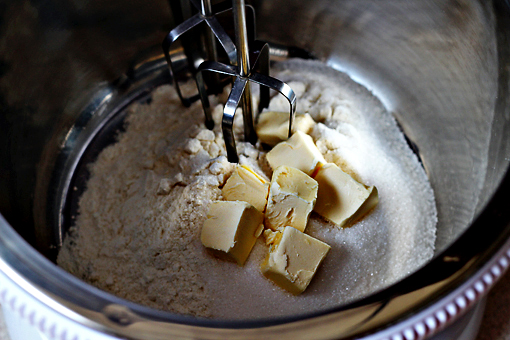 1. First, place the first three ingredients in the bowl of your electric mixer…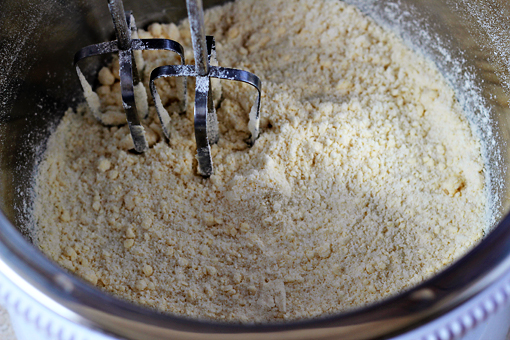 2. …and beat them at medium-low speed until combined.
Then increase the speed to medium, and beat until well blended and crumbly.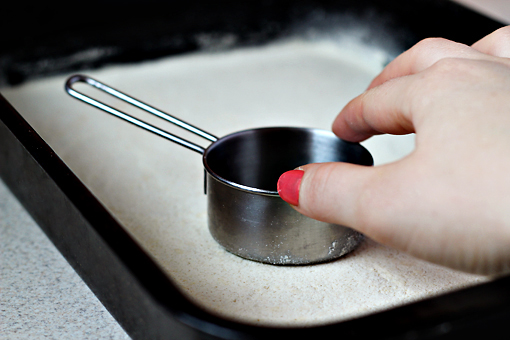 3. Pat the mixture into a lightly greased 13 x 9-inch (33 x 22 cm) pan.
A good trick is to use the bottom part of a measuring cup or a glass to do that.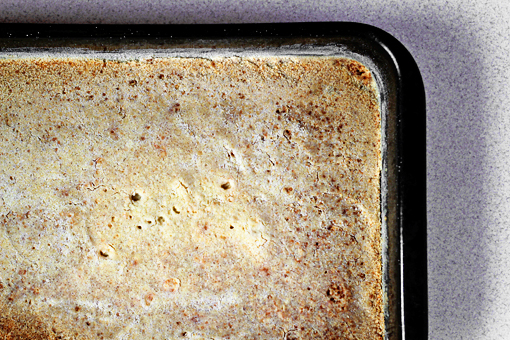 4. Preheat your oven to 350 °F (175 °C) and bake for 13-15 minutes or until lightly browned.
This is a lovely, delicious and easy substitute for crushed wafers that are often used in cheesecake recipes.
Cool, huh?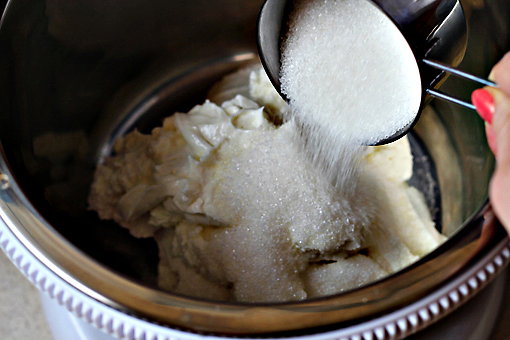 5. Now, let's make the cheesecake filling.
Place the cream cheese and sugar in the bowl of your electric mixer and beat at medium speed until creamy.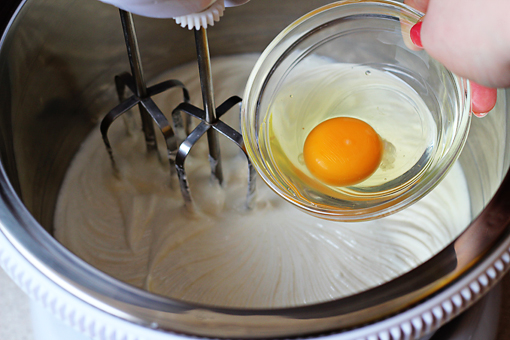 6. Add the eggs, one at a time, beating at low speed just until blended after each addition.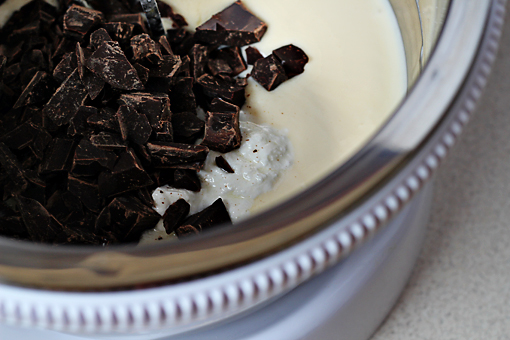 7. Finally, add the sour cream, vanilla, and one cup of the chocolate chunks.
Beat just until blended.
Of course, you can use chocolate chips instead of the chunks.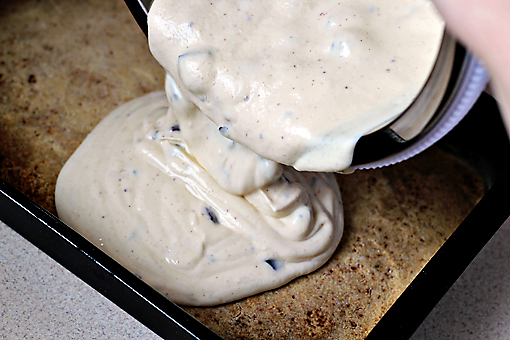 8. Pour the cheesecake mixture over the baked crust.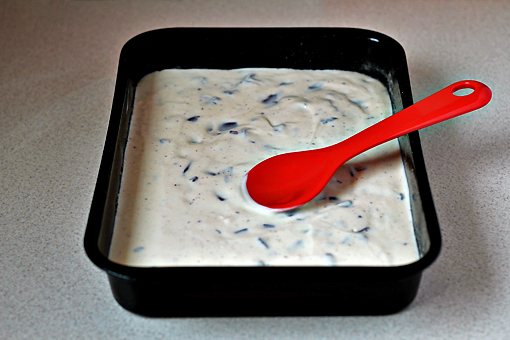 9. And using a spoon or an offset spatula, even out the surface.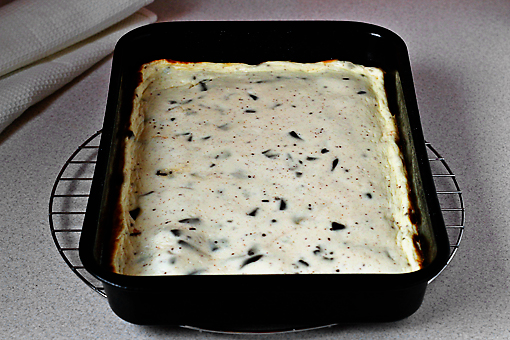 10. Bake at 350 °F (175 °C) for about 25 minutes or until set.
11. Remove from the oven and let cool completely on a wire rack.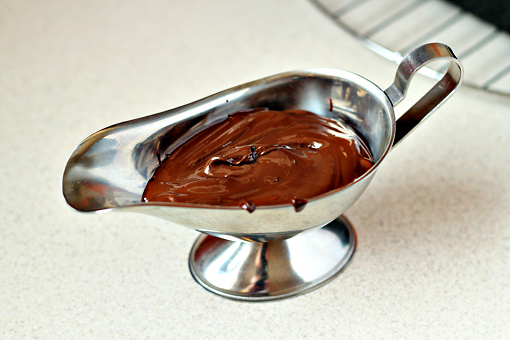 12. Then melt the rest of your chocolate chunks.
Microwave oven will work just fine.
(Oh, and use microwave friendly dishes, please. The one in the picture hadn't gone to the microwave oven. If it had, things would have gotten sparkly… I guess. Don't ask me how I know. Please.)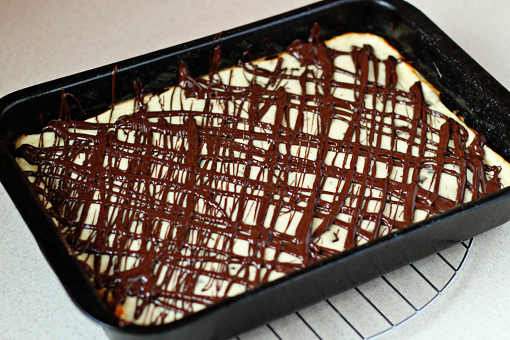 13. Stir the melted chocolate until smooth. Then drizzle the chocolate over the cheesecake.
14. Cover and chill for at least 4 hours. Then cut into bars.
Also, I've found out that it's fine to reheat the bars in the microwave oven for a little while before serving. That way the chocolate will melt slightly making the whole eating experience even more divine.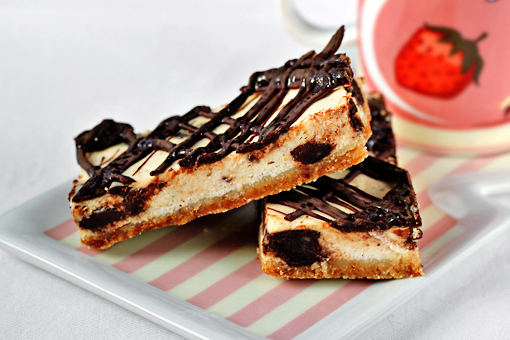 Enjoy, dear friends.
(This lovely recipe was adapted from here. The recipe makes about 14 3×1.5-inch (8 x 4 cm) bars. The recipe takes about 1 hour to prepare and about 4 hours to chill. And the whole thing takes about 10 minutes to eat. Funny but true.)