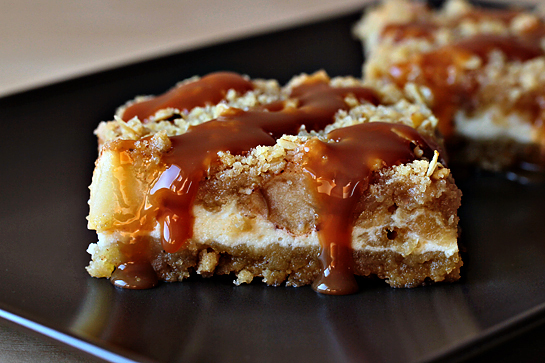 Recently I was searching for a dessert which would be saying 'Good-Bye!' to summer, while – at the same time – it would be welcoming the upcoming fall season.
I was searching and now I am searching no more because I've found all that I was looking for in this delicious treat.
In case you wondered, I will describe all the lovely levels of this dessert for you: it all starts with a lovely cookie-like layer on the bottom, then it continues with a creamy and delicious cream cheese filling with chunks of delicious cinnamony apple scattered here and there, then there's a crumbly and crunchy topping, and finally – a good portion of luscious caramel on top.
Sounds quite good, right?
And this is how it all comes together…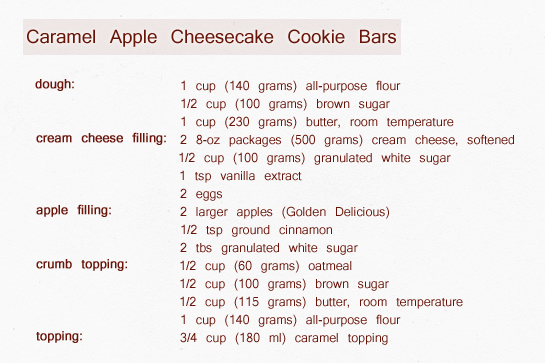 It all begins with all these ingredients.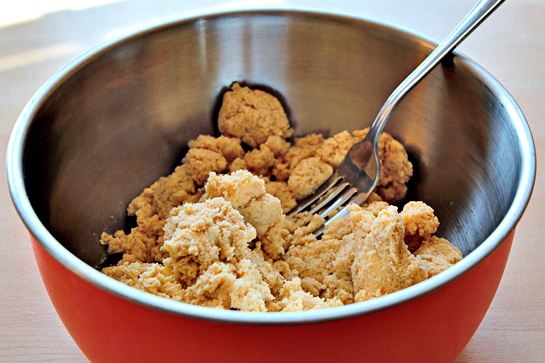 And then…
1. Preheat the oven to 350 °F (175 °C).
2. In a bowl, combine the flour (1 cup – 140 grams) and brown sugar (1/2 cup – 100 grams). Cut in the butter (1 cup – 230 grams) with a pastry blender (or a fork) until the mixture is crumbly, kinda.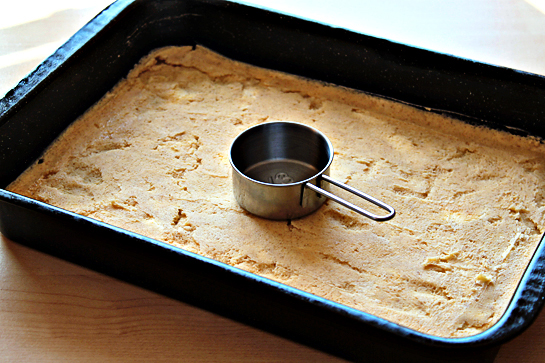 3. First with your fingertips, then with the bottom of a cup (or a glass), press the dough evenly into a 13 × 9-inch (33 x 22 cm) baking pan or a cookie sheet with edges. Bake 15 minutes or until lightly browned.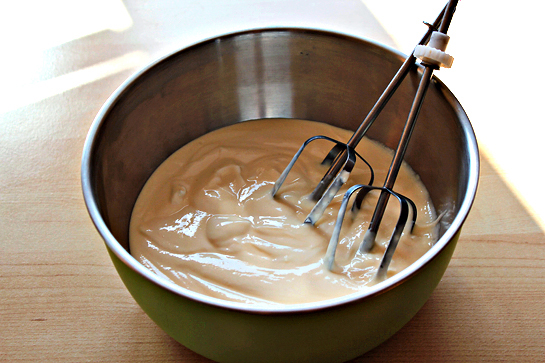 4. In the meantime, in a larger bowl, beat the cream cheese with 1/2 cup sugar until smooth (about 1 minute). Add the eggs, 1 at a time (beat about 20 seconds after each addition). Next add the vanilla and mix until combined.
Make sure not to over-beat the cheesecake batter as this will lead to excess air being incorporated in and may cause cracking later on.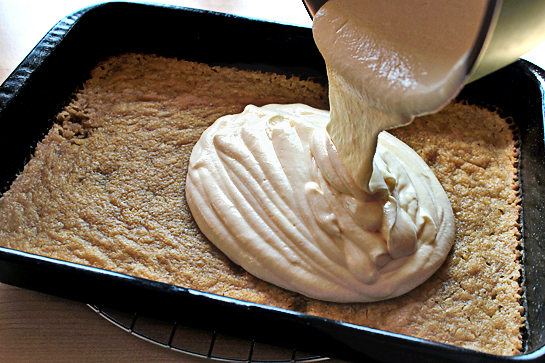 5. Pour the cream cheese batter over the warm crust.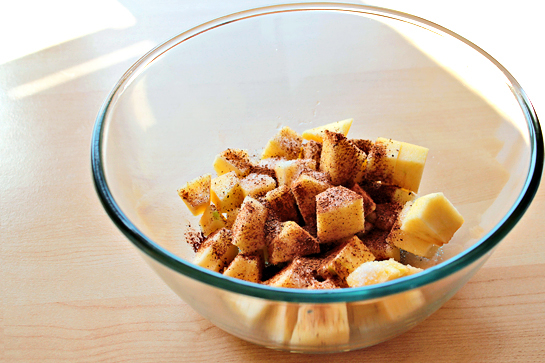 6. Peel the apples and chop them into 3/4-inch (2 cm) chunks.
Mix the apple chunks with the cinnamon and two tablespoons white sugar.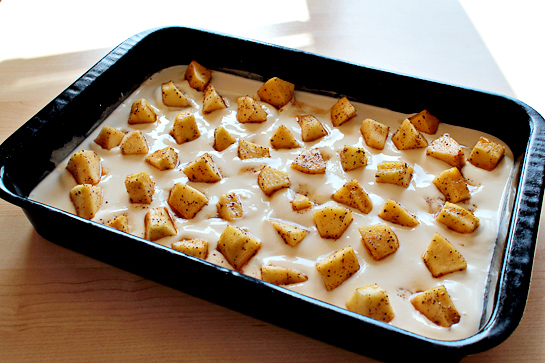 7. Spoon the apple chunks evenly over the cream cheese mixture.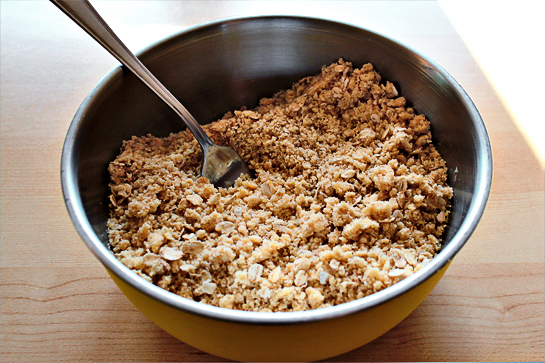 8. In a smaller bowl, combine the flour (1 cup – 140 grams), oats (1/2 cup – 60 grams), and brown sugar (1/2 cup – 100 grams) for crumb topping. Cube the butter (1/2 cup – 115 grams) and using a pastry blender (or a fork), create a crumbly mixture.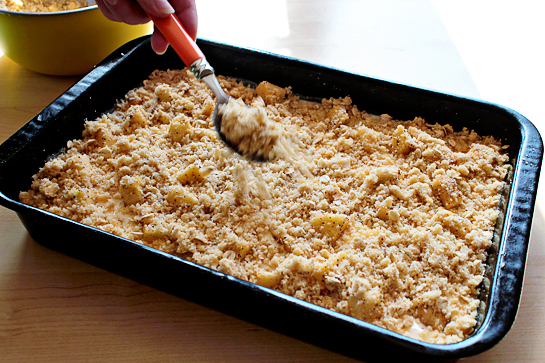 9. Crumble over the cream cheese mixture.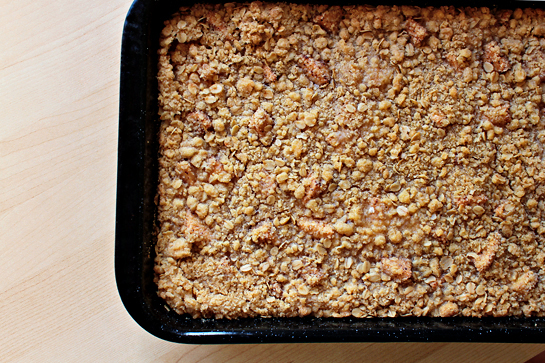 10. Bake 30 minutes, or until the filling is set. Reduce the temperature to 300 °F (150 °C) for the last 5 minutes.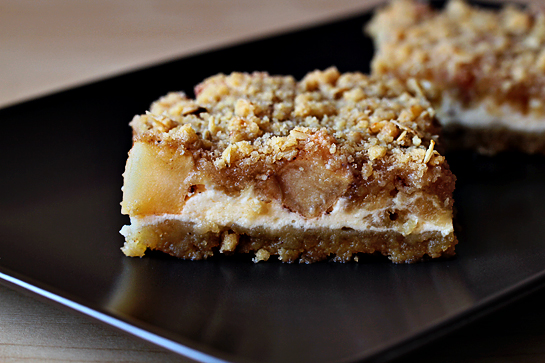 11. Cut into bars (3 x 3 inches/7 x 7 cm).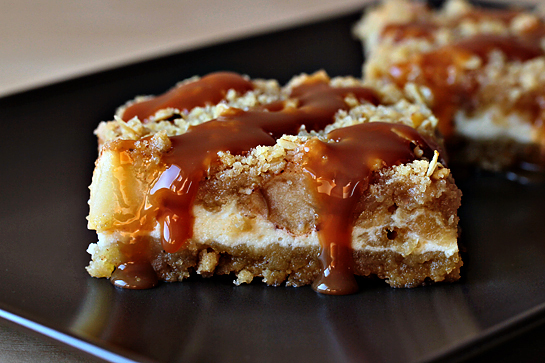 12. And drizzle with the caramel topping.
Enjoy!
I know you will.
Love,
Petra
(This recipe was adapted from allthingsmamma.com. It makes 12 bars. Store the dessert in the refrigerator.)