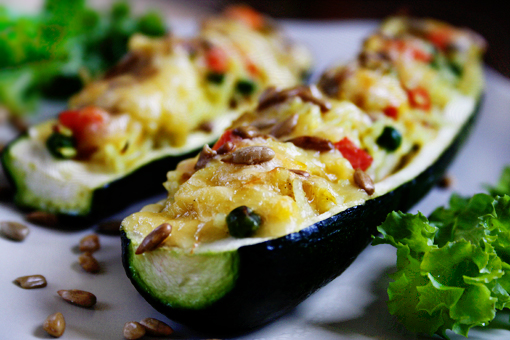 Summer offers so many wonderful kinds of fruits and vegetables that I don't even know where to look first or what to grab.
What a wonderful time of year.
I wish there was a country where they have summer all the time.
Or wait …is there a country like that?
Is there?
Then I'm moving right now!
Anyway, these days I just walk through the supermarket aisles and wait excitedly which one of the luscious beauties will speak to me first.
This time it was zucchini and – mmmm – was that a good choice. It allowed me to prepare this truly light, healthy, playful and flavorful dish.
Your body will thank you if you make it too…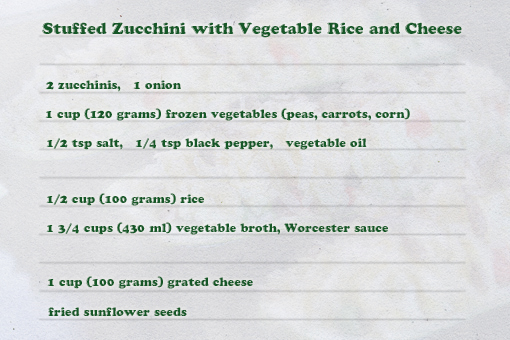 The ingredients are – as usual with me – very simple.
'Cause I like simple…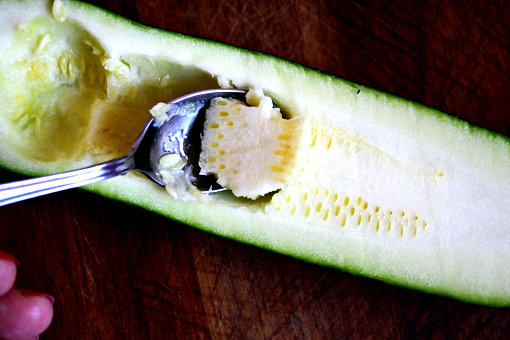 1. First, wash the zucchinis and cut them in half lengthwise.
2. Then, using a spoon, scoop out the flesh and set it aside.
3. Place the zucchinis into a baking pan…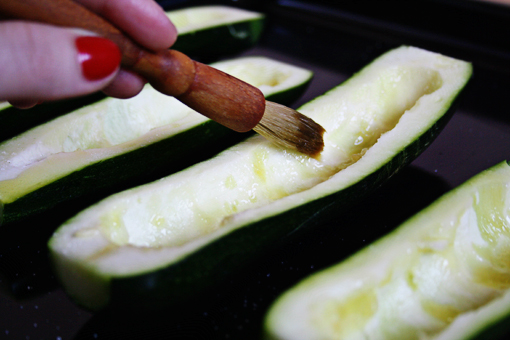 4. …sprinkle them with salt and drizzle with some vegetable oil (if you want to go super-healthy here, then use olive oil).
5. Pop the baking pan into the oven which you have preheated to 350 F (175 C) and bake for about 10 minutes only.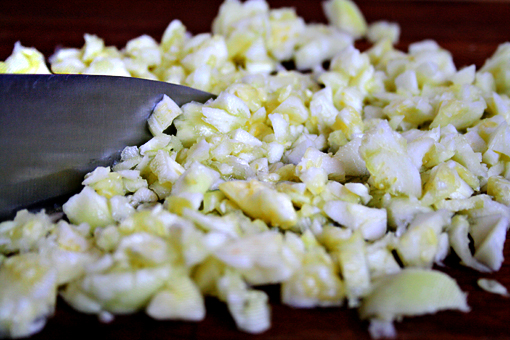 6. In the meantime, chop the flesh you have removed from the zucchinis into little pieces.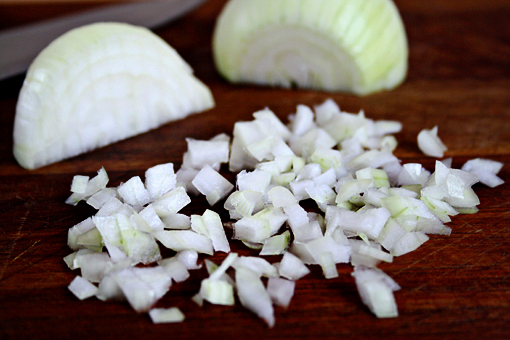 7. Peel and chop the onion.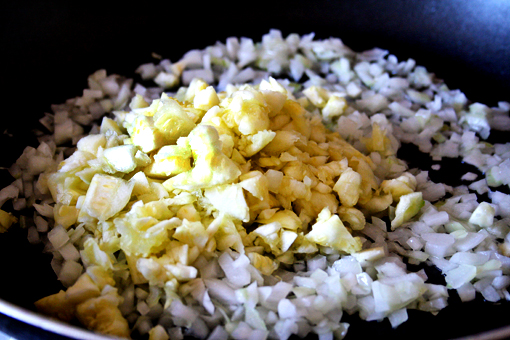 8. Drizzle a frying pan with a little oil.
9. Add the onion, the zucchini flesh, season it with 1/2 teaspoon salt and 1/4 teaspoon ground black pepper and fry, stirring constantly, for about 10 minutes.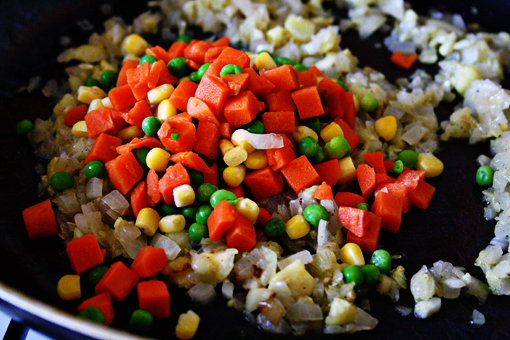 9. Then add you wonderful, colorful vegetables and fry for another 10 minutes (or until soft).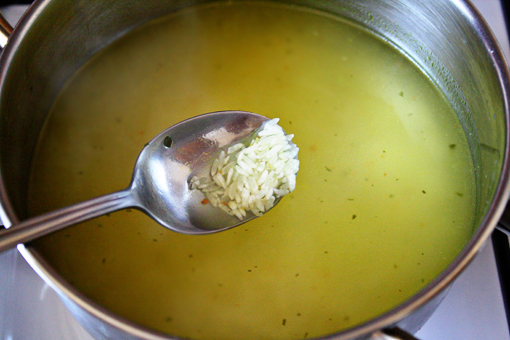 10. Cook the rice in the vegetable broth.
The picture above shows the initial stage of the rice cooking. When the rice is cooked it should have absorbed all the liquid.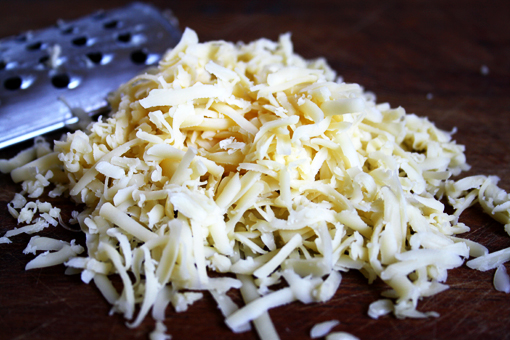 11. Grate the cheese.
I am using Edam here; you can choose any cheese that you like or have in the fridge.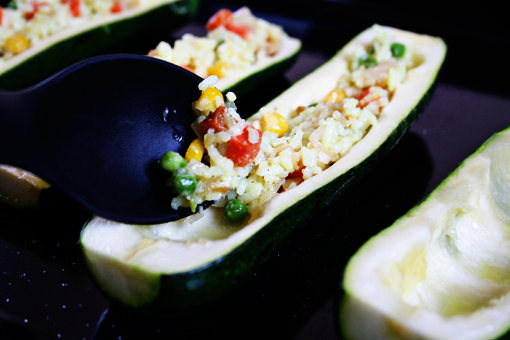 12. Now combine the vegetable mixture from the frying pan with the rice and 1/2 cup of the grated cheese.
You can even add a few drops of Worcester sauce – it will 'lift' the taste slightly and accentuate the other flavors.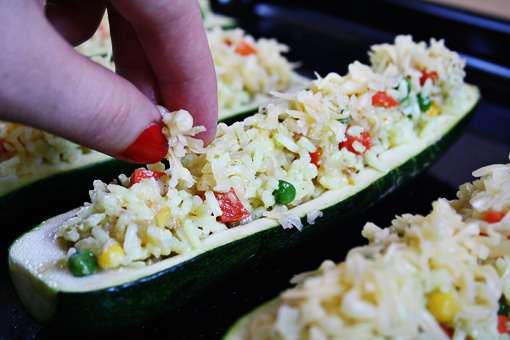 13. Stuff the zucchini halves with the rice mixture and cover the top with the rest of the grated cheese.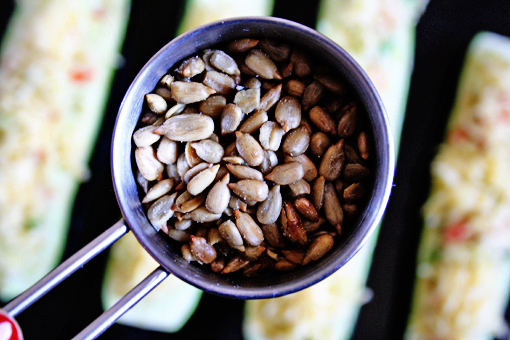 14. And now, just for kicks, sprinkle the whole thing with yummy sunflower seeds (or pumpkin seeds if you prefer those).
The seeds add an interesting and surprising twist to this dish, just try it, it's fun…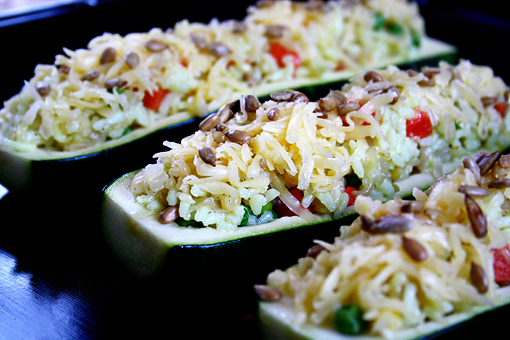 15. Put the stuffed zucchinis back into the oven and bake them at the same temperature (350 F – 175 C) for 20-25 minutes.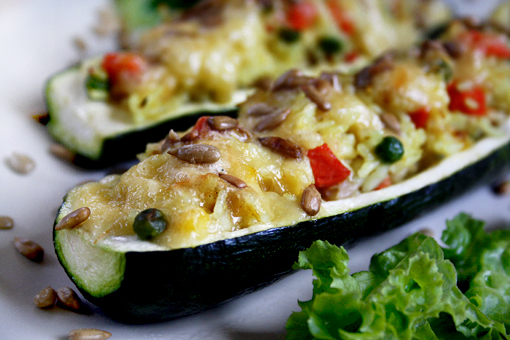 It's delicious, I'm telling you.
A scrumptious, light summer dish.
Yum!
Enjoy, dear friends.
(This recipe makes 2 portions.)