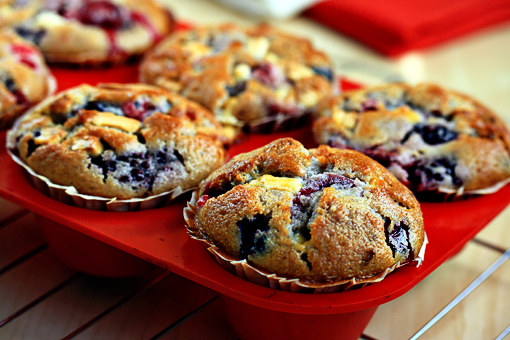 These muffins are like treasure boxes.
Cute, little treasure boxes.
The moment you take a bite the muffin welcomes you with its moist and tender texture.
After a while you'll notice that a couple of refreshing assorted berries have come to greet you too.
'Yum' – that's exactly what comes to your mind!
And then, as if this wasn't enough already, you'll stumble upon these wonderfully rich and creamy white chocolate chunks that counterbalance the tartness of the berries in a way you've never even dared to dream about before.
And you think: 'I thought "Yum" before… so what am I supposed to think now? Shall I scream? Or call somebody? Or shall I run really fast?'
These muffins, they are amazing.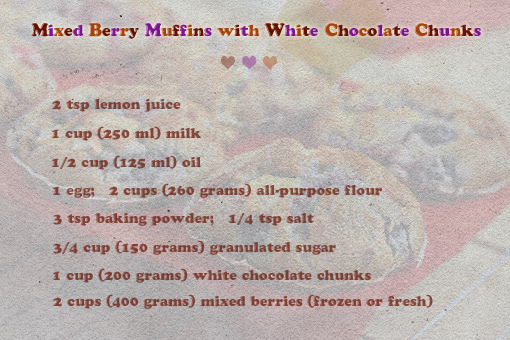 This is the cast of characters.
I've noticed that for some reason the number of ingredients in my recipes rarely exceeds ten.
If ever.
Who knows why?
'Cause I don't.
1. To make your own 'treasure box' muffins you'll need two bowls.
One bowl for the 'wet' ingredients and the other one for the 'dry' ones.
Then you just combine the two, bake it and that's it.
Bye!
No, no, no, just kidding – don't you expect me to leave that quickly.
You know me, don't you?
I'm here to reveal the whole story in every specific detail.
Otherwise my brain would break.
So (and this really is the step number one), in a bowl pour all the wet ingredients – the lemon juice, oil, milk and egg.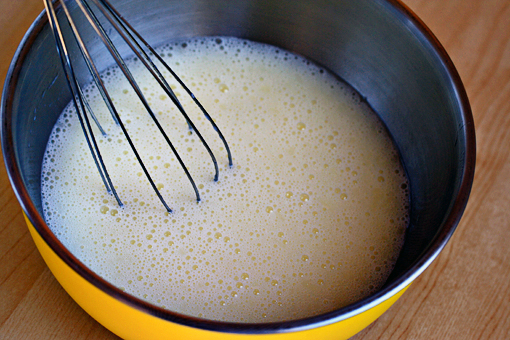 2. Whisk them to combine.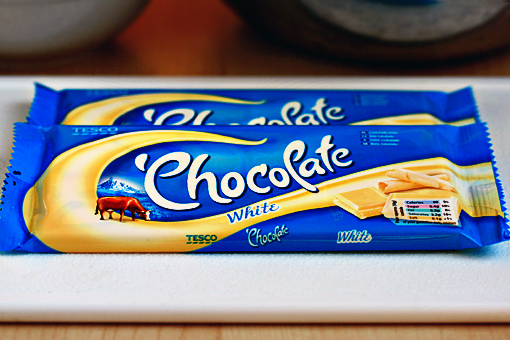 3. Then grab the white chocolate.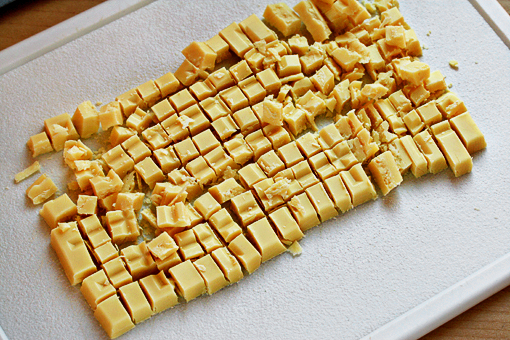 And chop it roughly into chunks.
Of course, you can also use store-bought chunks or even chips.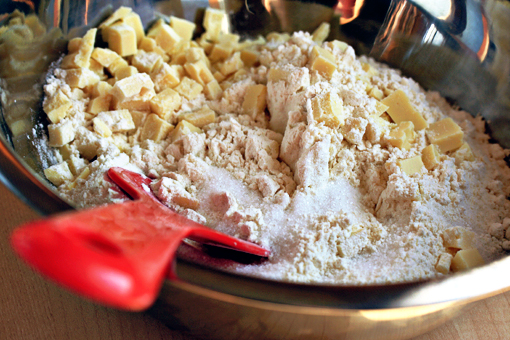 4. Place the dry ingredients (the flour, baking powder, salt, sugar and chocolate chunks) into the second bowl.
Set about half a cup of chunks aside for decorating.
5. Stir to combine.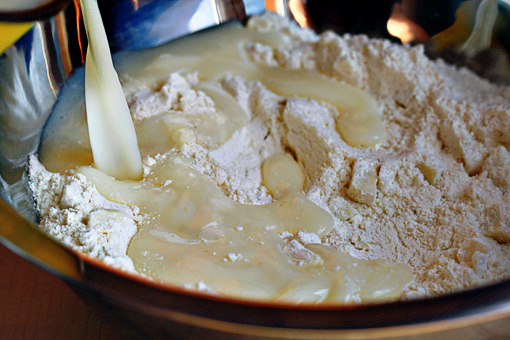 6. Now pour the wet mixture into the dry one.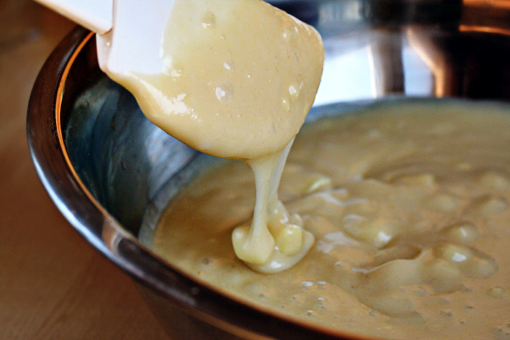 7. And stir -and this is important when it comes to muffins – just until it combines.
Small lumps are perfectly all right.
Overmixing a muffin batter might result in tough muffins.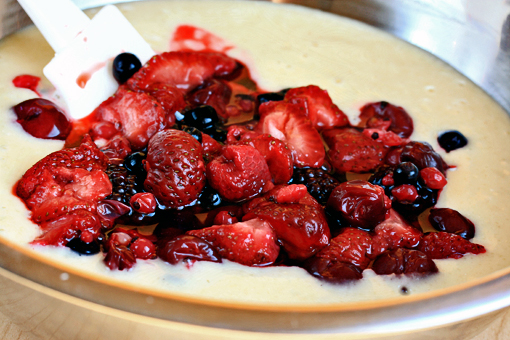 8. Finally, add the berries.
If you decide to use frozen berries, don't let them thaw before baking. That way they won't bleed into the batter and the batter will remain yellow(ish).
Which is exactly what I didn't do.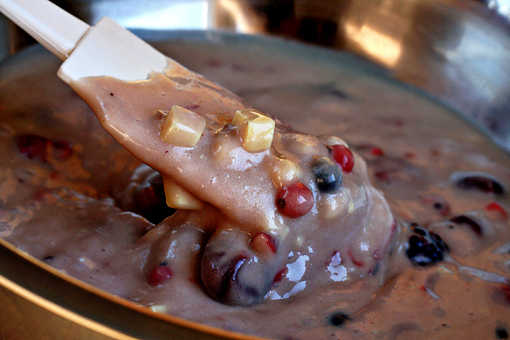 9. Gently, fold in the berries and admire the beauty you've created.
Yes, I see a lot of beauty in batters.
Yes, I am feeling all right.
Why do you ask?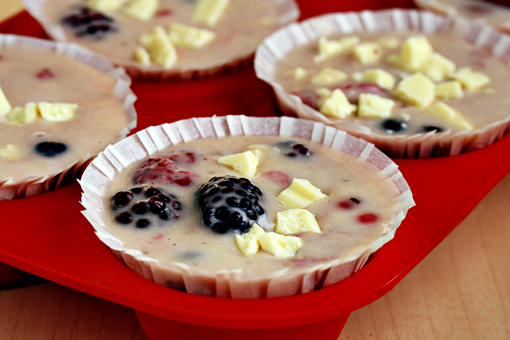 10. Line the muffin tin with paper liners.
If you don't want to use papers, then just oil the tins with some vegetable oil.
11. Using a spoon, fill each cup full of batter and sprinkle a few chocolate chunks over the top.
The extreme amount of batter per cup might surprise you, but that way you'll achieve those nice domed tops more easily.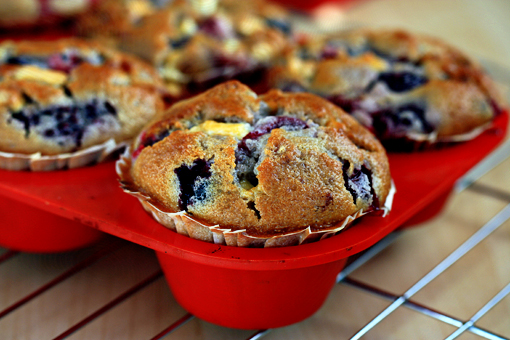 12. Bake at 356 F (180 C) for about 20-25 minutes…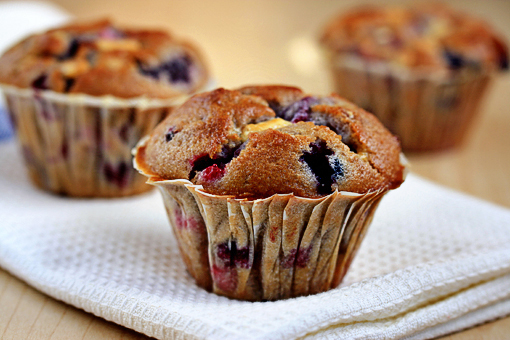 … or until the tops are golden brown and a toothpick inserted in the center of a muffin comes out clean.
13. Remove from the oven, transfer to a wire rack and let cool for about 5 minutes before removing from pan.
Then let cool completely.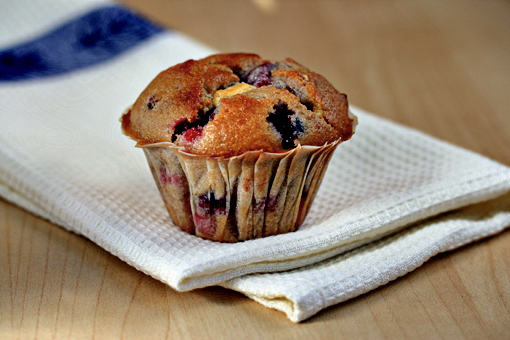 Here it is – standing proud in all its irresistible deliciousness.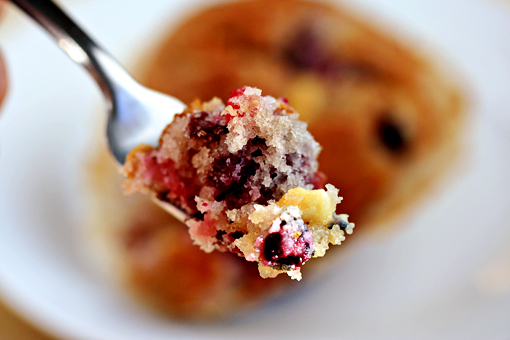 Oh my!
Enjoy, dear friends!
This recipe makes 11 large muffins.