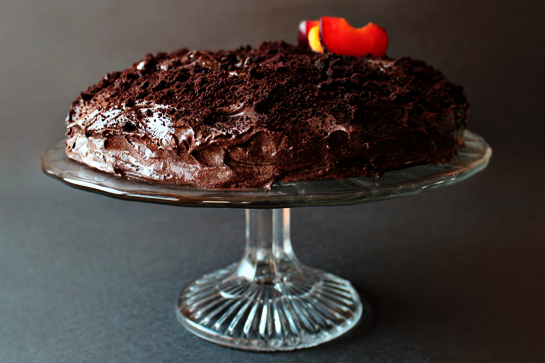 This is a story of a wonderful chocolate cake.
The story is very up-close-and-personal.
In it one delicious and  moist chocolate cake meets rich and yummy chocolate frosting. They become great friends who cannot imagine ever living without each other. After all, why should they? They can make so many people so happy.
They could make you happy too!
All you need to do is this…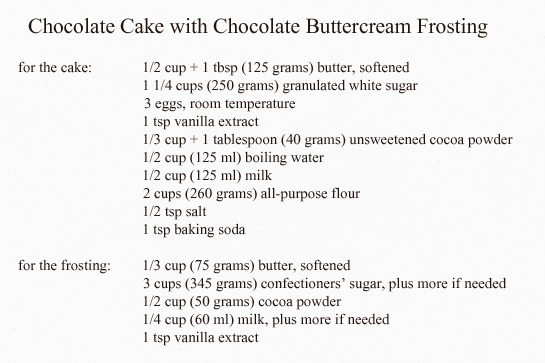 First, you need to find these ingredients somewhere.
That's crucial.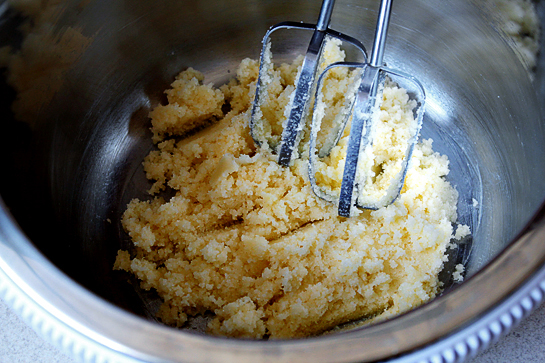 1. Then preheat the oven to 350 °F (175 °C).
2. In the bowl of your electric mixer, mix the butter (1/2 cup + 1 tbsp – 125 grams) and granulated sugar (1 1/4 cups – 250 grams) together for about 4 minutes.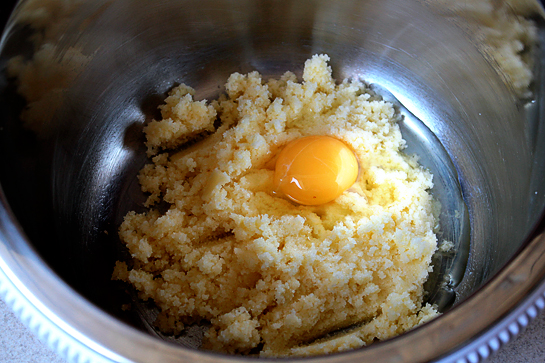 3. Add the beaten eggs, one at a time, beating well, and then stir in the vanilla essence.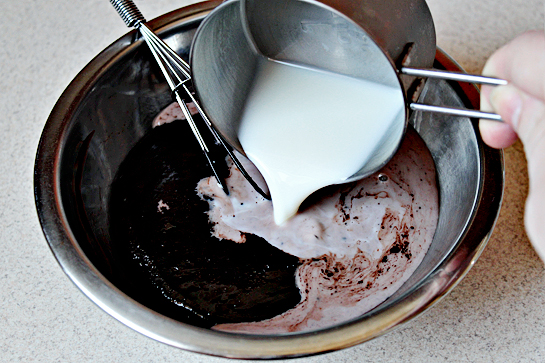 4. In a separate bowl, dissolve the cocoa in the boiling water. Then add the milk to it.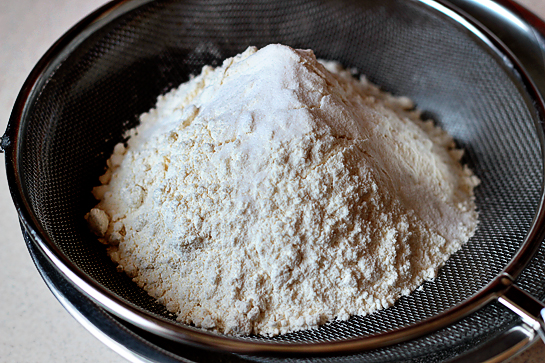 5. Sieve together the dry ingredients (flour, salt, baking soda) to get rid of lumps and add air to the mix.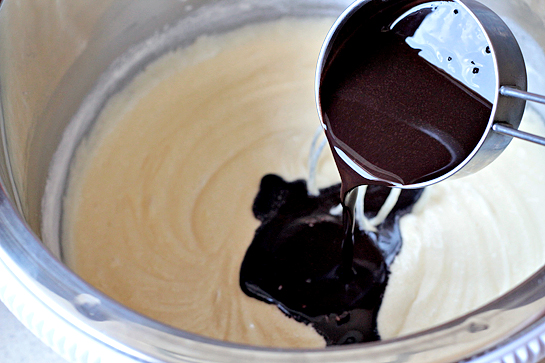 6. Stirring in gently, add a couple of spoonfuls of flour to the cake mixture. Then add a couple of spoonfuls of cocoa mixture. Continue alternating – cocoa and flour – until it is all stirred in.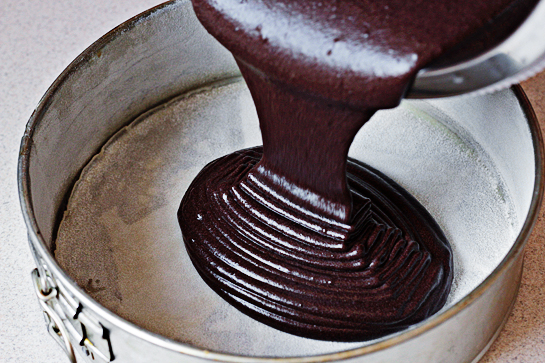 7. Line the bottom of a 9 x 2-inch (23 x 5 cm) springform pan or a round baking pan with parchment paper. Grease it and dust it with flour.
8. Pour the cake mixture into the pan.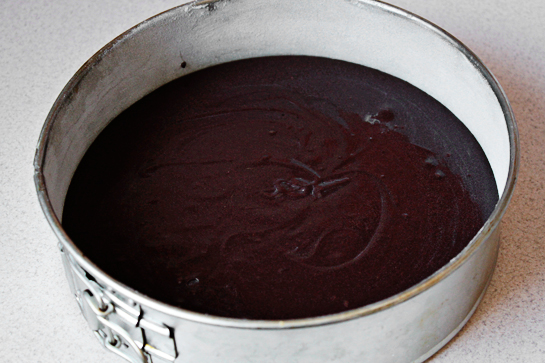 9. Bake at 350 °F (175 °C) for about 40-45 minutes or until a skewer inserted in the center of the cake comes out clean.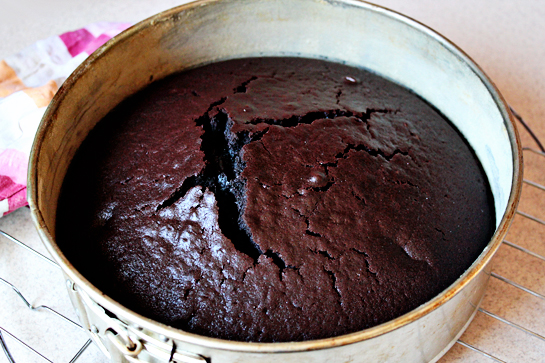 10. Remove from the oven. Let cool for 5 minutes in the pan. Then remove from the pan and let cool completely.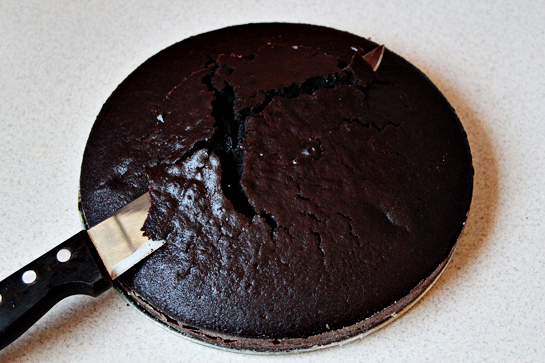 11. There's a chance that the middle of the cake will rise more than the rest of it, just like it happened to me.
If this happens to you, don't worry. You can actually turn this situation to your advantage. Just grab a long sharp knife and slice off the part of the cake that has risen farther than the edges.
Easy.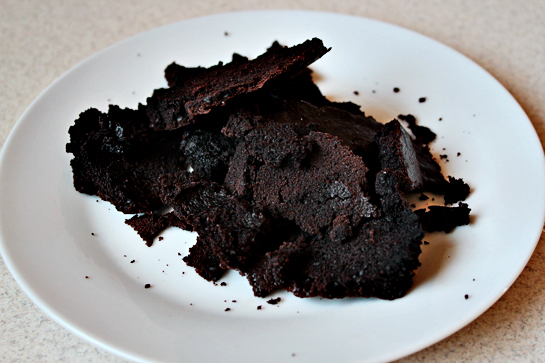 You can then enjoy this as a free-form cake bonus.
Or, which is even better, you can crumble these bits and use the crumbs to decorate your cake with.
See? When life gives you lemons, make lemonade. And when life gives you domed cake…you now know what to do.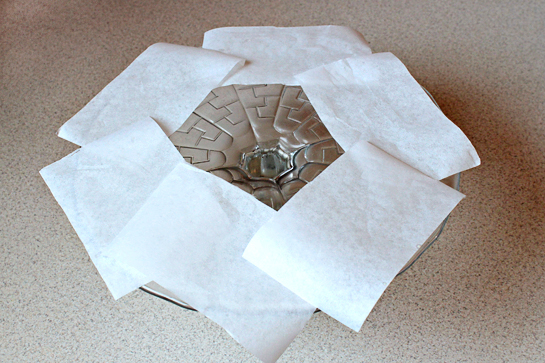 12. When your cake has cooled completely, place it on the stand.
We are now going to decorate it with the frosting.
But before you do that, here's another secret trick.
Tuck overlapping pieces of parchment paper under the edge of the cake. This will help keep your stand clean as you frost.
Cool, ha?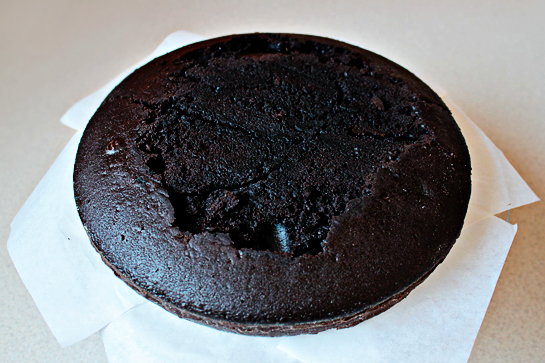 And here comes our cake again.
Let's now prepare the frosting.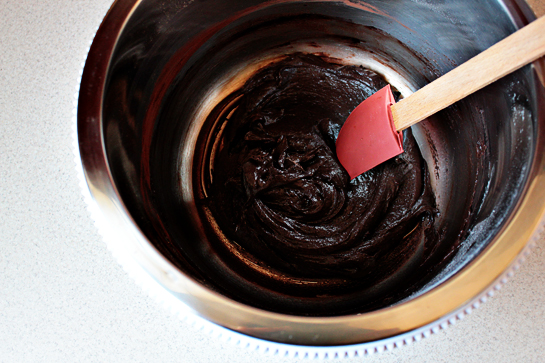 13.  Beat the butter (1/3 cup – 75 grams) for a few minutes with a mixer on medium speed.
14. Add half the amount of confectioners' sugar and all cocoa.
First, fold in the sugar and cocoa into the butter with a rubber spatula, then mix for about 3 minutes.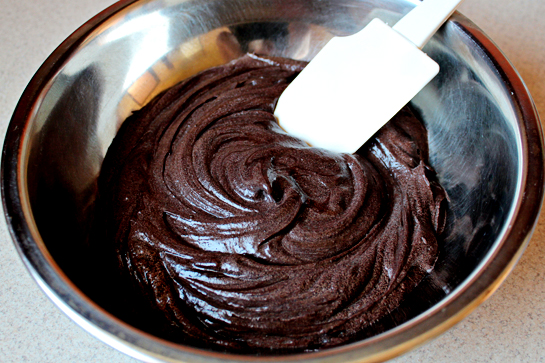 15. With the mixer on low, beat in 1/4 cup (60 ml) milk and vanilla.
16.  Add the remaining powdered sugar, fold in with a spatula, then mix for about 3 minutes.
If your frosting needs a more stiff consistency, add remaining sugar. If your frosting needs to be thinned out, add some more milk (1 tablespoons at a time).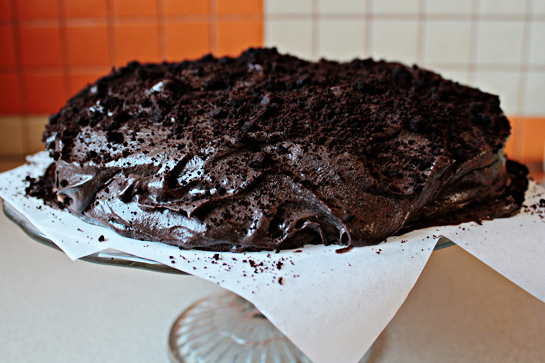 17. Frost the cake.
Smoothly or in a crazy-spiky way, whatever mood you're in.
You can use cake crumbs, chocolate shaving, or sprinkles to decorate the cake with.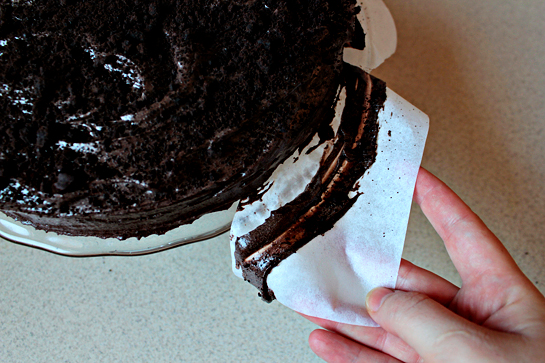 18. Remove the pieces of paper from underneath the cake.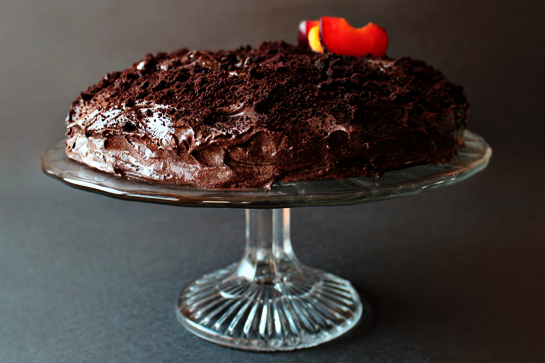 And serve.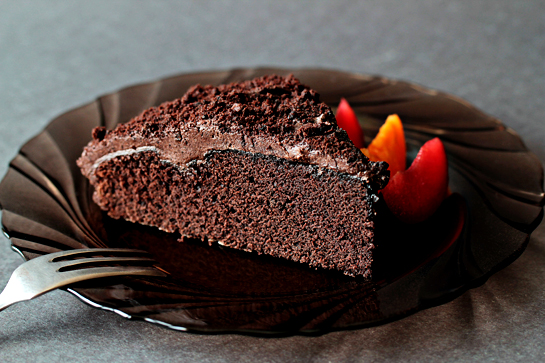 To reach full potential of this delicious dessert, let it cool in the fridge for about 12 hours before serving.
Enjoy, dear friends.
This cake takes about 2 hours to make. It serves 8-10 people. Keep the cake refrigerated.
(The recipe was adapted from here and here.)