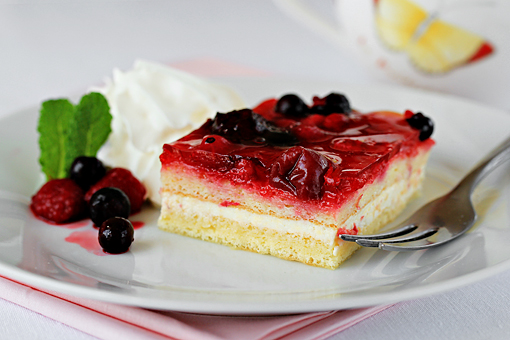 Let me tell you this.
This cake is amazing!
There it is.
I needed to get this off my chest.
Ugh, I feel so much better now.
I love this cake because it is fresh, delicious, it has different textures in it, it is satisfying and surprising, there are berries, there is cream cheese… and this is how you can make it…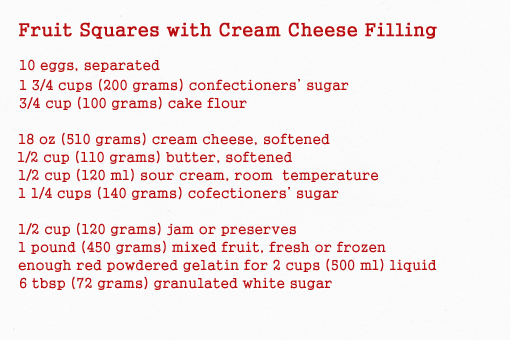 Here's what we need.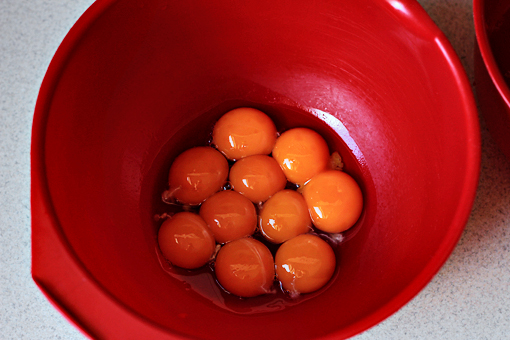 1. First, preheat the oven to 350 °F (175 °C).
2. Then separate the eggs – the yolks into one large bowl, the whites into another large bowl.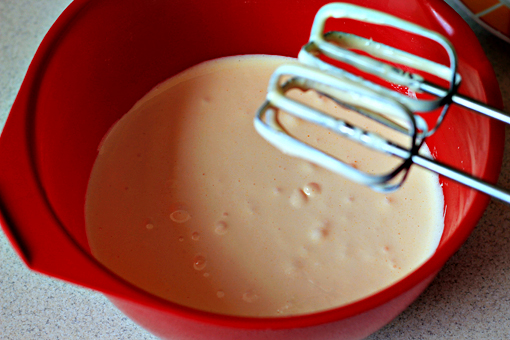 3. Add 1 3/4 cups (200 grams) confectioners' sugar to the yolks and mix them for a couple of minutes until your batter becomes pale and smooth.
To tell you the truth, if I could live my life the way I really wanted, I'd have this egg-yolk-sugar mixture for lunch every day. Every single day. It's beyond tempting and delicious for me.
I know, I am creepy.
But let's forget it.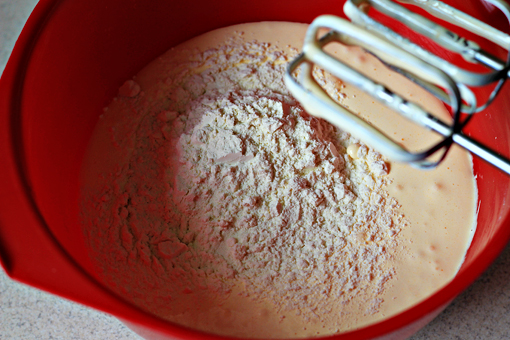 4. Now add the flour into your batter and give it another quick stir.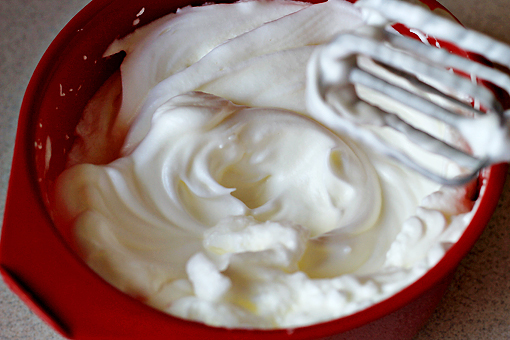 5. Beat the egg whites until stiff peaks form.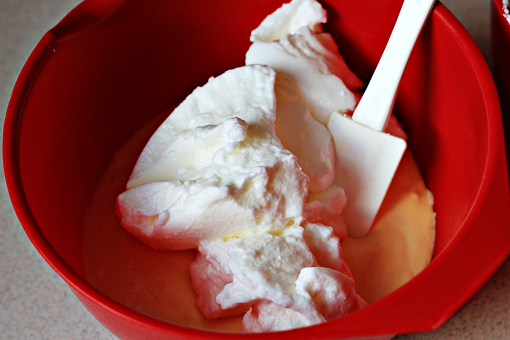 6. With a rubber spatula, gently fold one-third of the whites into the egg-yolk mixture to loosen the batter.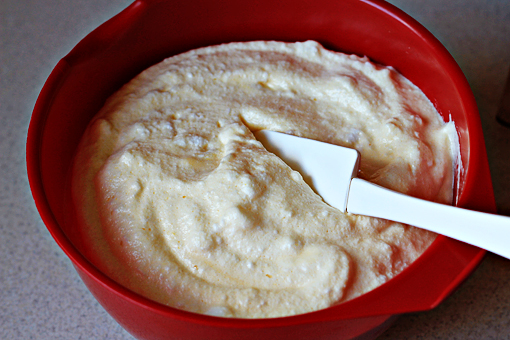 7. Then fold in the remaining whites.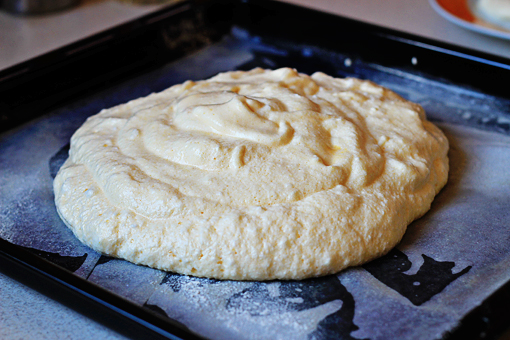 8. Line a baking pan with parchment paper. Mist it with some vegetable oil and dust it with flour lightly.
I am using a 12 x 15 inch (30 x 38 cm) baking pan here. You can use a smaller pan if you want your cake squares to be a little taller.
9. Pour one half (!) of the batter into the pan and spread it evenly.
We need two cake layers for this cake, that is why the batter should be baked in two batches.
Okay, it could be baked in one go and sliced in half afterward, but I am not that daring.
You can be.
But I am not.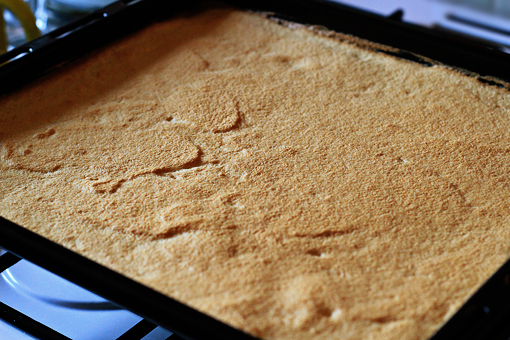 10. Bake at 350 °F (175 °C) for about 12 – 15 minutes until golden-brown.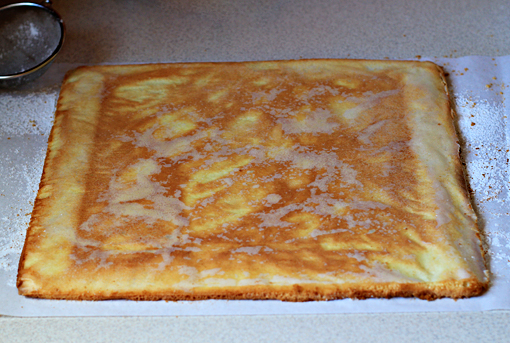 11. Before you remove your first cake layer from the oven, lay a sheet of parchment paper on your working surface and dust it lightly with some confectioners' sugar.
12. When baked, invert the cake layer onto the paper.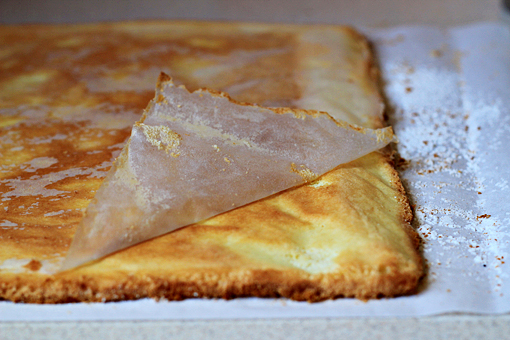 13. And remove the top paper.
Let cool.
14. Line the baking pan with parchment paper again, fill it with the remaining batter and bake it.
When baked, leave that cake layer in the baking pan and don't remove it.
Just let it cool.
That will be the bottom layer of our cake.
Well, not 'our' literally, the cake will be yours only, unless you send me some.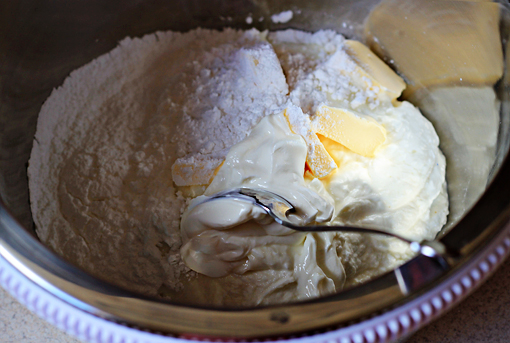 15. Now, let's make the yummy cream cheese filling.
In a large bowl, combine the cream cheese, butter, sugar, and sour cream.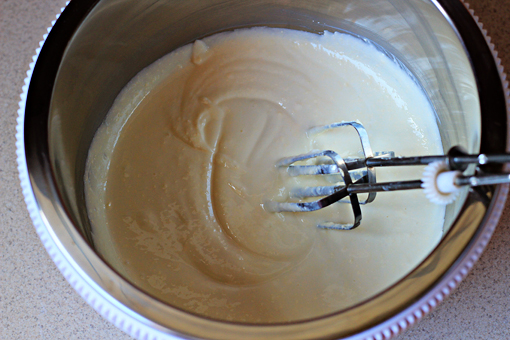 16. Mix until smooth.
This will take a couple of minutes.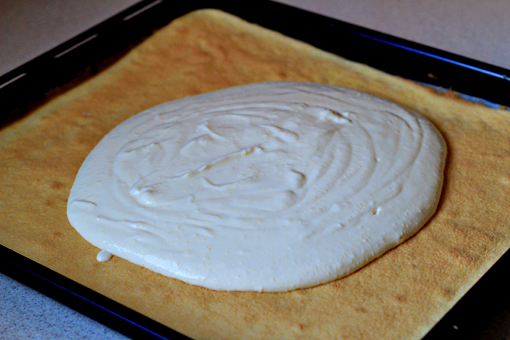 17. Pour the heavenly filling onto the first layer.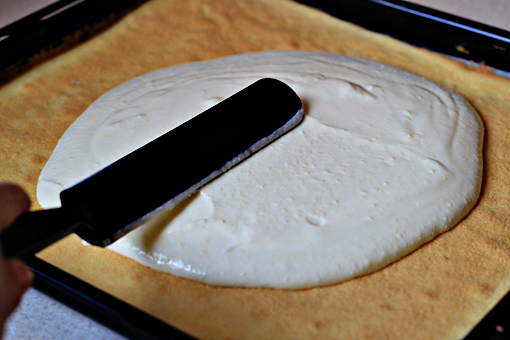 18. And spread it.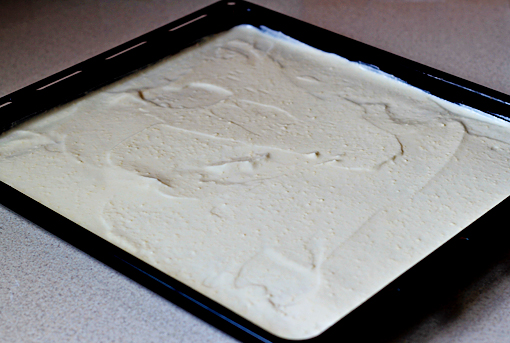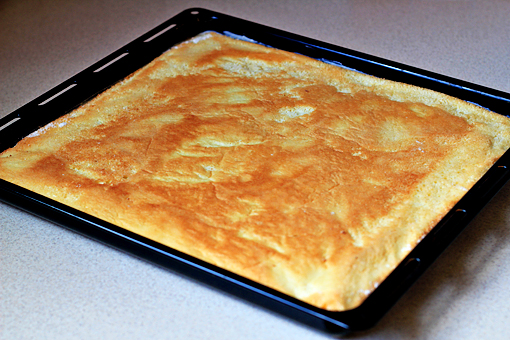 19. Place the second layer on top of the filling.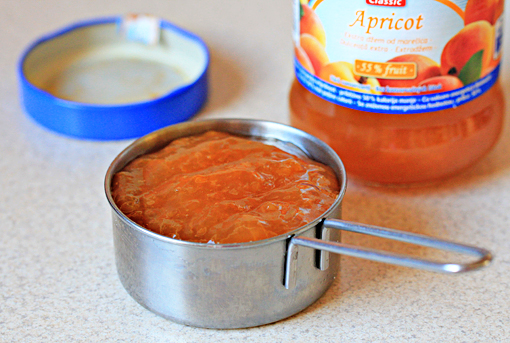 20. Grab about 1/2 cup of your favorite jam or preserves.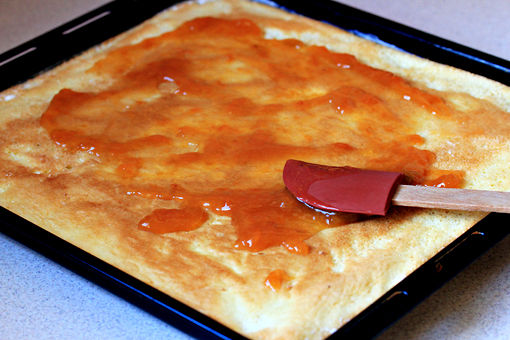 21. And spread the jam over the cake layer.
This will help to moisten up the cake beautifully.
And it adds another beautiful flavor.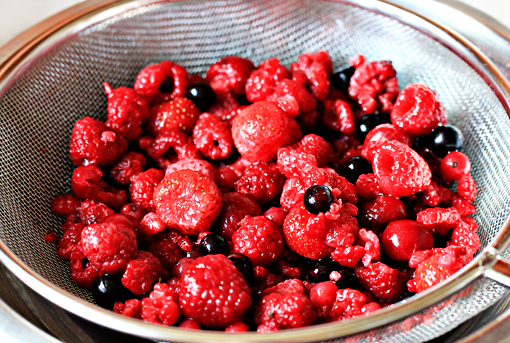 These are thawed mixed berries.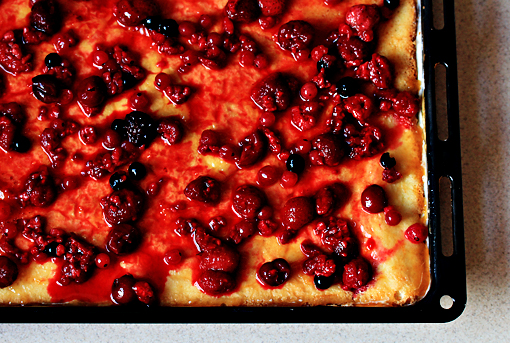 22. Scatter the berries over the top.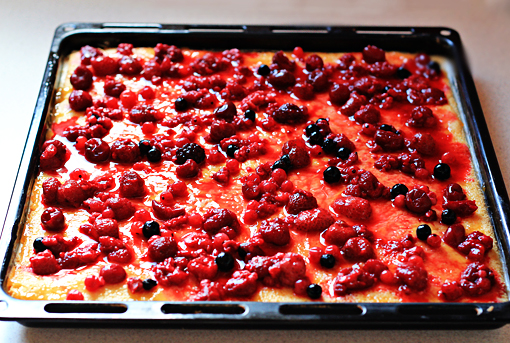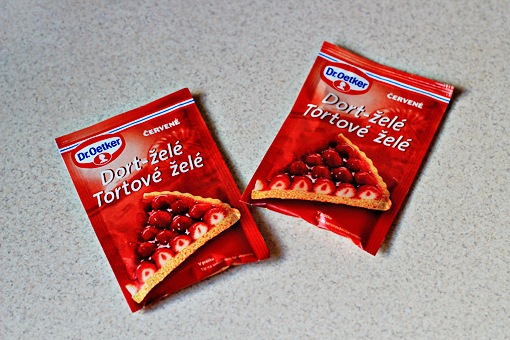 23. And finally, cook the red gelatin according to the instructions.
I used 2 packets. Each one asked for 1 cup (250 ml) of liquid. Altogether, we need 2 cups of the gelatin liquid for this cake.
Also, I used unsweetened gelatin. That is why I had to add some sugar to it.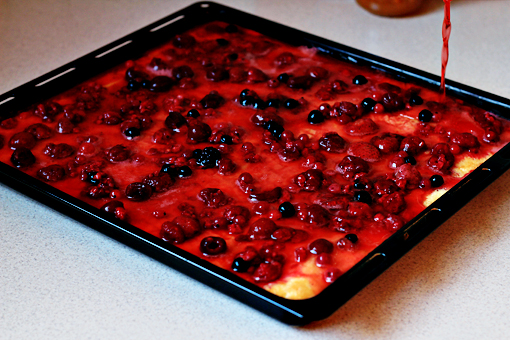 24. Pour the cooked gelatin over the fruit.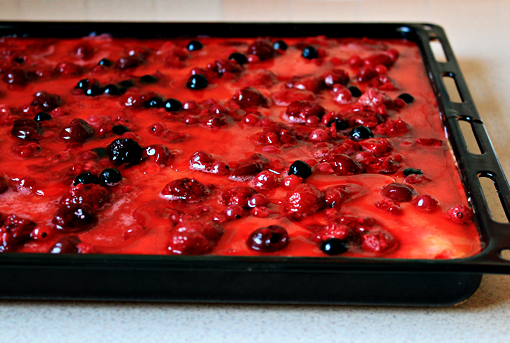 25. And let cool completely.
26. Then cover the whole cake with plastic wrap, place in the fridge and let firm up for a few hours.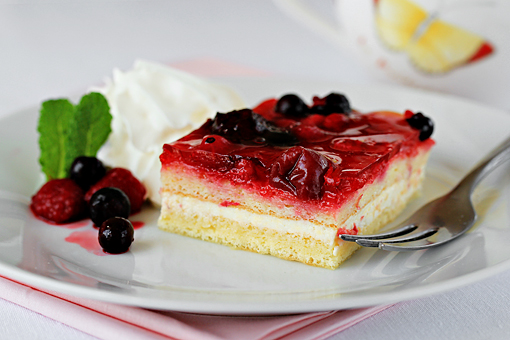 27. Finally, cut into squares and…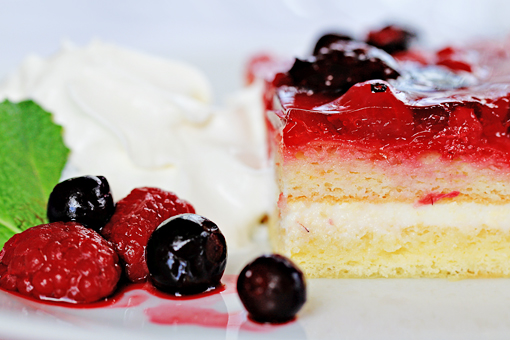 Enjoy!
(This cake makes about 30 pieces of 2.5 x 2.5 inch (6×6 cm) squares. Pretty enough to make you happy.)