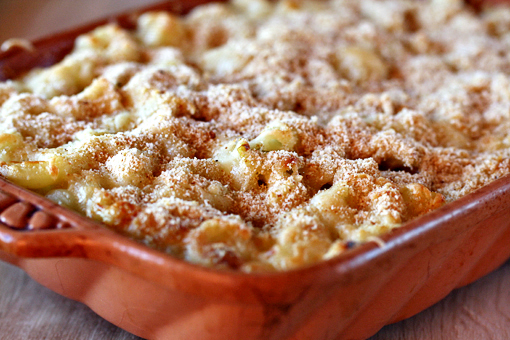 Popsicles are great but a person has to have a decent meal from time to time.
Like ice-cream, for example!
Kidding. Kidding.
The thing is that recently I felt like having some pasta.
I threw an inspecting look into the fridge, found one cute cauliflower in there and the idea was born instantly.
Cauliflower casserole!
Though I was really craving something casserole-like, I started to consider whether it wouldn't be too rich for summer days like we are having right now.
But after I had the first bite of this dish all worries were gone.
I knew everything was perfectly all right because this dish was light, nutritious, satisfying, flavorful and delicious.
To prove it all I'll tell you that my man loved it.
And that's the best evidence!
For me, at least…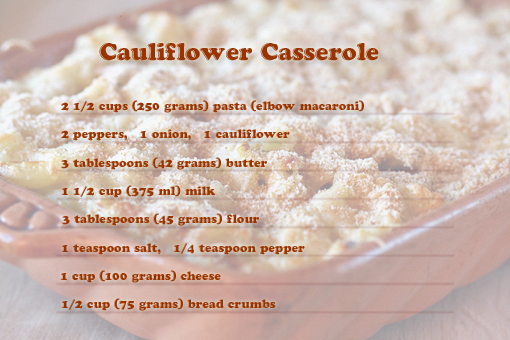 These are the ingredients I've used to prepare the dish.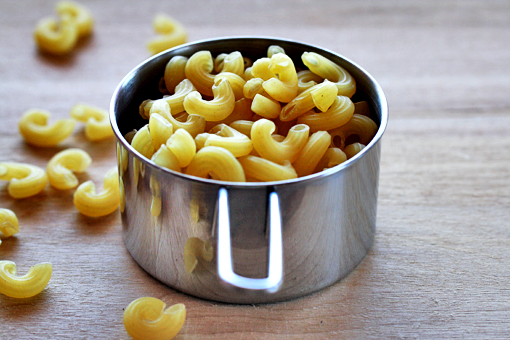 Hello, elbow macaroni.
I love that name!
I think that 'elbow macaroni' is the cutest named pasta in the whole world.
Don't you think?
Oh, sorry, here are the instructions!
1. Cook the pasta according to package directions.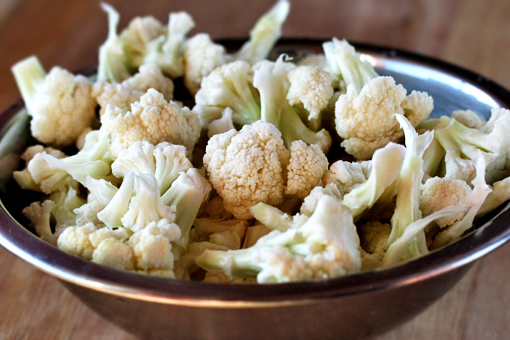 2. This is cauliflower.
What would you do if you didn't have me here to explain things like these?
Hmm, sorry again! You know – me and the attention span, we are not good friends.
Anyhow, trim the cauliflower, separate it into florets and wash them.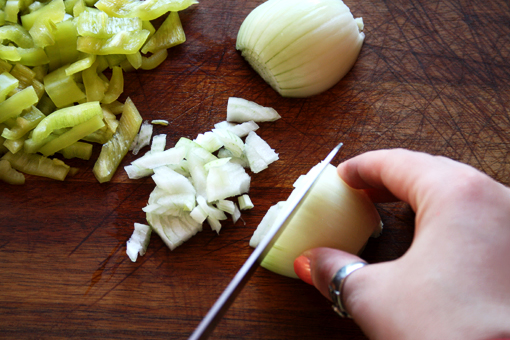 3. Chop the pepper and onions.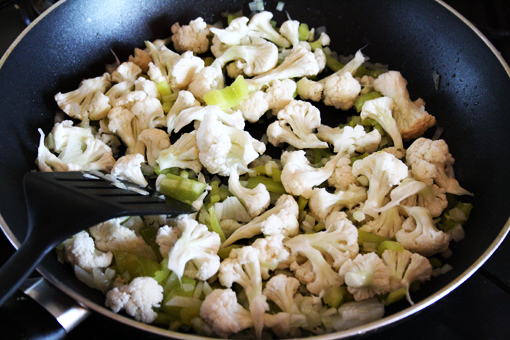 4. Melt 1 tablespoon (14 grams) butter in a larger pan over medium heat.
5. Place the onions, peppers and cauliflower into the pan and stir-fry for about 5 minutes.
We don't need the vegetables to get perfectly soft – the baking will do the job.
6. Set aside.
7. In a separate pan, melt the remaining butter (2 tablespoons – 28 grams) over medium-low heat.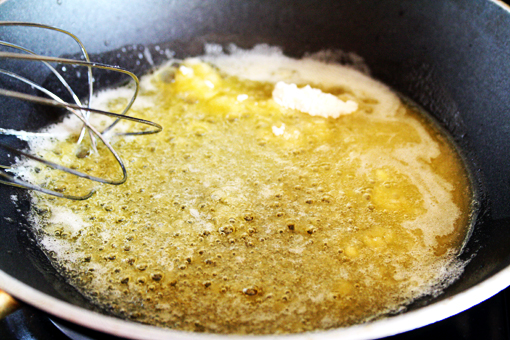 8. Stir in the flour and mix until smooth and bubbly.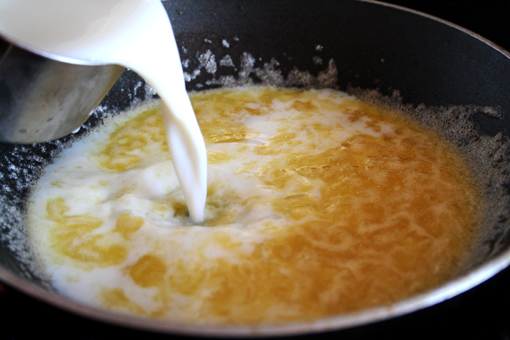 9. Gradually add milk, stirring constantly.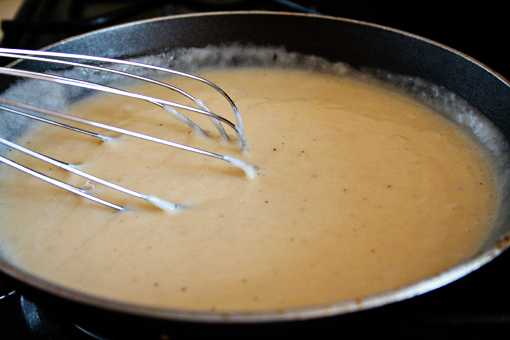 10. Season with the salt and pepper.
11. Continue cooking and stirring just until the mixture becomes thicker.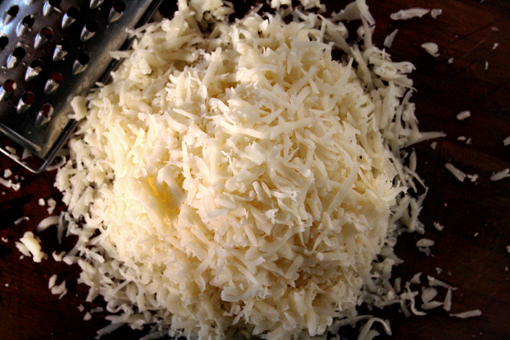 12. Then grate the cheese.
You can use any cheese you like.
I'm this liberal!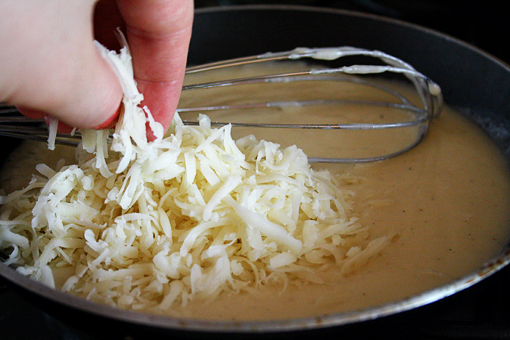 13. Throw half of the cheese into the mixture.
14. Stir just until the cheese melts.
Then remove the pan from heat.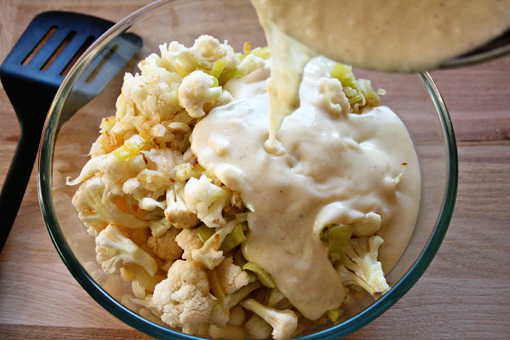 15. In a larger bowl combine the pasta, cauliflower mixture and the milk/cheese mixture.
16. Pour the mixture  into your baking dish.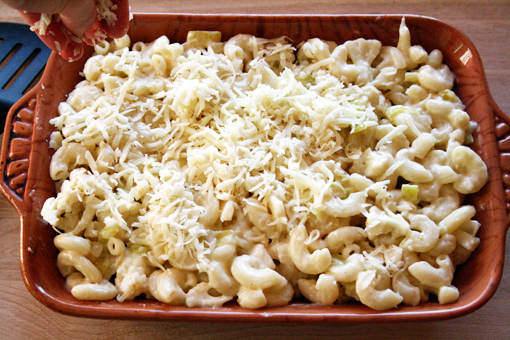 17. And sprinkle with the rest of the cheese and with the bread crumbs.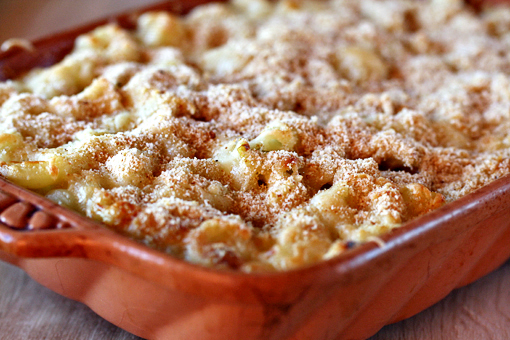 18. Bake at 350 degrees F (175 degrees C) for about 30 minutes.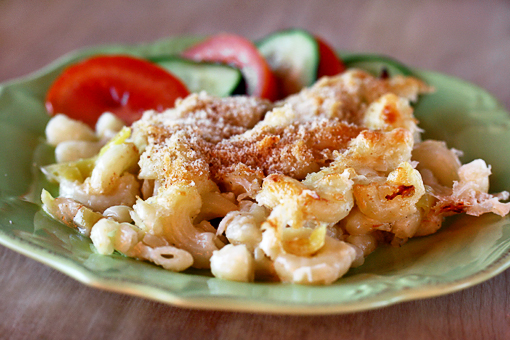 Yum!
This dish tastes best when served warm.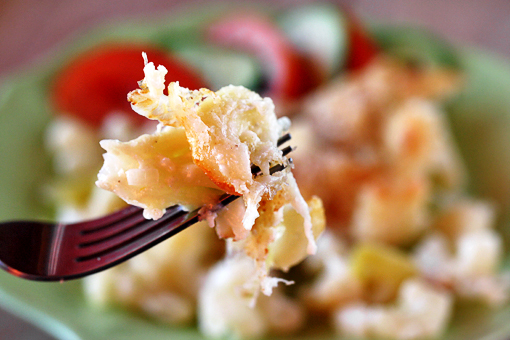 Enjoy, dear friends!
(This dish serves about 6 people.)