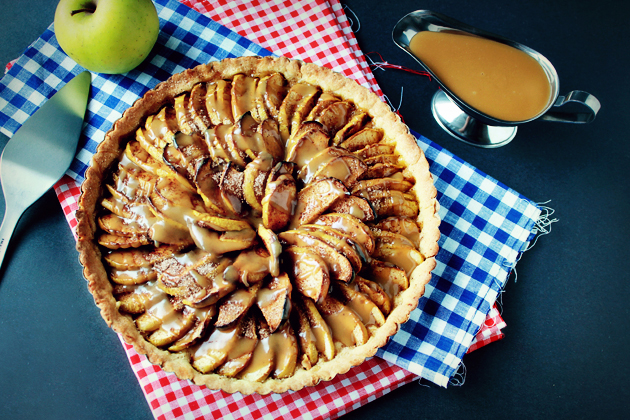 I have just decided that this dessert goes straight to the top of my 'if-I-ever-have-a-restaurant-I'll-be-serving-this' list.

Because I am sure that if people had a piece of this apple tart, they would definitely come back for more.

And if they didn't, for some unimaginable reason, I would be easily able to eat all the tarts I'd have prepared… since this treat is purely delicious!

Just imagine – a flavorful crust that melts in your mouth accompanied by sweet and tender cinnamony apples and that all topped with the most gorgeous caramel sauce ever.

Have a already said that this is delicious?

Because it is!

One of the best desserts I have ever eaten. Hands down.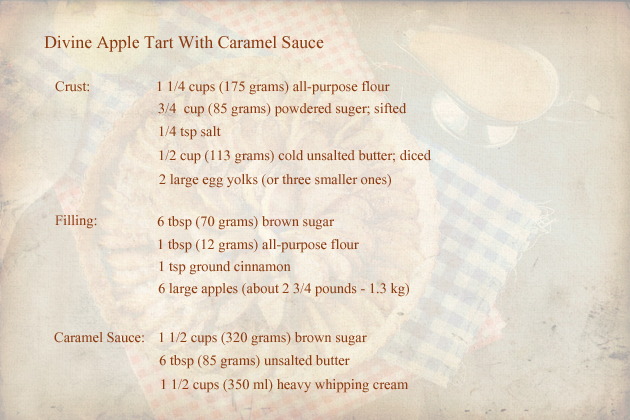 To make your very own Divine Apple Tart With Caramel Sauce, you will need these ingredients.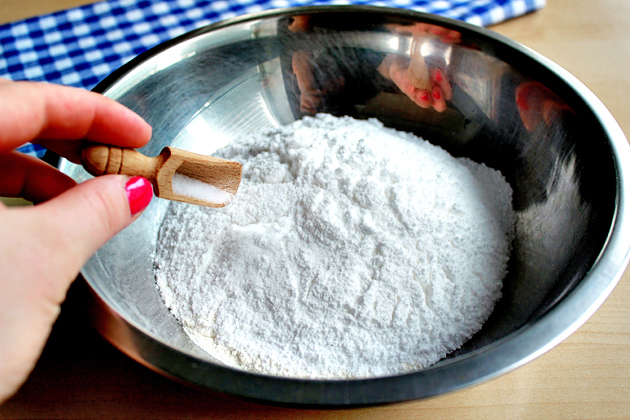 1. To make the crust, first combine the flour, sifted powdered sugar and salt.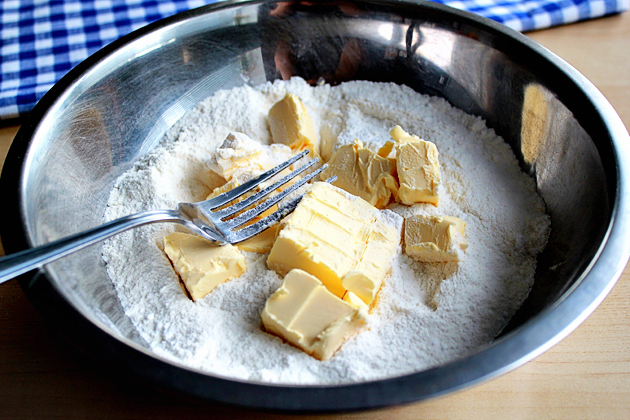 2. Add the cold diced butter.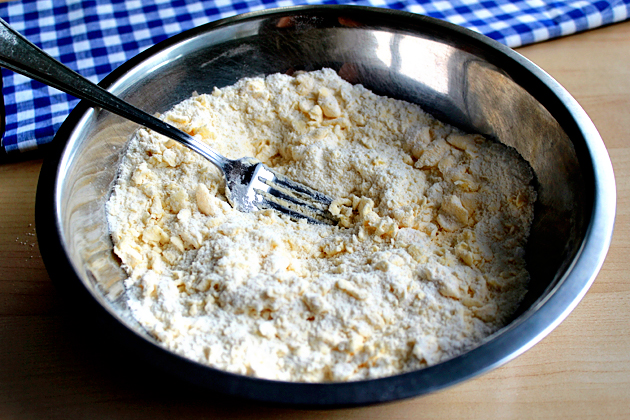 3. And using a fork or a pastry cutter, press the butter into the flour mixture until coarse meal forms.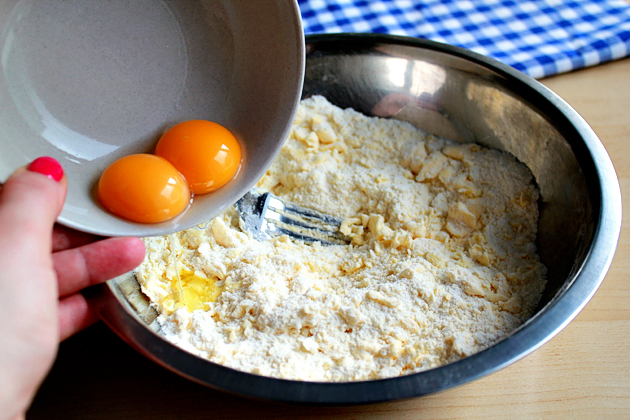 4. Then add the yolks.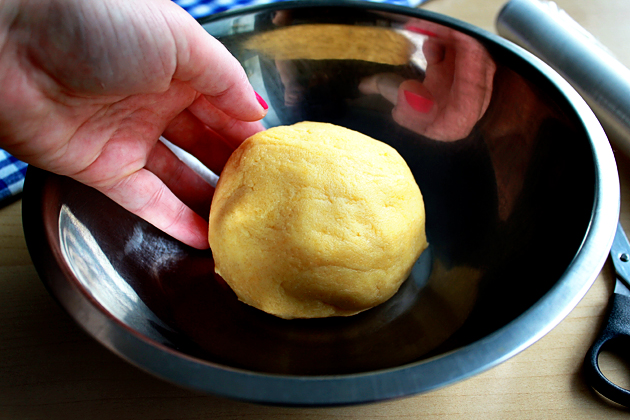 5. And using your hands, gather the dough into a ball (this might take a little while, so patience comes in handy).

6. Place the dough ball in a bowl, cover with a plastic wrap and refrigerate for about 1 hour.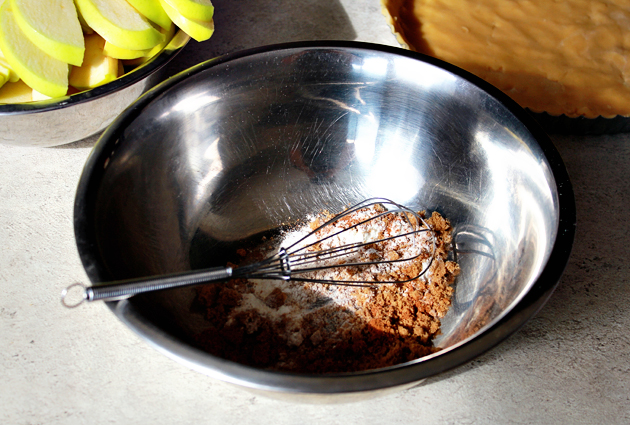 7. To make the apple filling, first, in a large bowl, whisk together the sugar, flour and cinnamon.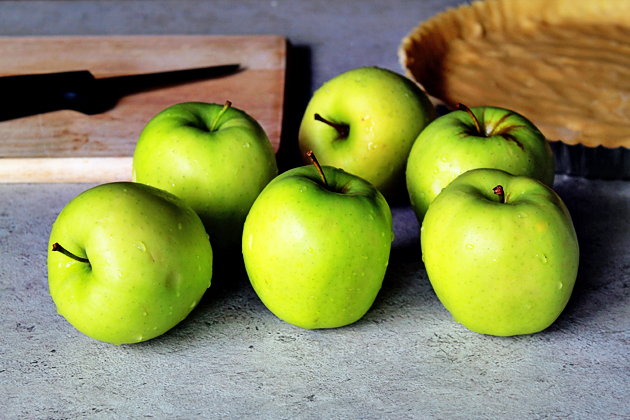 8. Then grab 6 apples.

Peel them or not, whatever you fancy.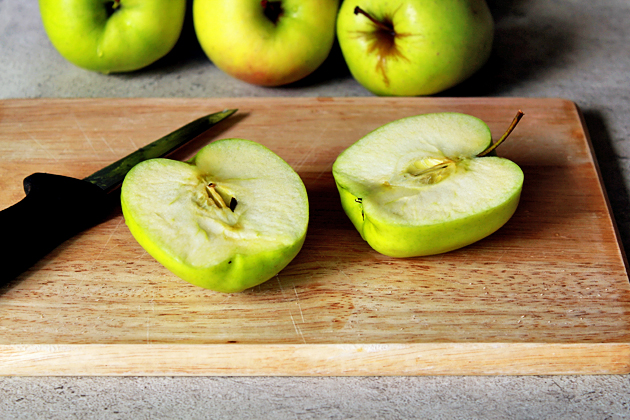 Cut them in half.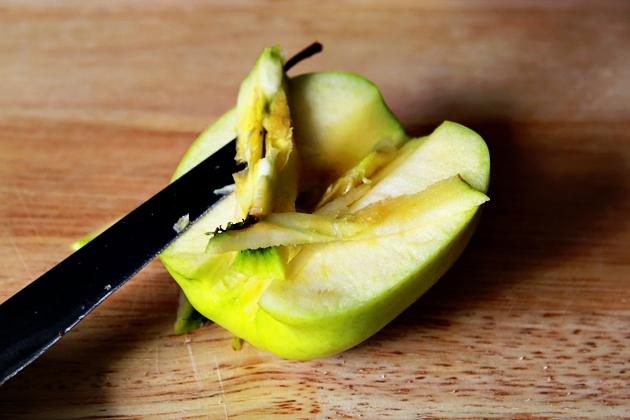 Remove the core. A 'v' cut works perfectly here.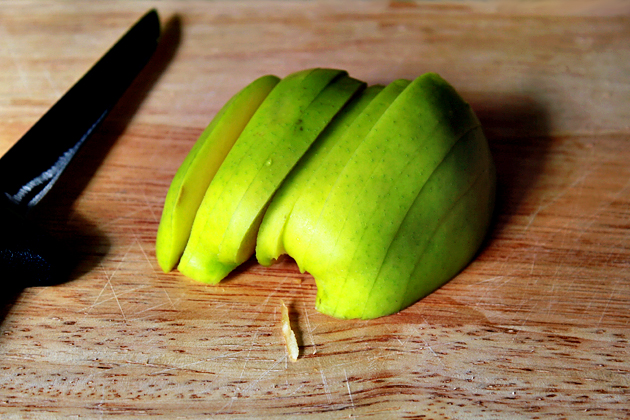 And slice them.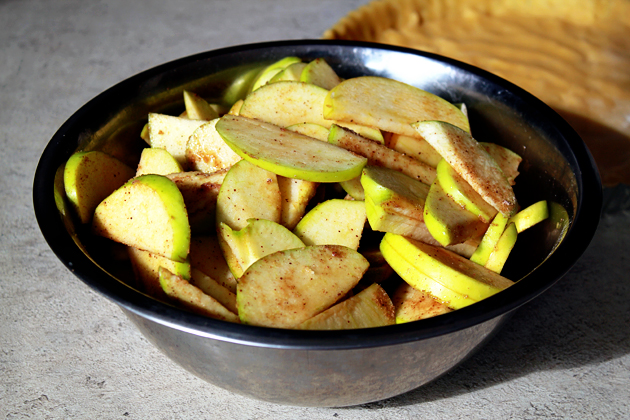 9. Add the sliced apples to the sugar-flour-cinnamon mixture and toss until evenly coated.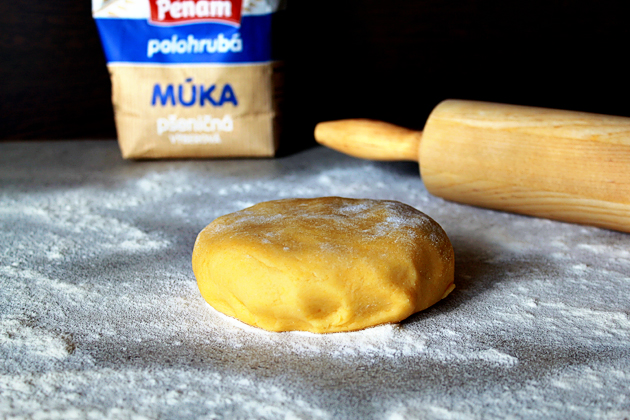 10. Preheat the oven to 355°F (180°C).
11. When chilled, remove the dough from the fridge and place it on a floured surface.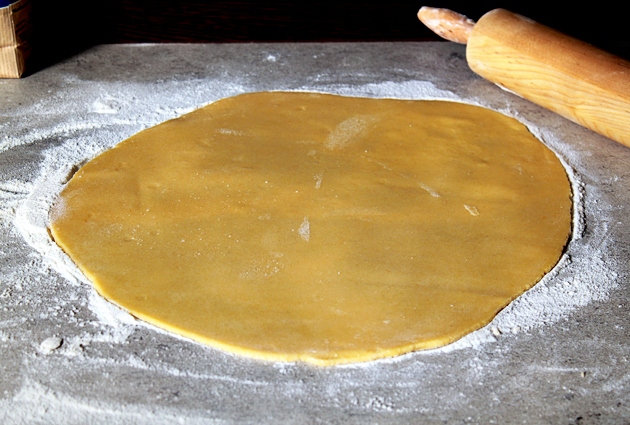 12. Roll out the dough to a 13-inch (33 cm) round.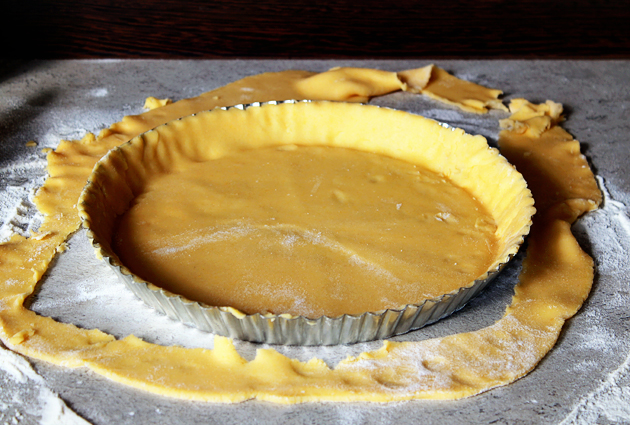 13. Transfer to a 9-inch-diameter (22 cm) tart pan.

I always wrap/roll the dough around my rolling pin to transfer it. I usually works very fine.
Also, if you end up with some scrap dough (just like I did), you can press it in the bottom of the tart pan.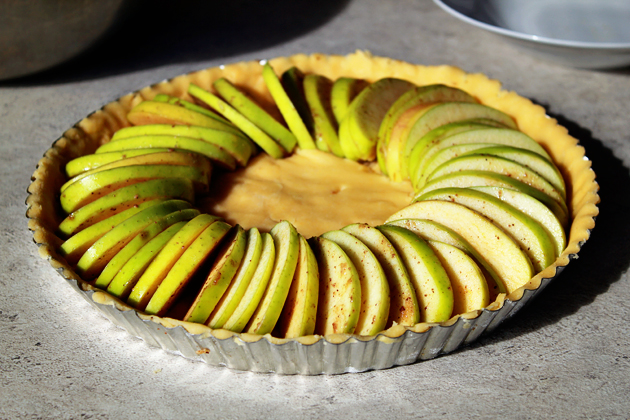 14. Arrange the apple slices in circle around outer edge of pan, fitting snugly.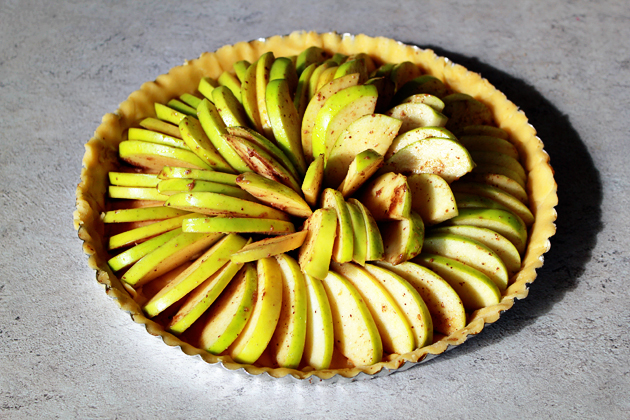 15. Then fill the the rest of the pan with the remaining slices.

16. Bake at 355°F (180°C) for about 1 hour and 15 minutes or until the apples are nice and tender.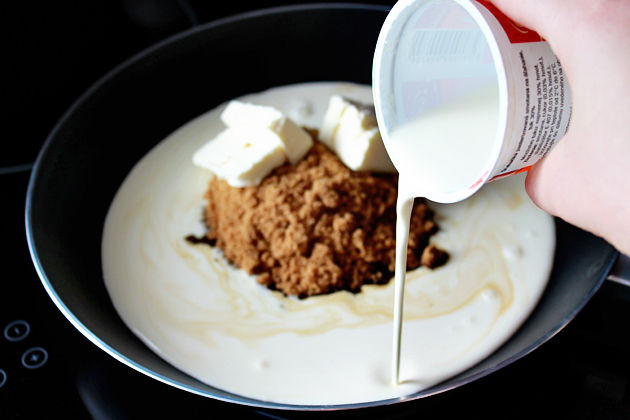 17. Meanwhile, you can prepare your caramel sauce.

Bring sugar, butter and cream to boil in a medium saucepan over medium-high heat, whisking constantly until sugar dissolves.
18. Boil until the caramel thickens enough to coat spoon thickly, whisking often. This can take about 15-20 minutes.

Reheat before serving.

Also, for an ultra-super-awesome experience, you can try adding about 1/2 tsp of vanilla extract to your caramel sauce. Yum!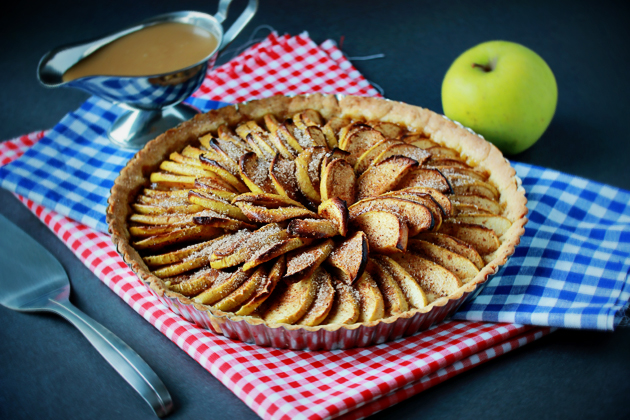 19. When baked, remove the tart from the oven and …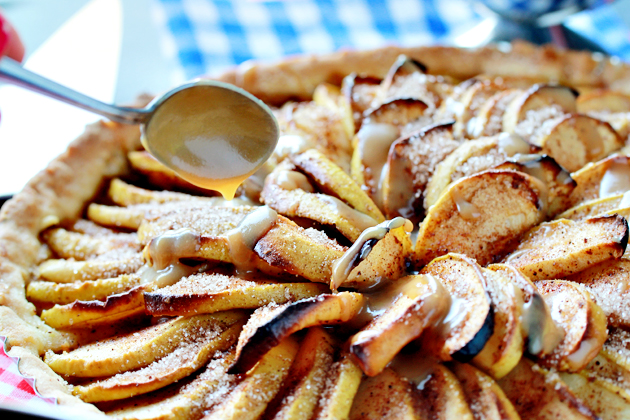 … and cover it generously with the caramel sauce.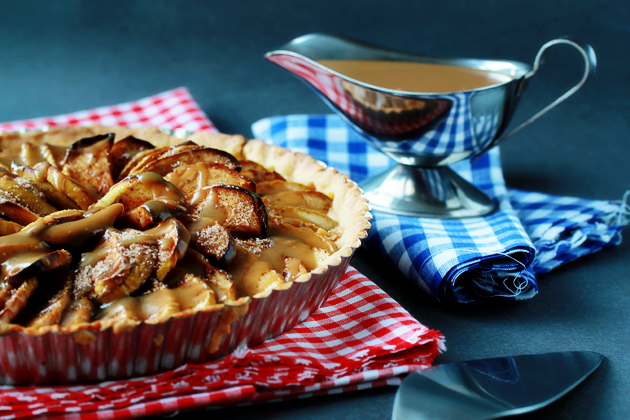 Mmm-mmm-mmm.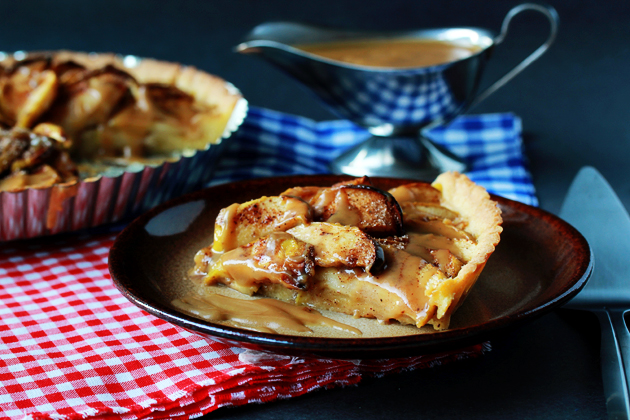 Mmm-mmm.

Enjoy, dear friends!
(This very lovely recipe was adapted from epicurious.com.)