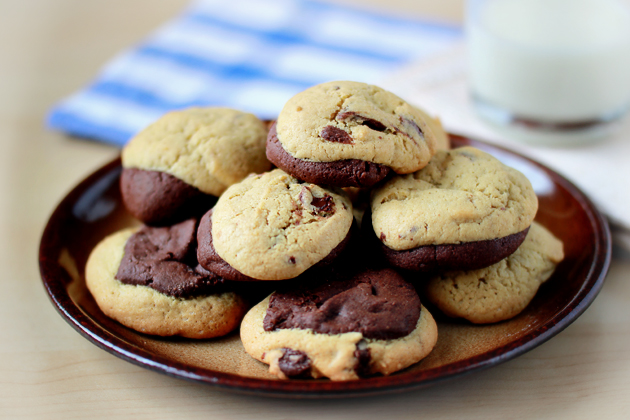 These cookies were born to forever solve the 'double-fudge-or-chocolate-chip-cookie' arguments.

Now you can easily enjoy both of these heavenly cookies at the same time.

Isn't it just AWESOME!

The inventor of this delicious treat, the lovely Jessica from howsweeteats.com, definitely deserves my gratitude. Creating this recipe might have been a small step for her household, but it surely is a giant leap for the mankind…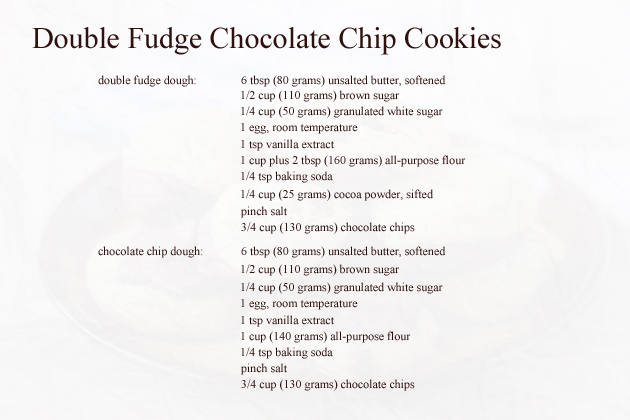 To make your own Double Fudge Chocolate Chip Cookies, you will need these ingredients.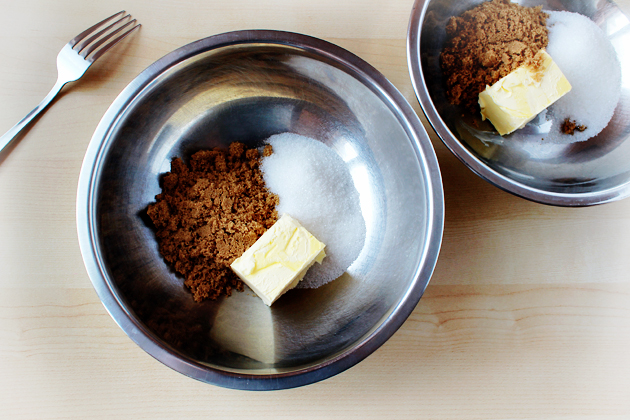 The fudge dough and the chocolate chip dough are worked in two separate bowls. The ingredients that form the doughs are almost the same, the only difference is that the fudge dough contains cocoa powder and it also uses a slightly different amount of flour.

1. Working in two separate large bowls (one for the fudge dough and the other one for the chocolate chip dough), using a fork or an electric mixer, mix the butter and sugars until creamy.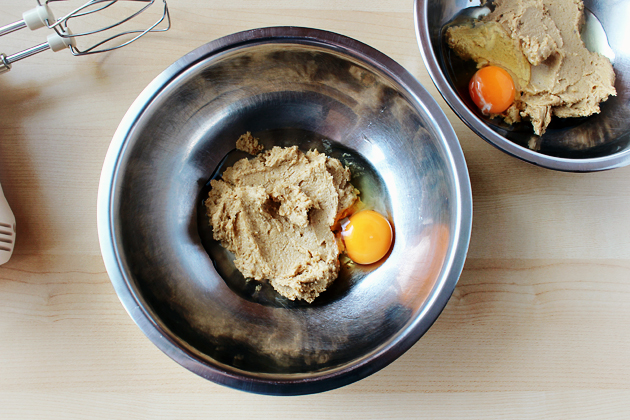 2. Add an egg and vanilla extract in each bowl and whisk until combined.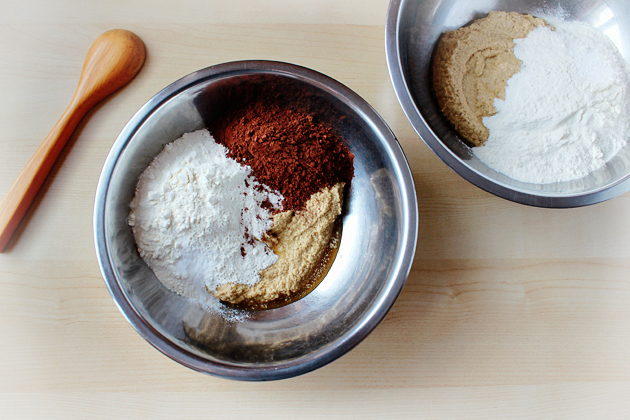 3. To make the fudge dough, add 1 cup plus 2 tablespoons (160 grams) of all-purpose flour, 1/4 tsp of baking soda, 1/4 cup (25 grams) of sifted cocoa powder and a pinch of salt in one bowl.

4. To make the chocolate chip dough, add 1 cup (140 grams) of all-purpose flour, 1/4 tsp of  baking soda and a pinch of salt in the other bowl.

5. Mix until doughs form.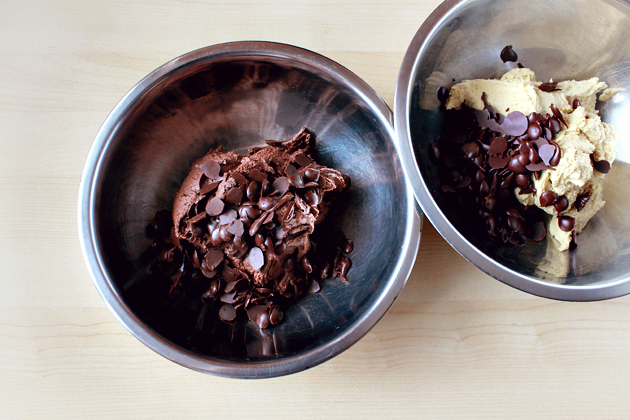 6. Add 3/4 cup (130 grams) of chocolate chips in each bowl and fold the chips in.

7. Place both bowls in the fridge and let cool for about 30 minutes.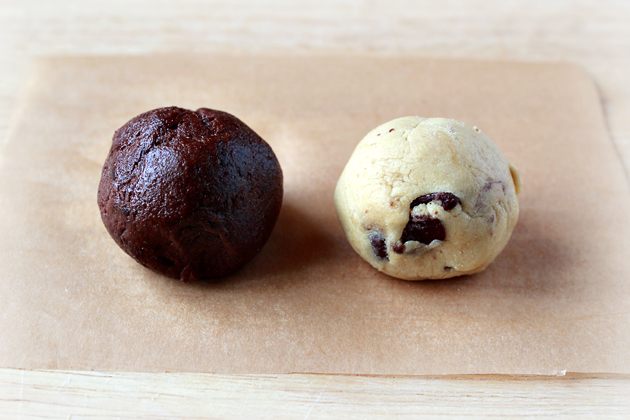 8. Remove the bowls from the fridge.

9. Preheat the oven to 325 degrees F (165 degrees C).

10. Line a baking sheet with parchment paper.

11. Roll each dough into 12 balls (about 1 1/2 inch – 3 3/4 cm thick) so you end up with 24. You can dust your hands with a little flour to help you with this task.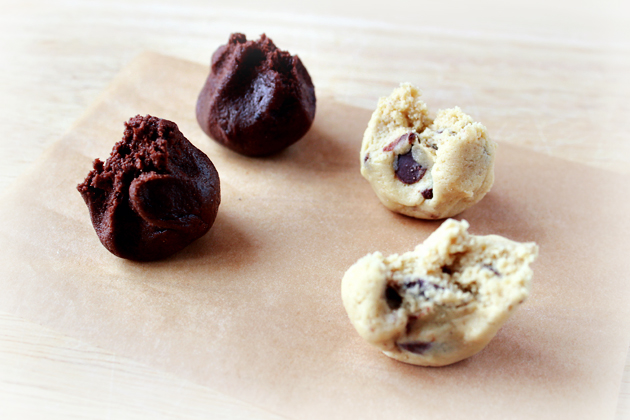 12. Pull each ball apart.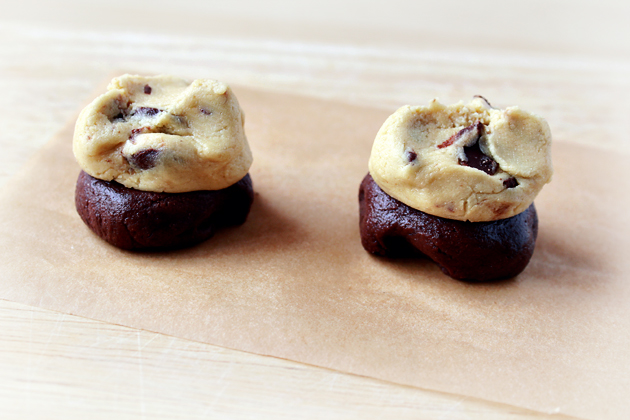 13. Take one chocolate chip half and one double fudge half, placing the round ends together with the rough edges out, just like the picture above shows.

This will result in a nicely uneven surface of your cookies.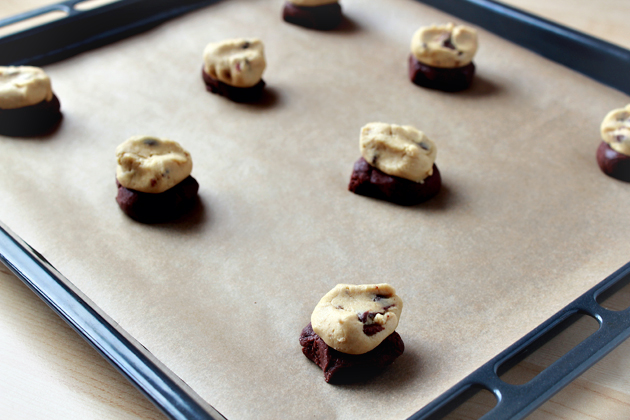 14. Place the dough rough-side down on the lined baking sheet about 2 inches (5 cm) apart.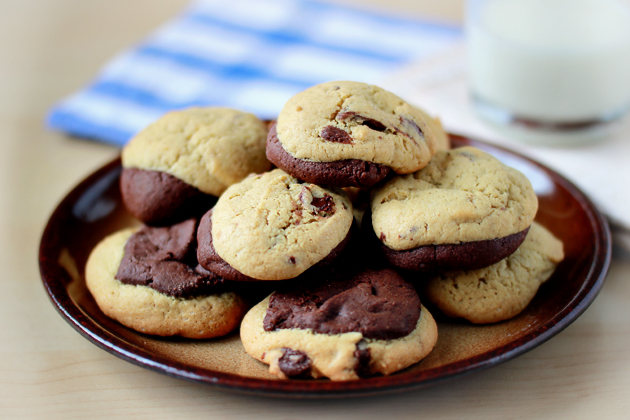 15. Bake for 10-12 minutes, or until cookies are a little soft in the middle and golden on the edges. Let cool completely.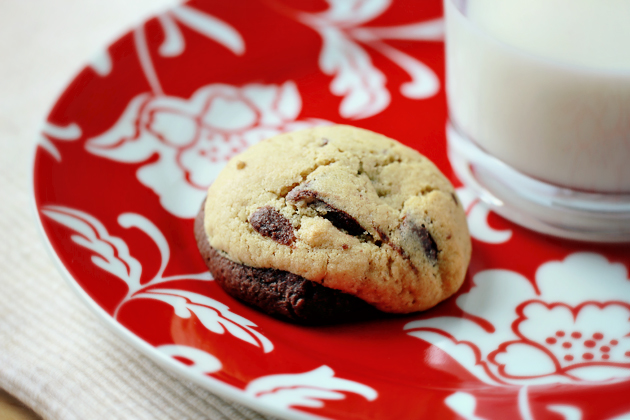 They just look so cute, don't they?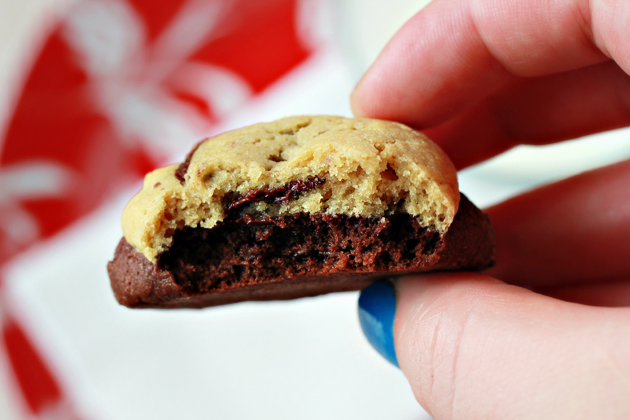 Truly yummy. I can't even tell you how many I had. O-oh!

Enjoy, dear friends.

(This recipe was adapted from howsweeteats.com. It makes about 24 cookies.)