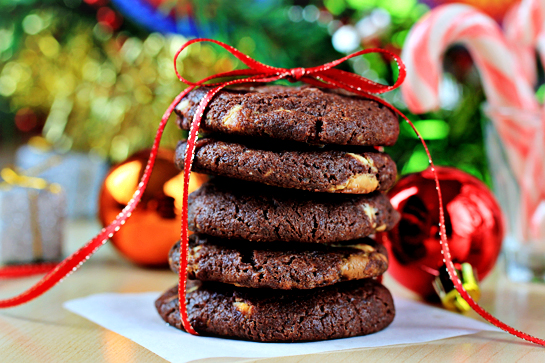 I am definitely making these chocolate cookies for Christmas.
You know, we have a very serious chocoholic in our family.
It's my Mom.
My beloved Mom.
And because my love for her is so big, I always try to include as many chocolate recipes in my holiday baking list as possible.
I am sure my Mom will love these. Totally and completely sure.
In my humble opinion, these cookies taste just amazing – with their wonderfully soft centers, crunchy edges, full chocolaty flavor which is perfectly balanced with white chocolate chunks and delicious nuts, they have a strong potential to be perfect and genuine crowd pleasers.
Here's how to make them…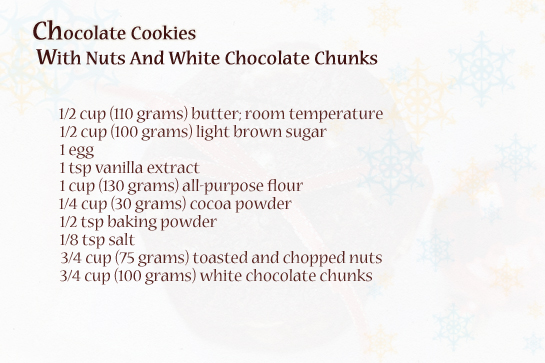 The ingredients.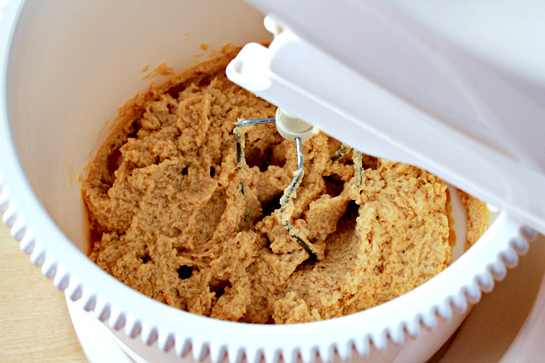 1. First, preheat the oven to 350 F (175 C) and line a baking sheet with parchment paper.
2. In the bowl of your electric mixer, beat the butter and sugar until light and fluffy (about 3 minutes).
3. Add the egg and vanilla and beat until incorporated.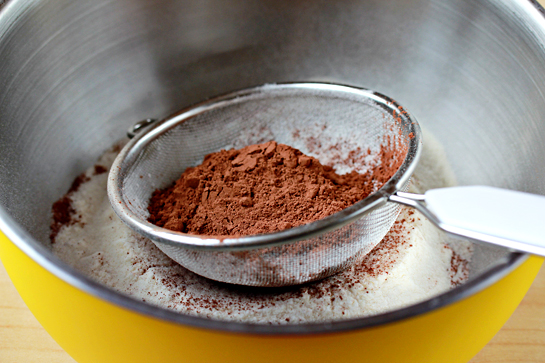 4. In a separate bowl, sift together the flour, baking powder, salt, and cocoa powder.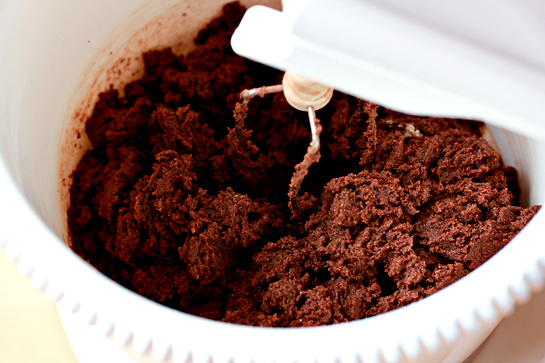 Then add these sifted dry ingredients to the butter and egg mixture.
Mix just until incorporated.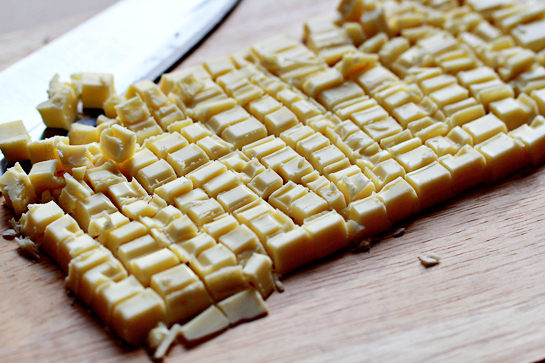 5. Cut the chocolate into chunks (or use the store bought white chocolate chunks, or chips).
6. Toast the nuts in hot oven for about 10 minutes. Let them cool for awhile. Then chop them.
Walnuts or pecans work great here.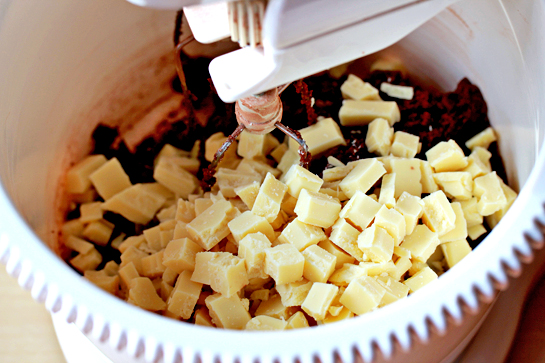 7. Add the chocolate and the nuts to the batter…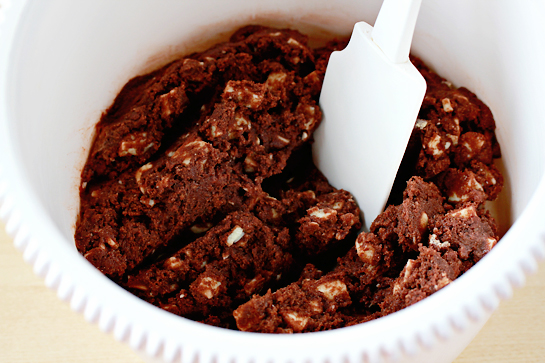 … and fold it all in.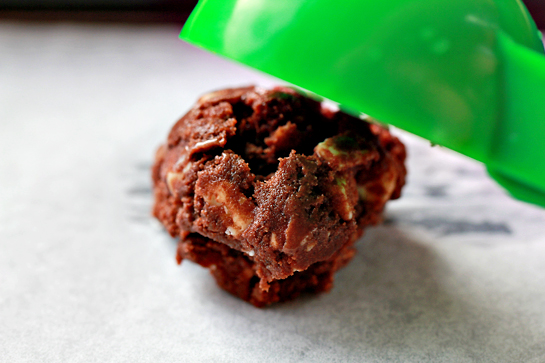 8. Using an ice cream scoop or two spoons, place about 1 1/2 tablespoons of batter on the prepared baking sheet, spacing about 2 inches (5cm) apart.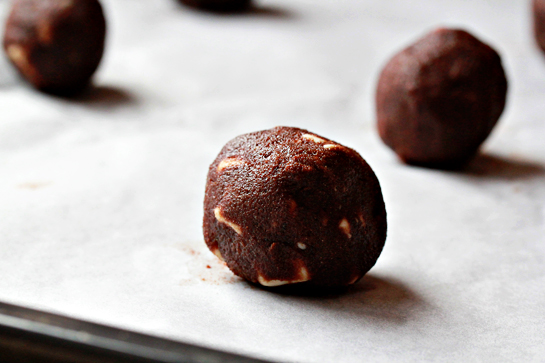 For neater looking and rounder cookies, you can roll each portion between your palms till it forms a smooth ball.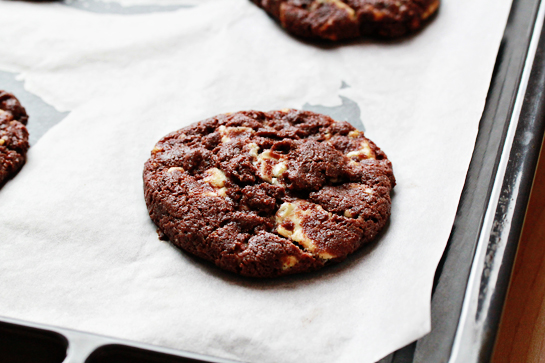 9. Bake for about 10-12 minutes or until the cookies are still soft in the center but are firm around the edges.
10. Remove the cookies from the oven and let them cool on baking sheet for about 5 minutes before removing them to a wire rack to cool completely.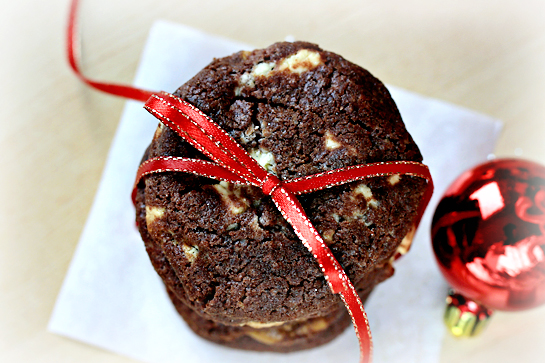 Enjoy the deliciousness!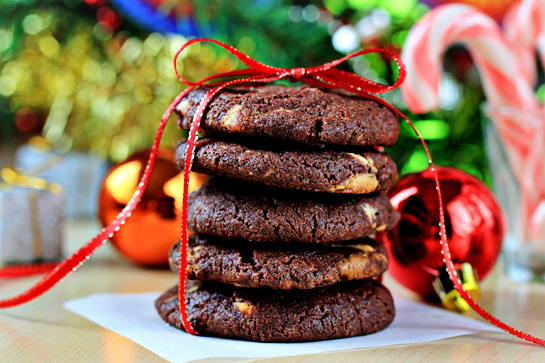 Because these are good.
Yum!
With love,
Petra
(This recipe makes about 20 3-inch cookies. Source: Joyofbaking.com)