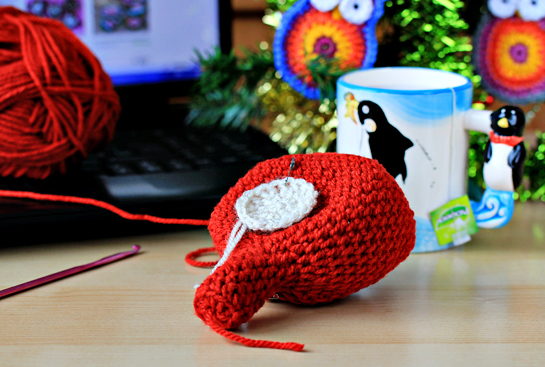 These past weeks before Christmas have been quite busy, I have to admit.
Oh yeah, I am surely not the only one having it that way.
With the major projects successfully finished and the presents all ready, things are beginning to slow down here in my world and I am starting to feel the true peaceful and merry spirit of Christmas.
I have even dreamed up some sweet holiday plans for me to enjoy in the days to come:
I will finally have time to finish a crocheted Red Panda for my nephew. You can see the started project in the picture above. Once it gets finished, I will definitely show it to you. (Thank you for your patience, Gaby!)
I am planning to watch as many Christmas movies as possible! That is crucial. Needs to be done.
Then eggnog, there needs to be eggnog. A lot of eggnog.
Also, it was pretty long ago when I thought it would make me really happy if I learned to play at least one of INXS songs on the piano. I think the time has come for their amazing 'Mystify Me' to enter my life. Whee!
I want to take nice pictures of trees and use a cute Photoshop technique to edit them in a special way. That is a project I've been wanting to do for such a long time. Can't wait! Taking pictures and using my fantasy to edit them are such wonderful and fulfilling activities.
But most of all, I just want to spend a nice and joyful time with my loved ones.
And you, dear friends, do you have any happy plans for Christmas? What's there you are looking for? I'd love to know?
With lots of love,
Petra