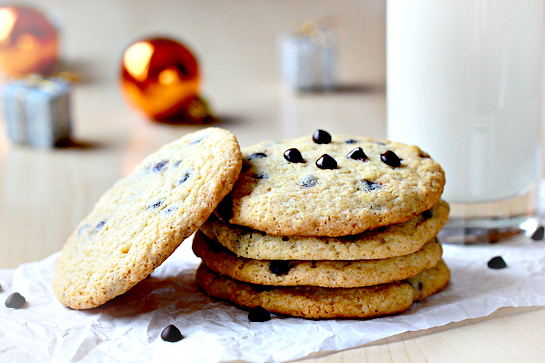 Yippee!
The Holiday Season is here.
I have generously granted myself the right to post recipes for Christmas cookies here, on this little site of mine, well before the actual Christmas day arrives.
I do it all for the sheer good it can do to mankind, you know. I need people to know what my favorite cookies are, how else could they possibly go on? My sweet tooth plays no role in this game. Although, it might play a little role, if you insist. Okay, it plays a huge role! So now you know it!
Anyhow…
To kick it all off, I have made my very favorite Chocolate Chip Cookies today.
I will definitely be making these this month again. Mostly because they are just awesome! Crunchy on the outside, soft on the inside, full of chocolate deliciousness – pure heaven!
Here's all the necessary steps that will get you to that lovely heaven too…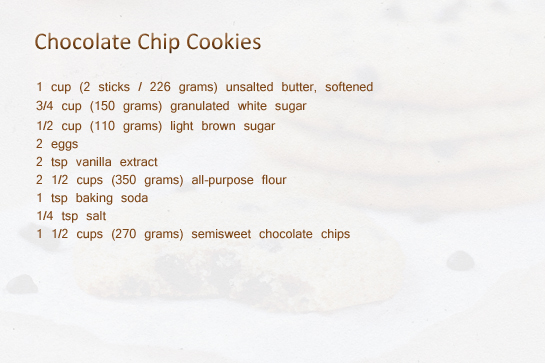 Here's what we need.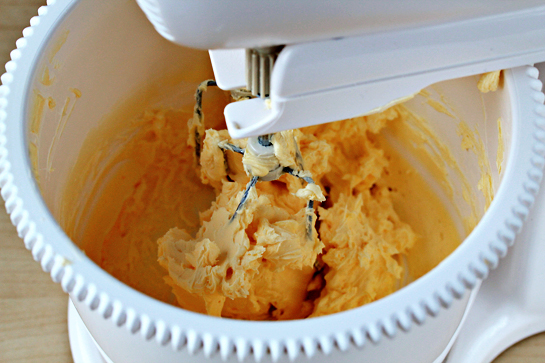 1. First, preheat the oven to 375 F (190 C) and line a baking sheet with parchment paper.
2. In the bowl of your electric mixer, beat the butter until smooth and creamy.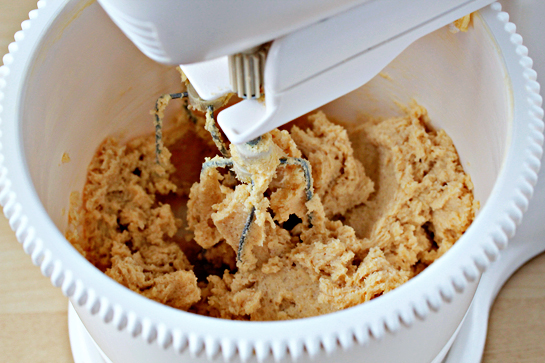 3. Add the sugars and beat about 2 minutes.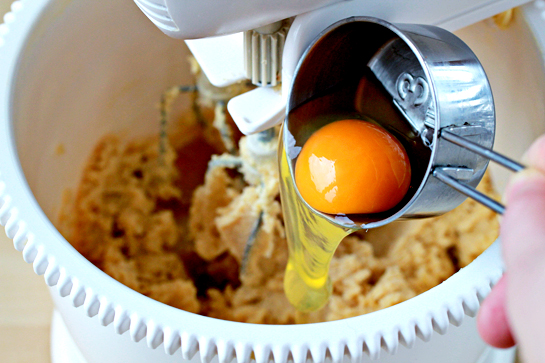 4. Add the eggs, one at a time, beating well after each addition.
5. Add the vanilla and beat until just incorporated.
6. In a separate bowl, whisk together the dry ingredients – the flour, the baking soda, and the salt.
7. Add the mixed dry ingredients to the egg batter and beat until incorporated.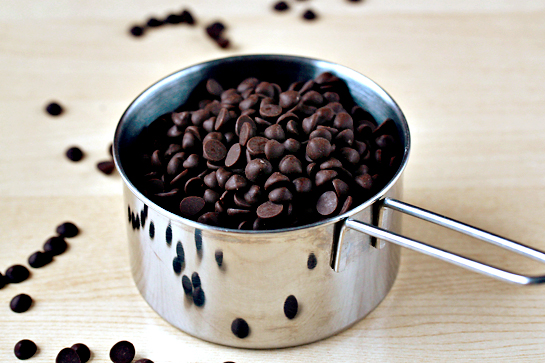 8. Finally, we need the chocolate chips.
Aren't they just adorable?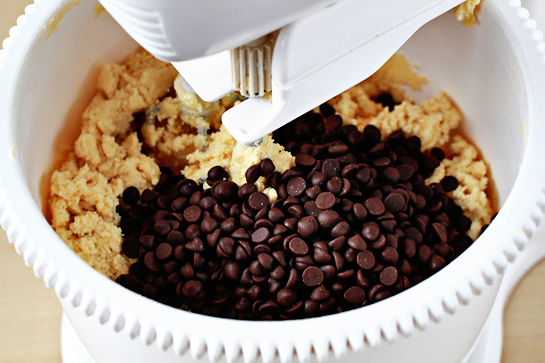 9. Add the chocolate chips to the batter and…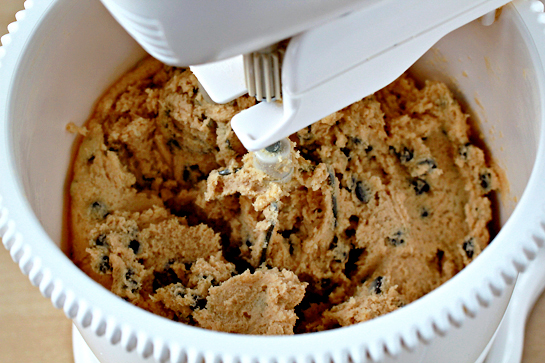 … beat until combined.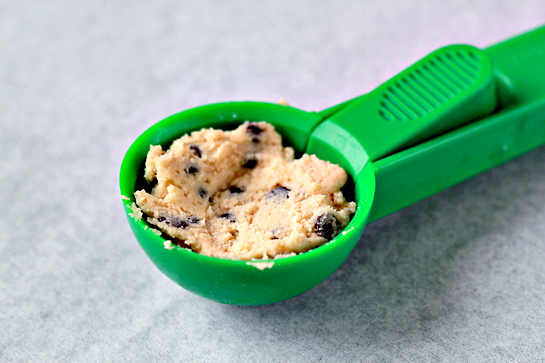 1o. For 3-inch (8 cm) cookies, scoop about 2 tablespoons of dough.
Tip: Dip the scoop (or spoon) in warm water to help the dough slide off easier.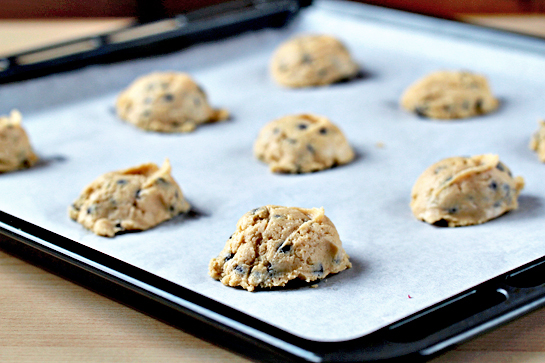 11. Spacing it far enough apart, drop the dough onto the prepared baking sheet.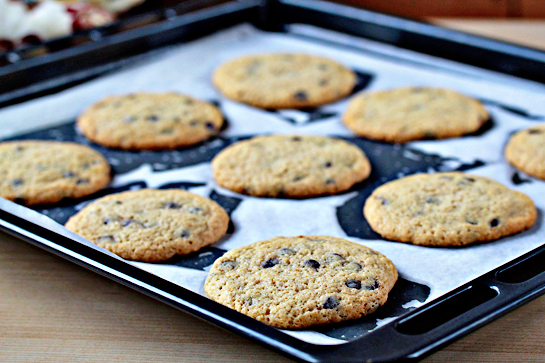 12. Bake at 375 F (190 C) for 10-12 minutes, or until golden brown around the edges.
13. Remove the cookies form the oven and let them cool for about 5 minutes before removing them from the sheet.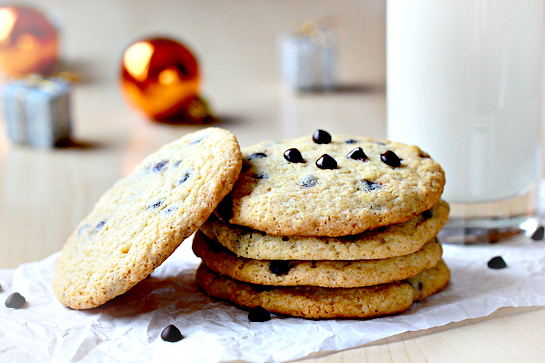 They are so so so good.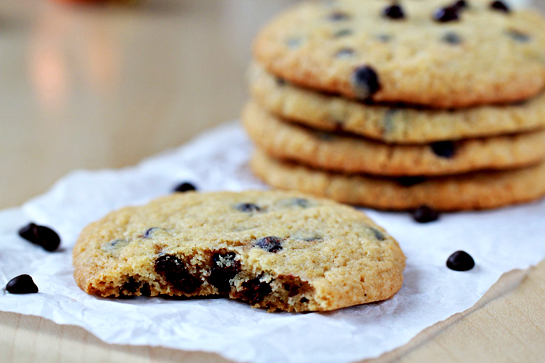 Heaven!
Enjoy, dear friends!
And, by the way, what is YOUR favorite holiday cookie? I would love to know!
(This recipe was inspired by JoyOfBaking.com. Yield: 35 cookies.)