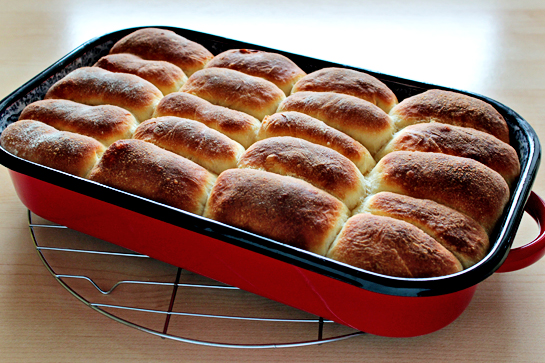 The title of this post might be one of the strangest titles I have ever used.
So let me make it clear to you.
The word 'buchty' is a plural form of a word 'buchta'. So there's one buchta, and there are two or three buchty.
Fun, ha?
Okay, that did not really make things more clear. So let me tell you a bit more. The word buchta or buchty not only sounds fun but it really exists.
Whoa, right?
Actually, it is a proper word of my native language, which is Slovak and it is spoken by a couple of people who live in Slovakia (a small country in the very heart of Europe). When these people say buchta you now know they are talking about a wonderful baked jam-filled bun that many of them are kind of addicted to.
The fact is that not only me but many generations of my ancestors grew up on this delicious and simple dessert. It is been here for hundreds of years, and we've all loved it, so who knows, maybe you will like it too.
Frankly, I am sure you will…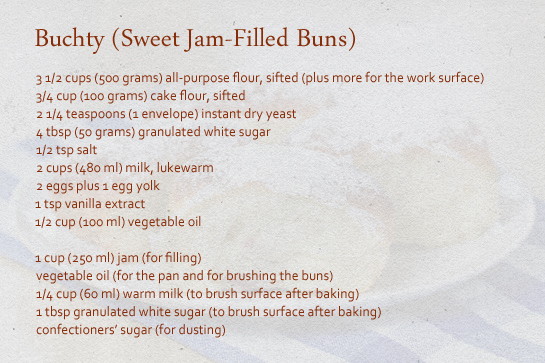 Here's what we need to make our own buchty.
I just love using that word in English text.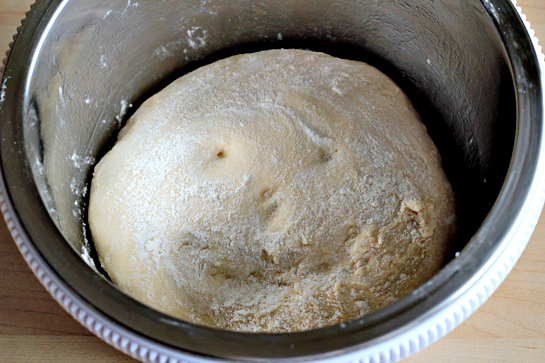 1. First, in a large bowl, combine the dry ingredients (the all-purpose flour, the cake flour, the instant dry yeast, the sugar, and the salt).
2. Add the lukewarm milk (2 cups – 480 ml), the eggs and egg yolk, the vanilla extract, and the vegetable oil.
3. Knead, either by hand or with your electric mixer, until the dough is smooth and less sticky.
The dough should be somewhere between firm and runny, so you can use a little more milk or a little more flour to make it look alright.
For the sake of tradition, I kneaded the dough by hand and it took me about 15 minutes to get the consistency I liked.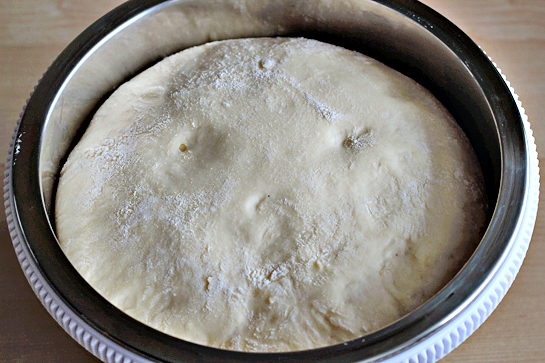 4. Place the dough into a large and oiled bowl and cover it with plastic wrap. Place it in a warm space and allow it to rest until doubled in size, about 1 hour.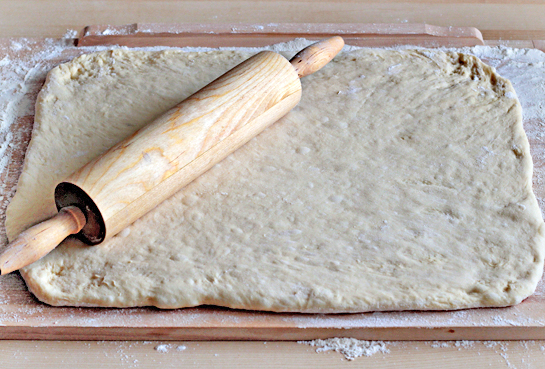 5. Deflate the risen dough and knead about 1 tablespoon of flour into it.
6. Place the dough ball on a well floured work surface.
7. Roll it out until it's about 14 inches tall (35 cm) and about 17 inches (42 cm) wide.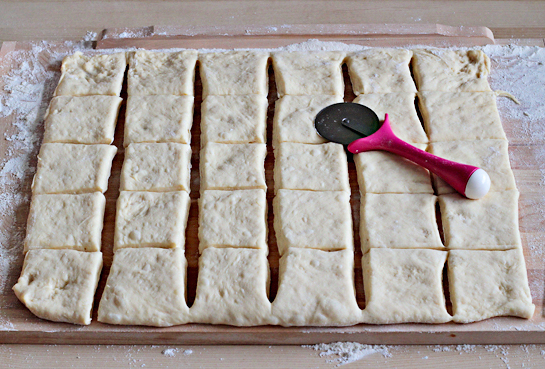 8. Cut the dough in 2 3/4 x 2 3/4-inch (7 x 7 cm) squares.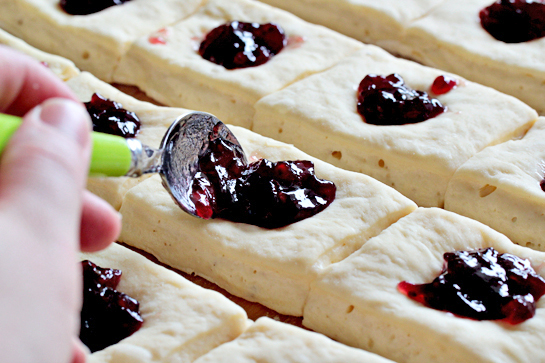 9. With your finger or with the end of a wooden spoon, make a shallow hole in the middle of each square.
10. Then place about 1 1/2 tsp jam in the center of each square.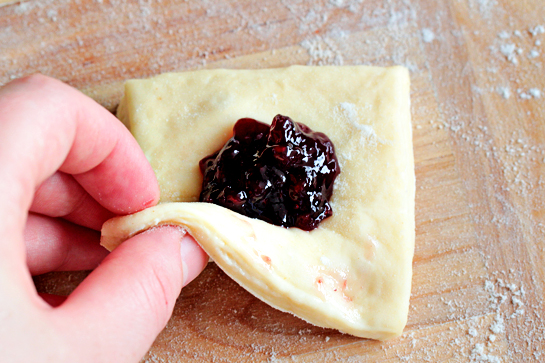 11. Carefully, fold each square in half.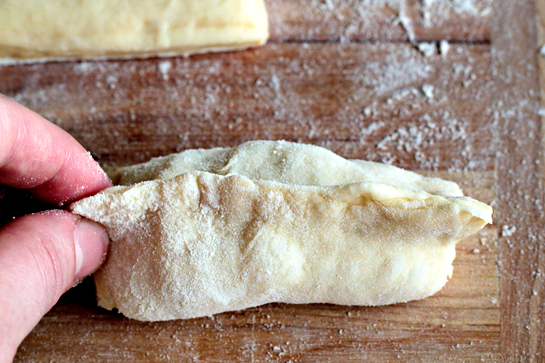 12. Pinch the dough to secure all seams.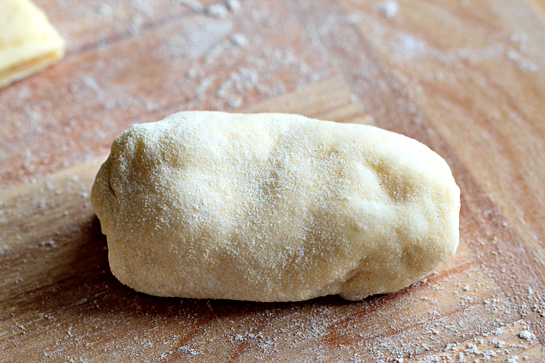 13. Invert the bun seam side down and make sure the side seams are secured and tucked under the bun.
Let's give that jam minimal chances to leak.
We have now ended up with a kind of irregular log. The logs don't necessarily need to be the same shape – this is a rustic dessert, after all.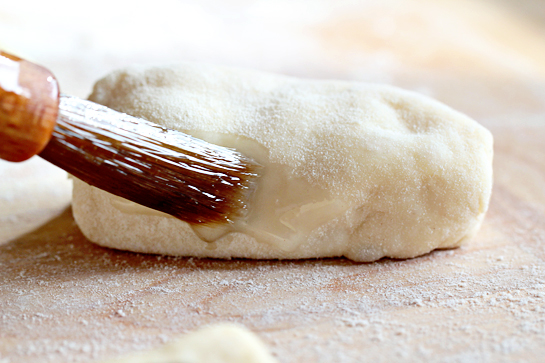 14. Brush the sides of each bun with generous amount of vegetable oil. That will prevent the buns from sticking together while baking.
Note: You do not need to place your buchty so close to each other – they will be even more fluffy if they have more space to rise!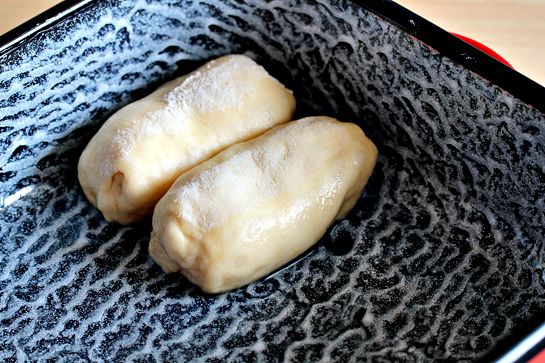 15. Now brush a deeper baking pan with vegetable oil generously and place the buns next to each other.
I later found out that my pan (12 x 8 inches /32 x 20 cm) was not big enough so I baked the buns in two batches.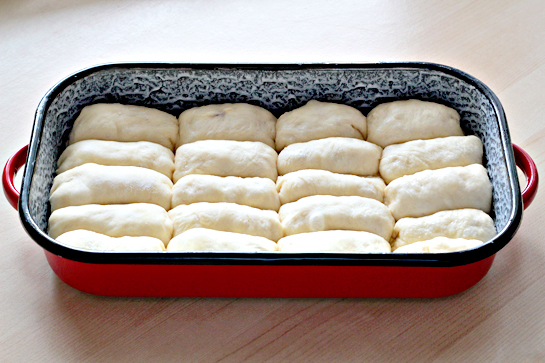 16. Cover the buns with a kitchen towel and allow them to rest for additional 20 minutes.
17. In the meantime, preheat the oven to 350 F (175 C).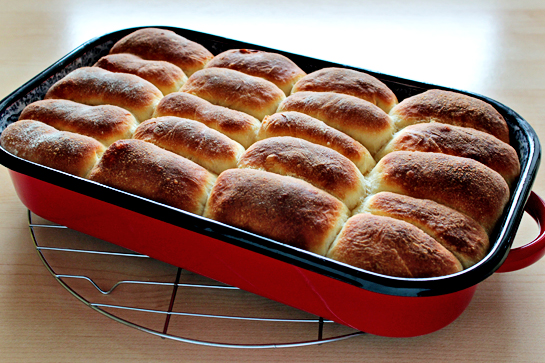 18. Bake for about 25-30 minutes, until golden-brown.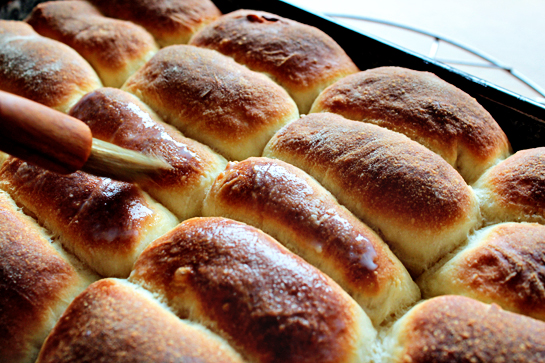 19. Remove from the oven.
20. Combine the warm milk (1/4 cup – 60 ml) with 1 tbsp sugar and brush the top of each buchta (hehe) with this mixture. It will make the surface of each bun nice and soft.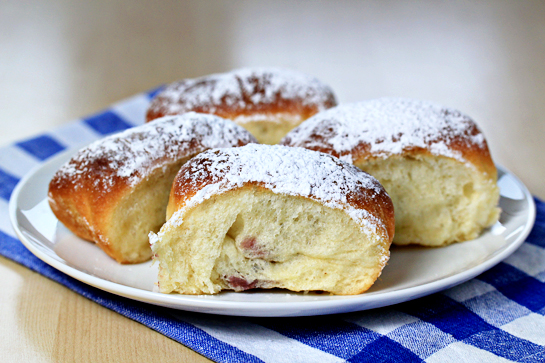 21. Dust with confectioners' sugar and serve.
These babies can be also filled with cream cheese-sugar mixture. Or any other mixture that will make you happy.
Enjoy, dear friends!
Love,
Petra
(This recipe makes 30 buns.)