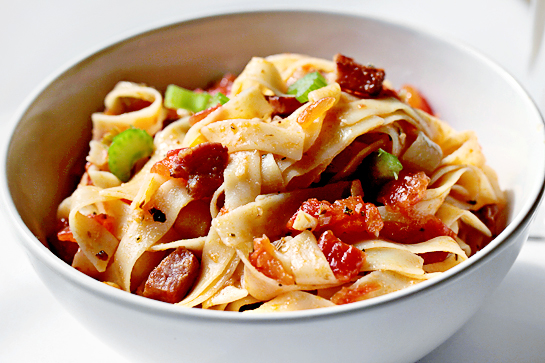 It seems that today, while preparing this dish, I have learned a few very important things.
First important thing – bacon and tomatoes together make a wonderful, wonderful combination of flavors. Yum!
Important fact number two is that tomatoes are SO easy to peel. It is so much easier than I had thought before.
And last but not least, I have learned that I am a huge fan of the quick-to-prepare meals. This one takes about 25 minutes to make, which – to me, and to all of you I'm sure – is a precious gift from heaven.
Here is what I did, step-by-step…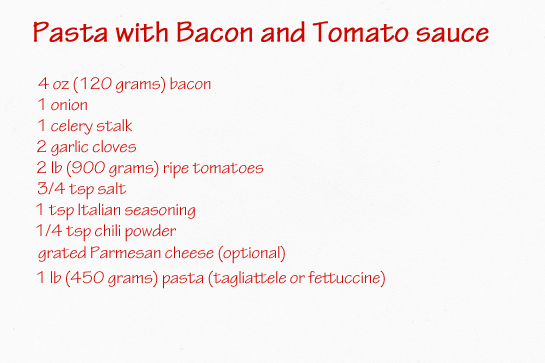 I gathered these ingredients.
One gets nowhere without the ingredients.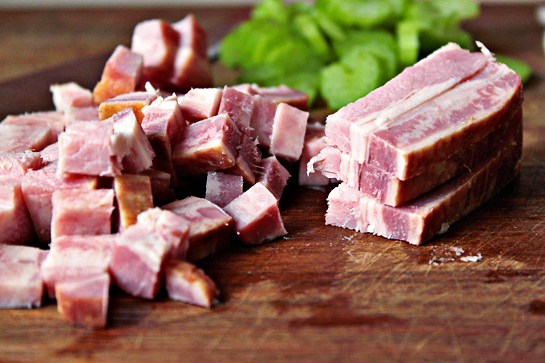 1. First, cube the bacon.
I bought a whole piece of bacon, but if you have strips, those are all right too. Just cut them into about 1/2 inch (1 cm) pieces.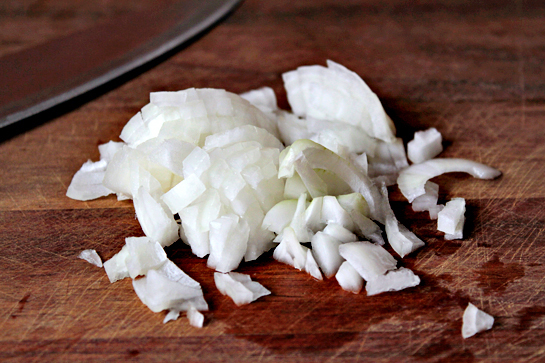 2. Chop the onion finely.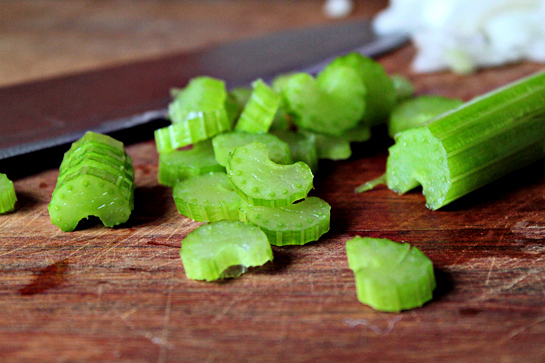 3. Chop the celery stalk.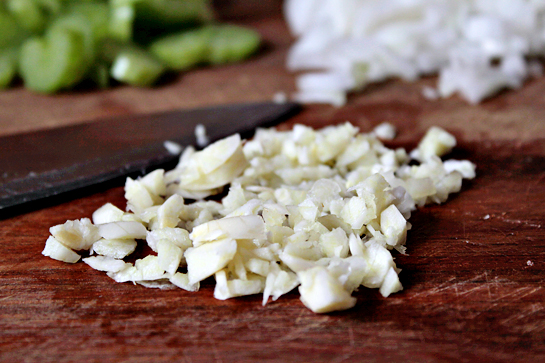 4. Peel and mince the garlic cloves.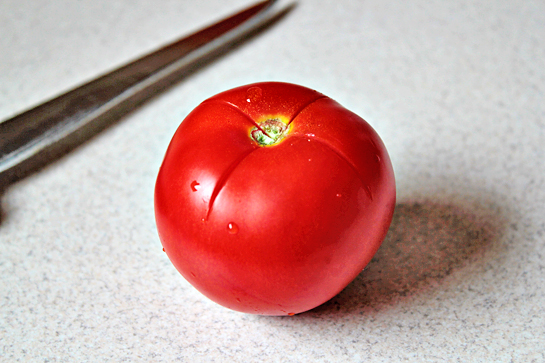 5. And now about the tomatoes and how to peel them.
To peel your tomatoes very easily, boil a pan of water, and prepare a larger bowl of cold water.
Cut a cross in the top of each tomato.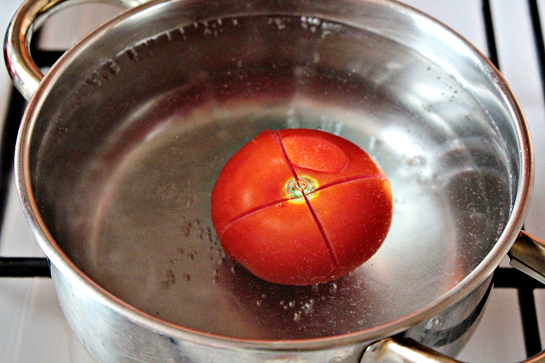 Put each tomato into the pan with boiling water (separately or more at once) and boil them for about 20 seconds.
Remove the tomatoes with a slotted spoon (or a regular spoon).
You can already see the skin splitting.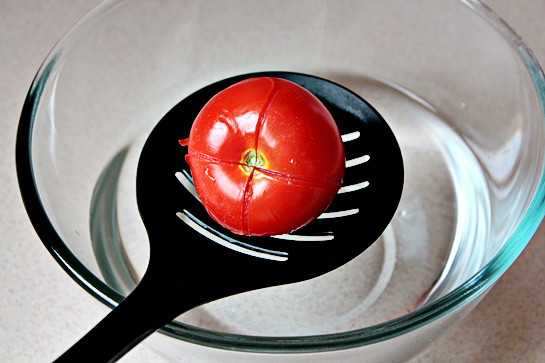 Plunge immediately into cold water.
Repeat the process with all tomatoes.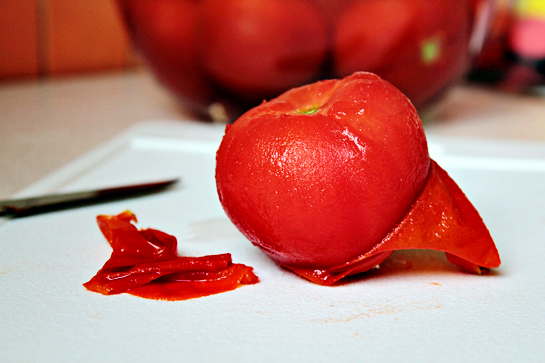 Remove tomatoes from cold water and peel off the skin with a knife.
Easy!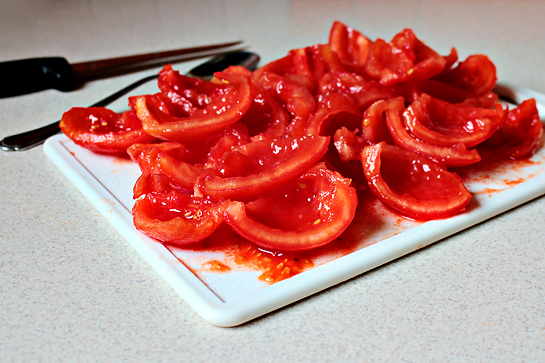 6. This recipe calls for peeled and seeded tomatoes, so cut each tomato in four and cut each quarter, from top to bottom, exactly as if you were tracing a 'C' with the knife blade. Discard the inside of the quarter and remove any remaining seeds.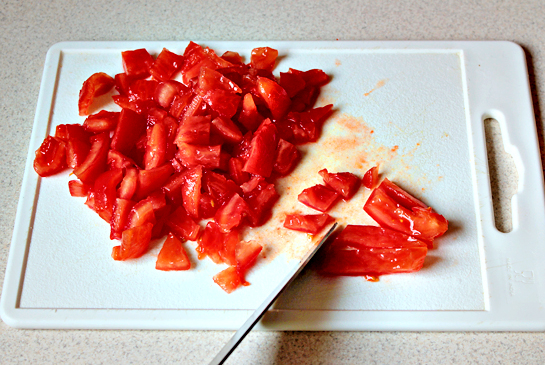 7. Now cut each tomato 'petal' into smaller pieces.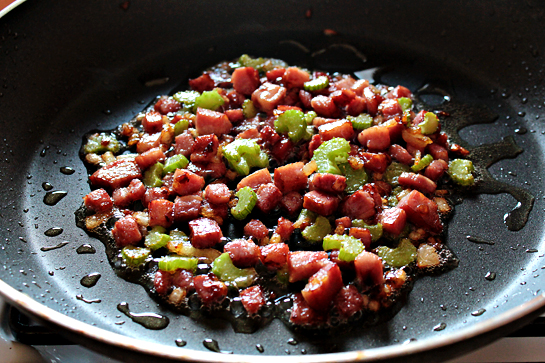 8. In a large frying pan, over medium-high heat, cook the bacon, onion, and celery about 4-5 minutes, stirring constantly.
9. Then reduce the temperature to medium, add the garlic, and cook 1 minute. Stir constantly.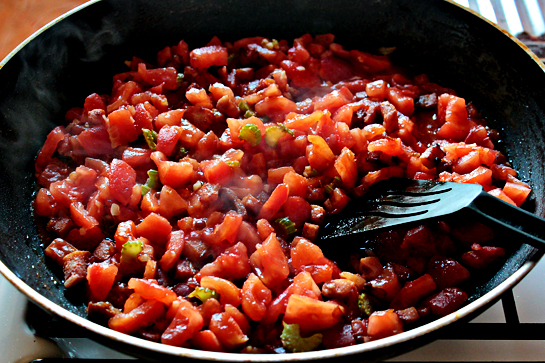 10. Add the tomatoes and the spices (salt, Italian seasoning, chili powder). Cook, stirring occasionally, about 10-15 minutes.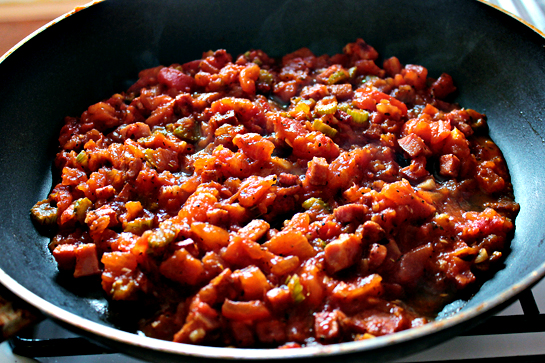 When done, the sauce ingredients should be nicely softened and the sauce itself should be thick.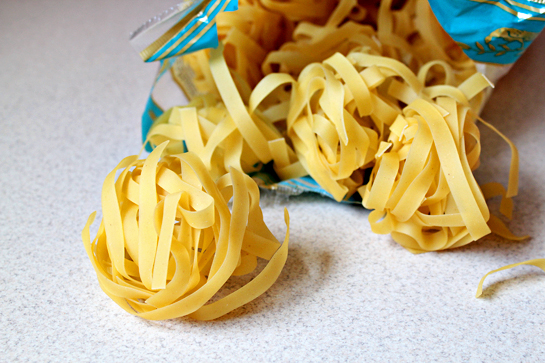 11. Cook the pasta according to package directions until al dente. Drain well.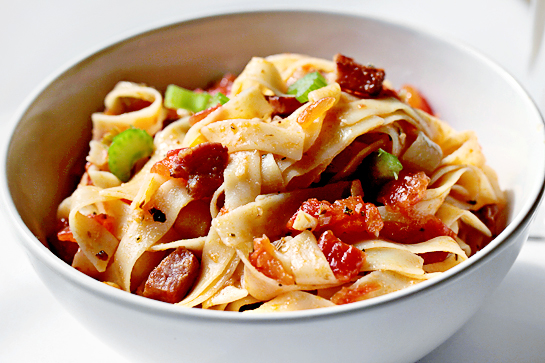 12. Serve the sauce mixed with pasta, with a little grated Parmesan cheese sprinkled on top, if you prefer that.
Enjoy, dear friends.
Love,
Petra
(This recipe was slightly adapted from here. Makes 6 servings. Preparations time – 25 minutes.)