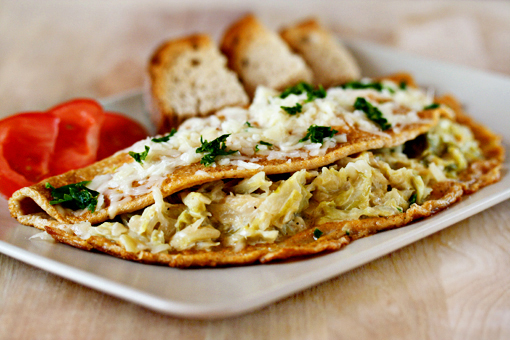 In case you are looking for a nice, light and delicious summer meal then look no further and relax.
Because I have something very good for you.
Something very, very, VERY good.
It was, I guess, some 6 years ago and deep into my vegetarian years when I found this recipe. My herbivorous years are long gone by I still cherish some recipes from that period.
And I especially love this one…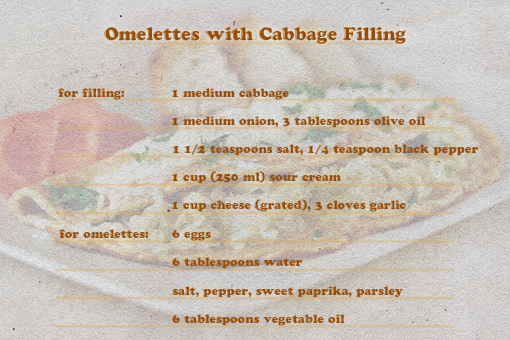 This is the lovely, yummy stuff we are going to need.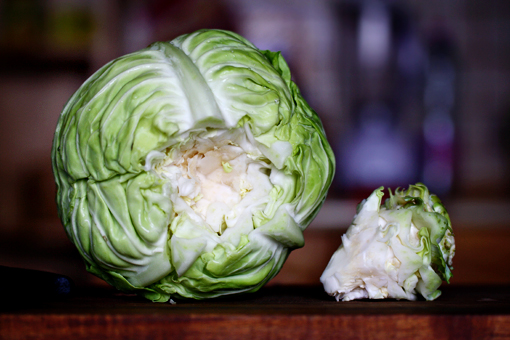 1. First, wash the cabbage and remove its tough center stalk.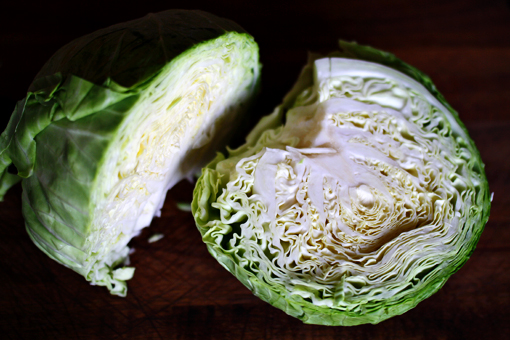 2. Then get angry (because it helps) and cut it in half.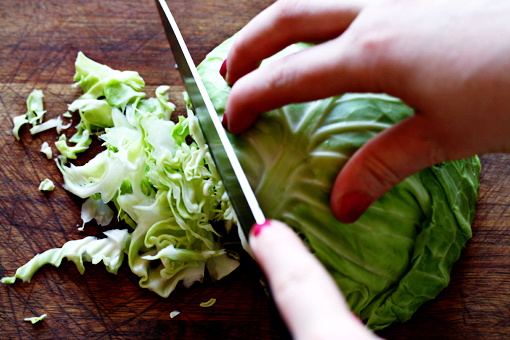 3. Place each half cut-side down and cut/shred into tiny strips.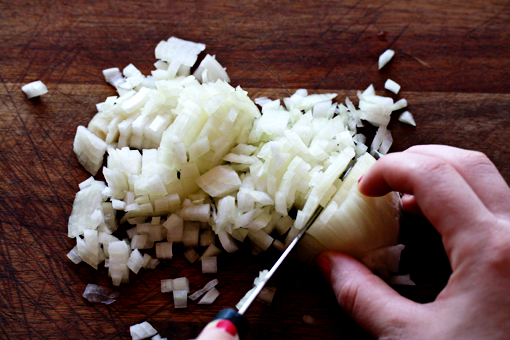 4. Now peel and chop the onions.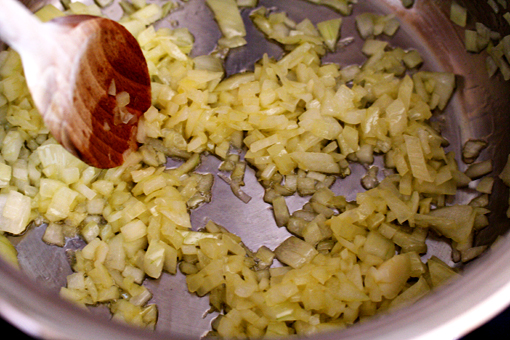 5. Pour 3 tablespoons olive oil into a large pot and place it over medium-low heat.
6. Add the onions and saute for about 2 minutes, stirring constantly.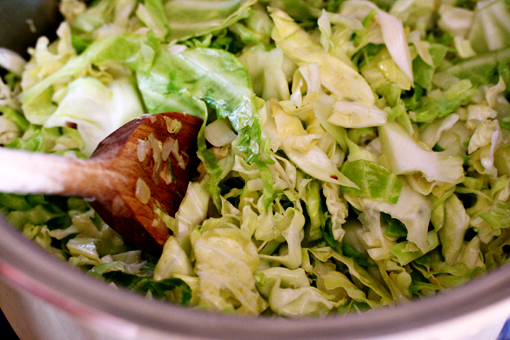 7. Add the shredded cabbage.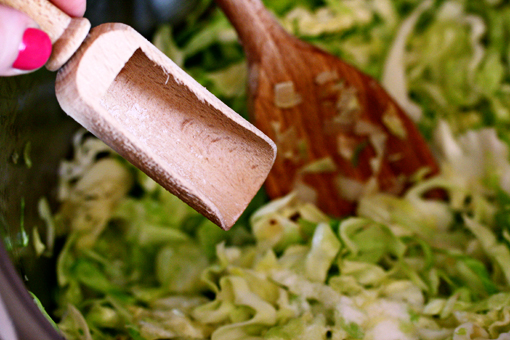 8. Season with 1/4 teaspoon black pepper and 1 1/2 teaspoon salt.
9. Stir, cover and sweat for about 15-20 minutes.
Stir every couple of minutes so that it doesn't get burned.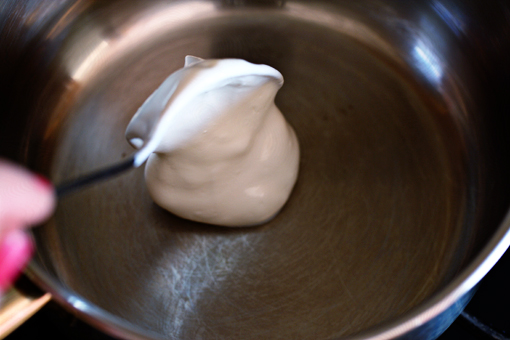 10. Meanwhile, spoon the sour cream into a medium saucepan.
Place the saucepan over low-medium heat.
We are not going to cook this sour cream mixture we are making here – what we are doing is just heating it up gently.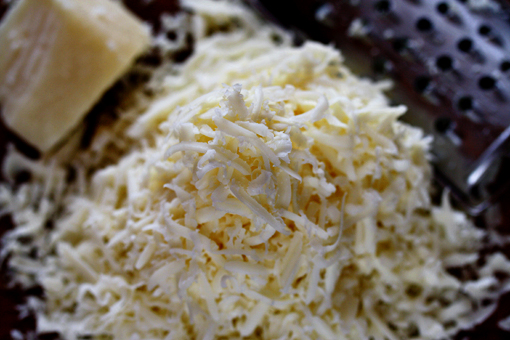 11. Grate the cheese so that you have about 1 cup (100 grams).
I am using Edam cheese here, but you can use any cheese that makes you happy.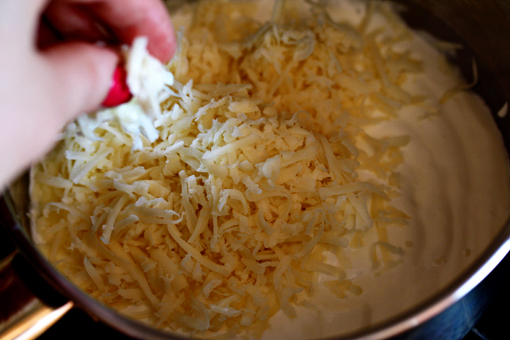 12. Add about half the cheese to the saucepan.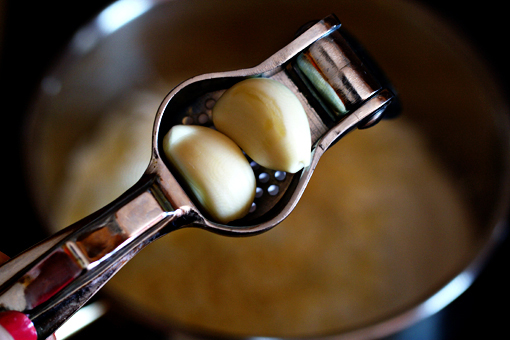 13. Now peel and press three cloves of garlic.
I promise I am going to learn to count to three soon.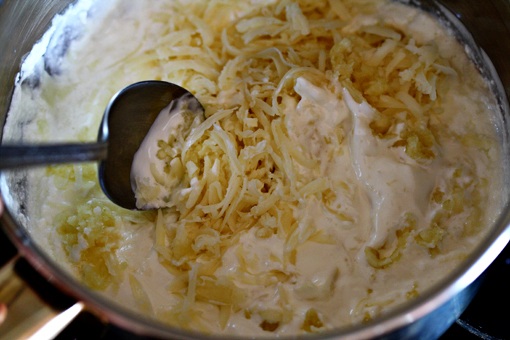 14. Stir the whole mixture just until combined and remove it from heat.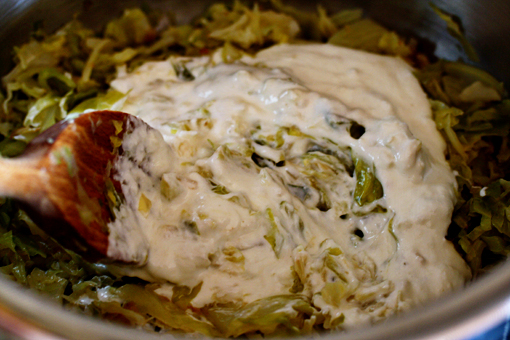 15. Add the sour cream mixture to the cabbage which should be nice and soft by now.
16. Stir to combine and remove from heat.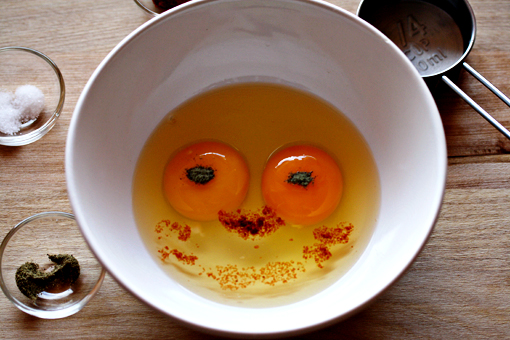 17. And now let's make the yummy omelettes.
To make one omelette, we need 2 eggs, 2 tablespoons water, a pinch of black pepper, a pinch of salt and a pinch of sweet paprika powder.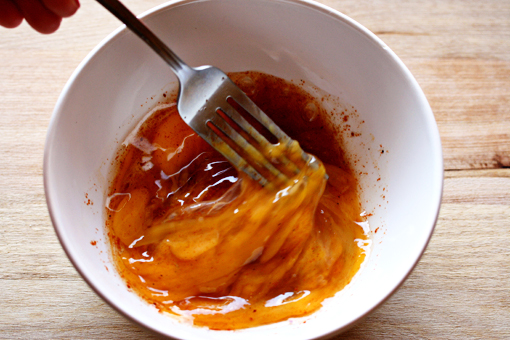 18. Yeah, destroy the Omelette Bob.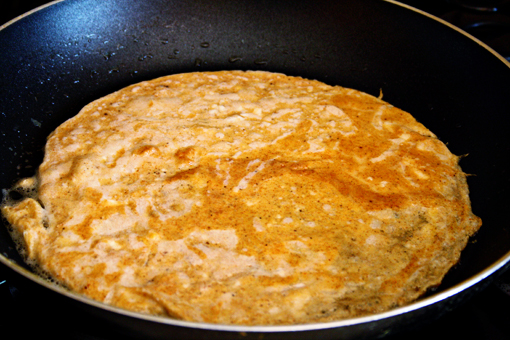 19. In a larger pan, heat up about 2 tablespoons of vegetable oil and pour in the batter.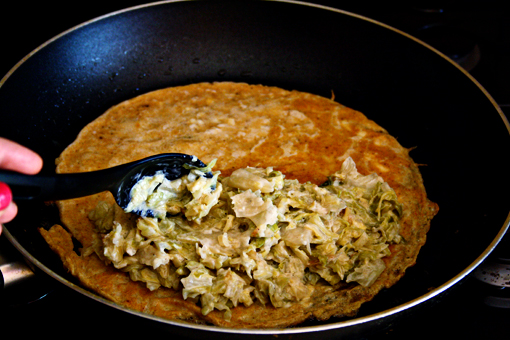 20. Cook for about 5 minutes – just until the omelette is cooked through but don't flip.
21. Spoon about one third of the cabbage mixture over one half of the omelette.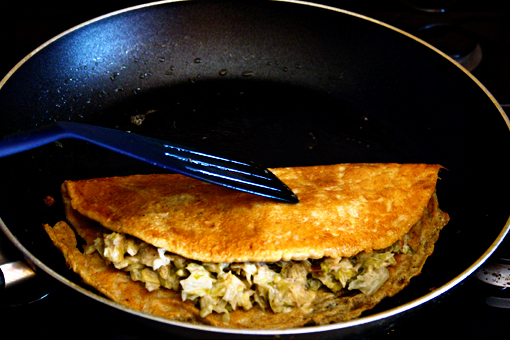 22. And fold the other half of the omelette over the filling.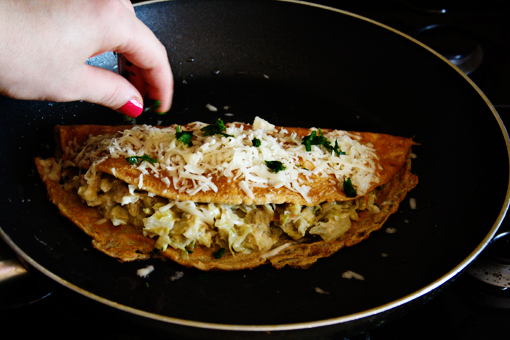 23. Remove the pan from heat.
24. Sprinkle the top with one third of the remaining cheese and add some parsley just for kicks.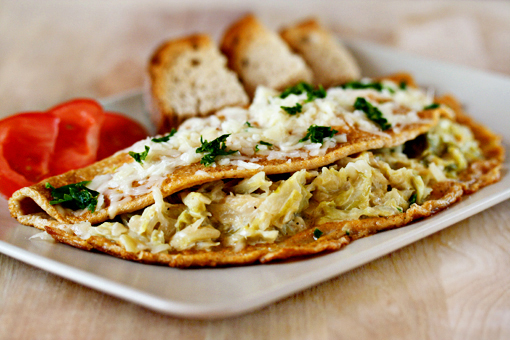 Here I am serving the scrumptious omelette with sliced tomatoes and toasted bread.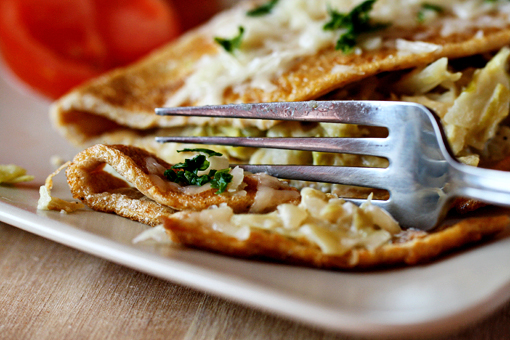 Yum!
Just give this delicious dish a try and you'll be glad you met me!
I promise!
And most of all, enjoy dear friends!
See you soon.
Love,
Petra

(This recipe makes 3 omelettes.)