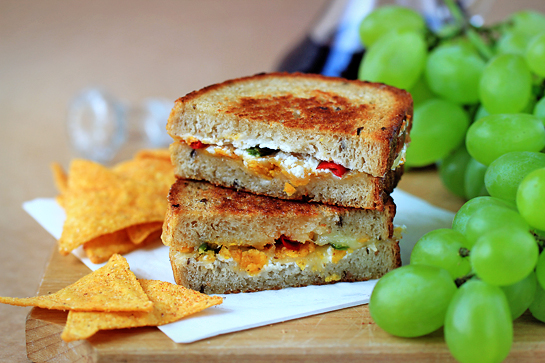 Grilled cheese sandwich is a wonderful thing.
In my world, it definitely is so.
Grilled cheese sandwich means comfort.
Grilled cheese sandwich means a piece of home that you can take wherever you go.
Grilled cheese sandwich means simple perfection.
The grilled cheese sandwich I am going to show you might be slightly different from a typical one, but man, is it good. There's a chili pepper for a nice punch, there's cream cheese for more creaminess and flavor, and there are crumbled tortilla chips inside for some special extra crunch.
And yes, you are guessing right, it tastes so good…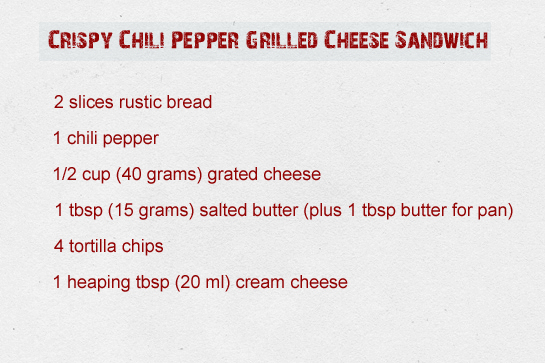 To prepare one (1) sandwich,  you will need these ingredients.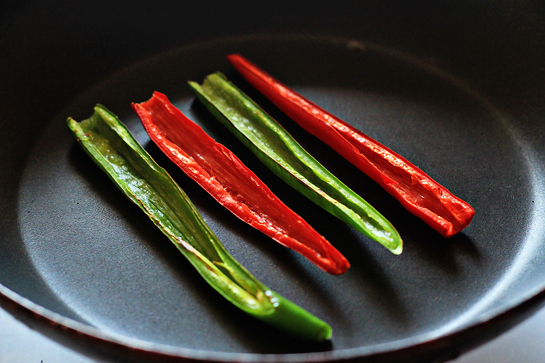 1. First, wash, dry, cut in half lengthwise, and seed one chili pepper.
The picture shows two peppers because I was preparing two sandwiches. (And I also wanted to have both red and green pepper in my sandwich. I am this mischievous.)
2. Place the pepper on a hot pan and roast it for about 8 minutes, until it gets softer.
If brown spots appear on the pepper as it roasts, that's okay. Just remove the  spots with a knife before assembling the sandwich.