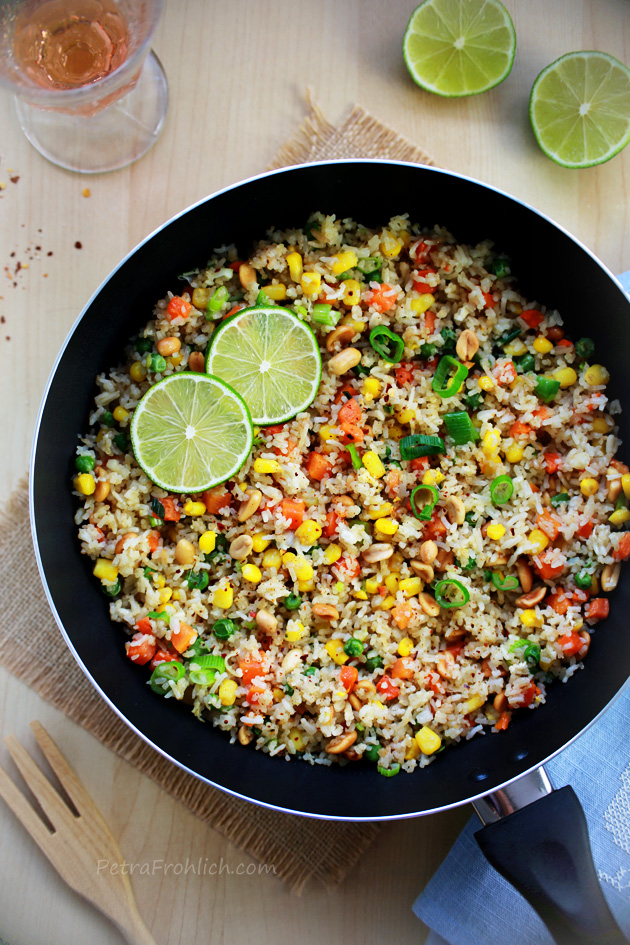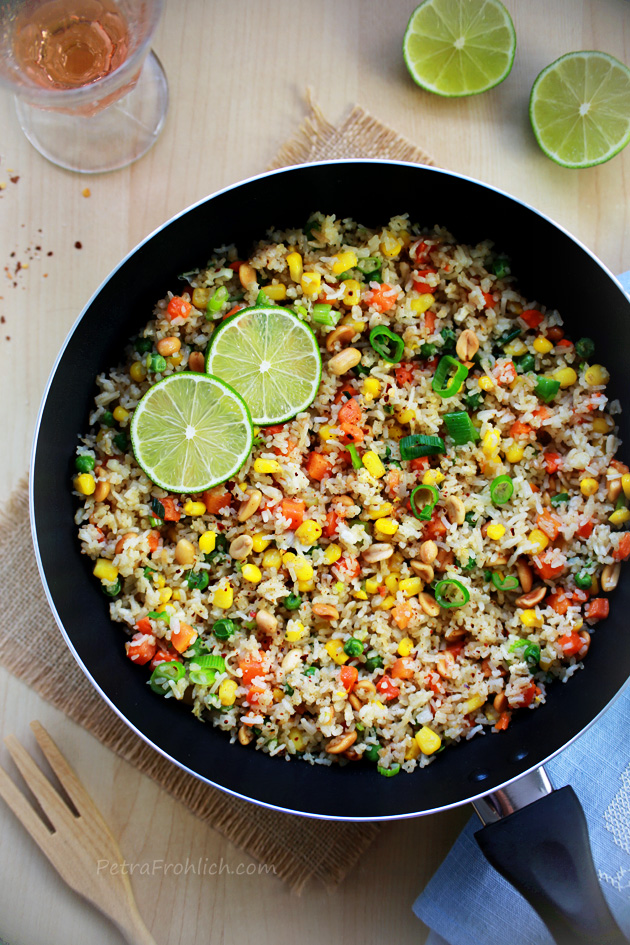 Have you ever tried making fried rice at home? I have to admit I had not, right up till know… and I am completely SMITTEN.

This recipe is so easy, so quick to prepare, yet it yields the most amazing side dish.

This fried rice contains aromatics like ginger and red pepper flakes. Among other yummy ingredients it contains nuts, soy sauce and there's an egg added to it in the end which makes the whole dish really amazing and delicious. You need to try this one, I can tell you that. It's a crowd pleaser! 🙂
 
Easy Fried Rice
Prep time:
Cook time:
Total time:
Ingredients
Aromatics
½ tsp powdered ginger
¼ teaspoon red pepper flakes
Vegetables
1 cup diced carrots
1 cup fresh or frozen corn, defrosted
½ cup fresh or frozen peas, defrosted
½ cup chopped scallions
4 tablespoons vegetable oil
4 cups cold cooked rice (I used Basmati)
½ teaspoon salt
¼ teaspoon ground white pepper
2 tablespoons soy sauce
1 large egg, beaten
¼ cup toasted pine nuts, almonds, peanuts, or cashews
2 tablespoons minced cilantro (optional)
Instructions
Set the bowls of aromatics, vegetables, rice and soy sauce near your stove.
Heat your wok over high heat, then lower the heat to medium high.
Pull the wok off the heat and add 2 tablespoon of oil. Pick up the pan and carefully swirl it to coat the bottom and sides. (If the wok smokes wildly the moment you add the oil you've overheated the wok. Remove the wok from the heat and let it cool for a few minutes.)
Stir-fry the ginger and red pepper flakes for about 10 seconds.
Add the carrots and stir fry for 30 seconds.
Add the corn and peas and stir fry for 1 minute.
Swirl the remaining 2 tablespoons of oil into the wok.
Add the rice and scallions stir-fry for 2 minutes.
Season the rice with the salt and white pepper.
Pour the soy sauce around the edges of the wok and stir-fry.
Stir in 1 beaten egg. Stir-fry until the egg is no longer wet. Stir in the nuts and cilantro.
(This recipe was adapted from TheKitchn.com.)