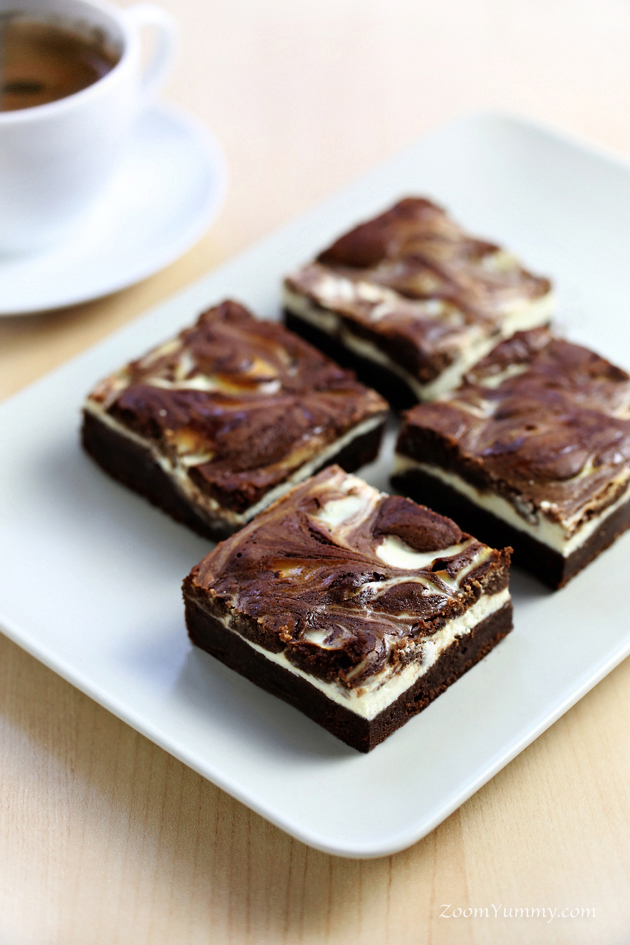 I have nothing else but sweet words to say about this recipe.

Tiramisu Brownies. Every chocolate and coffee lover's dream.

If you've been wondering about what to make for the upcoming Valentine's Day, then this is it.

These brownie squares and beautifully fudgy, packed with coffee flavor, decadent and all-in-all amazing and unforgettable. I am definitely making them again soon.

Happy baking!

Love,
Petra

(This recipe was inspired by roxanashomebaking.com.)
Tiramisu Brownies
Author:
www.ZoomYummy.com
Prep time:
Cook time:
Total time:
Ingredients
12 oz (340 grams) chocolate
1 cup (230 grams) unsalted butter, softened
1 cup (200 grams) granulated white sugar
4 whole eggs
4 egg whites
¼ cup instant coffee granules (I used decaf)
1 cup (130 grams) cake flour
16 oz (450 grams) Mascarpone cheese, room temperature
½ cup (100 grams) granulated white sugar
2 eggs
2 tsp vanilla extract
Instructions
Place a heatproof bowl over a saucepan of simmering water. Place the chocolate in the bowl and stir until melted and smooth. Let cool completely.
Preheat the oven to 350 °F (175 °C) and line a 13 x 9-inch (33 x 23 cm) baking pan with parchment paper.
Pour the melted chocolate into the bowl of your electric mixer. Beat in the butter. Then add 1 cup sugar, 4 eggs (one at a time) and the egg whites. Beat until just incorporated.
Add the instant coffee granules, then 1 cup flour. Mix on low speed until just combined.
Reserve 1 cup of the brownie batter in a separate bowl. Pour the remaining batter in the prepared baking pan.
In a separate bowl, combine the Mascarpone cheese with ½ cup sugar, 2 eggs and vanilla extract.
Spread the cheese mixture on top of the brownie batter.
Working in spoonfuls, place the remaining brownie batter on top of the Mascarpone cheese layer and swirl it lightly with a fork.
Bake at 350 °F (175 °C) for about 45-50 minutes.
Cool completely in the pan before slicing it.
Enjoy!