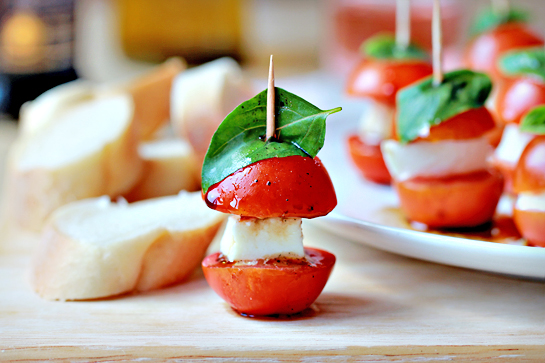 Caprese salad is simply delicious.
I am deeply in love with its elegant simplicity.
It magically combines the deliciousness of tomatoes, mozzarella cheese, basil and some kind of lovely drizzle.
Just lately I came across the most adorable presentation of this salad – instead of slicing larger tomatoes and placing them next to mozzarella slices, this version turns cherry tomatoes and cubed mozzarella into the cutest Caprese bites.
What a gorgeous idea!
I just love it!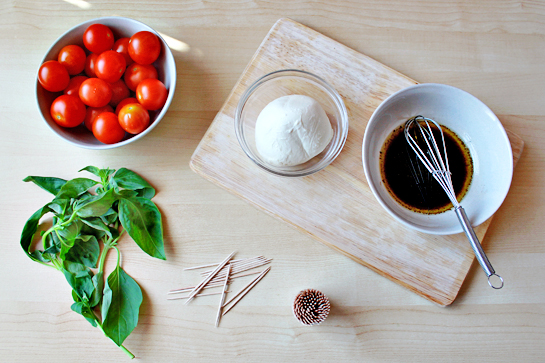 To make about 30 Mini Caprese Bites you will need 1 pound (500 grams) cherry tomatoes, 1/2 pound (250 grams) mozzarella cheese, 1/4 cup (60 ml) extra virgin olive oil, 2 tablespoons (30 ml) balsamic vinegar, 1/4 teaspoon salt, 1/4 teaspoon pepper and fresh basil leaves.
And toothpicks.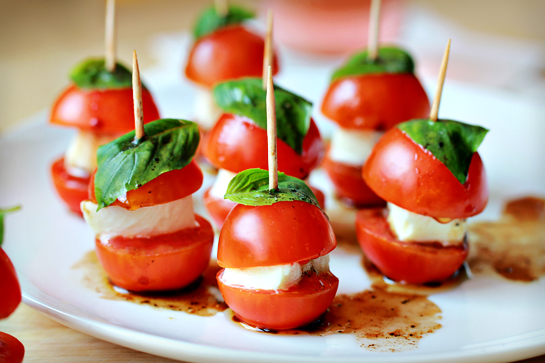 1. To assemble the Caprese Bites, first cube the mozzarella.
2. Then thread tomato half, one piece of cheese, another tomato half and a basil leaf onto toothpicks. Place toothpicks in a shallow serving dish.
3. And lastly, whisk together the oil, balsamic vinegar, salt and pepper and drizzle the oil mixture over the skewers.
Enjoy this fresh and summery treat!
With love,
Petra
(The recipe adapted from framedcooks.com. Makes about 30 skewers.)