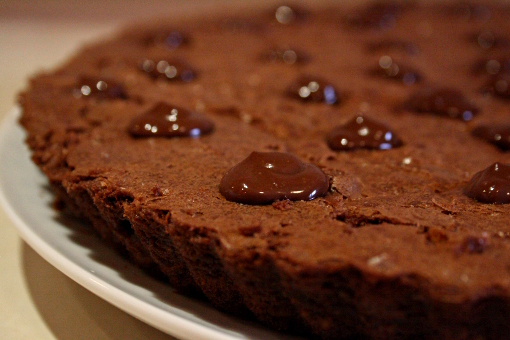 This Brownie Tart recipe is very unique and interesting because it changes casual brownies into an elegant dessert.
The trick is done by exchanging the usual square baking pan for the more formal tart pan.
And that is not all!
There are polka dots of delicious ganache that cover the surface of the tart.
Trust me, eating this dense, moist and fudgy chocolate wonder is pure bliss!
~~~
To make the Brownie Tart you need:
1 cup (110 grams) walnuts, toasted and chopped
14 tablespoons (200 grams) unsalted butter, cut into pieces
3 ounces (85 grams) semi-sweet or bittersweet chocolate, chopped into small pieces
1/2 cup (45 grams) unsweetened cocoa
1 cup (200 grams) granulated white sugar
3 large eggs
2 teaspoons vanilla extract
3 ounces (85 grams) cream cheese
1/2 cup (70 grams) all-purpose flour
1/4 teaspoon salt
To make the Ganache you need:
2 ounces (55 grams) semisweet chocolate, chopped
1/3 cup (80 ml) heavy whipping cream
~~~
1. Preheat an oven to 350 F (176 C).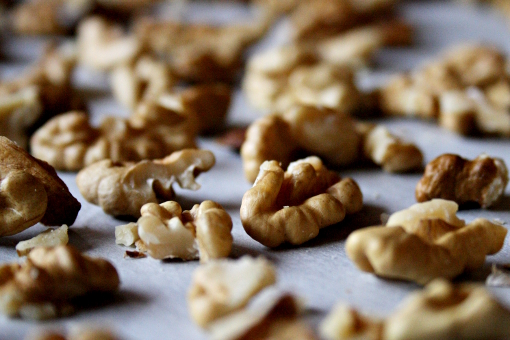 2. Toast nuts for 8-10 minutes until lightly browned and fragrant.
Let cool and chop into pieces.
Set aside.
3. Reduce the oven temperature to 325 F (165 C).
4. Grease or spray you fluted tart pan with a nonstick vegetable oil and then line the bottom of the pan with parchment paper.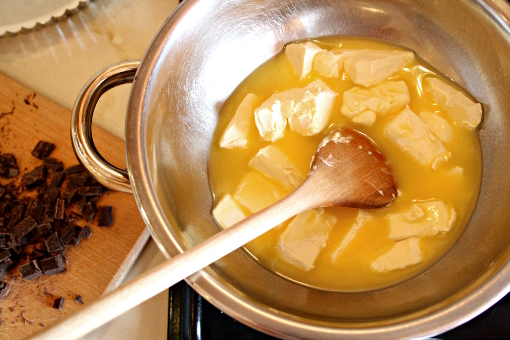 5. In a metal bowl, placed over a saucepan of simmering water, melt the butter.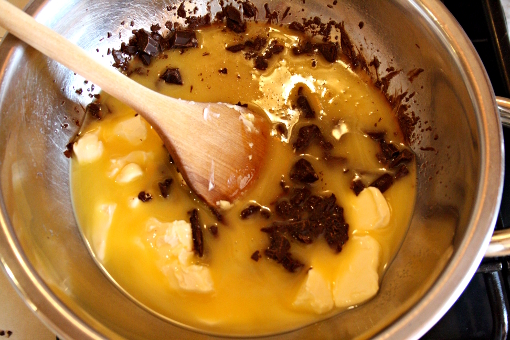 6. Add the chopped chocolate and stir until smooth.
Then remove from the heat.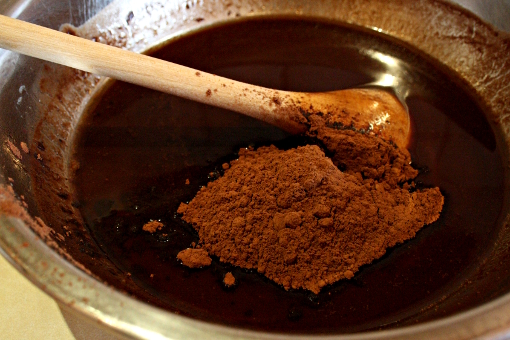 7. Add the cocoa, …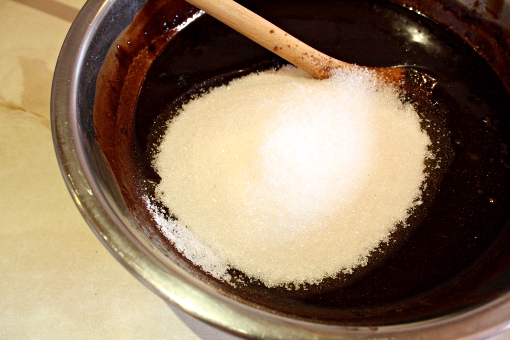 8. …  and the sugar.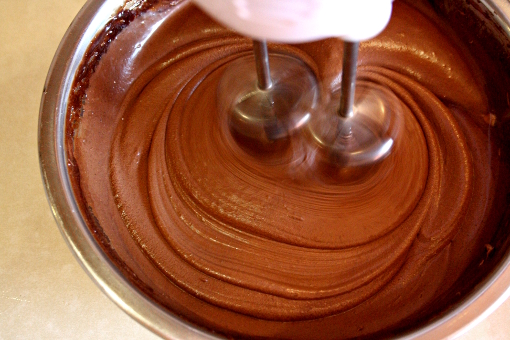 9. Then add the eggs (one at a time) beating well after each addition.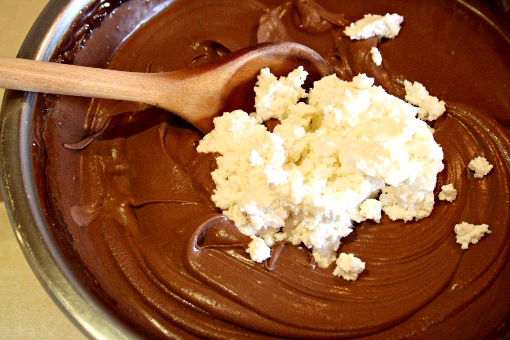 10. Beat in the vanilla and then stir in the cream cheese.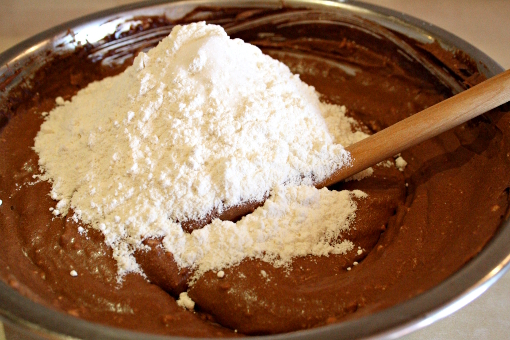 11. Add the flour and salt and mix until incorporated.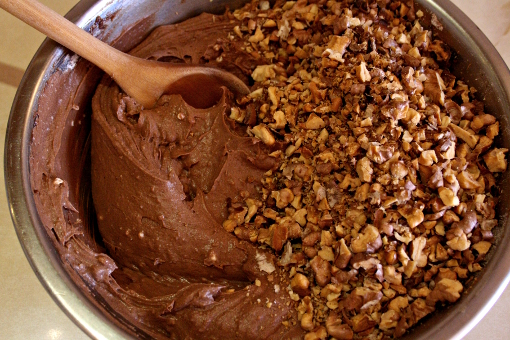 12. Stir in the nuts.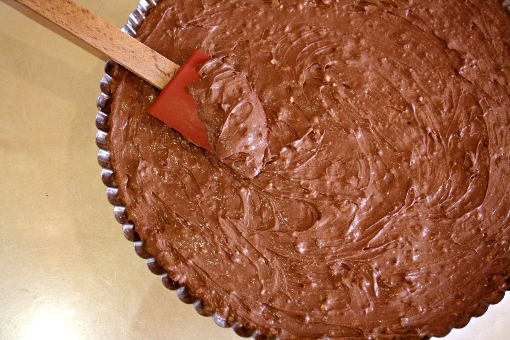 13. Pour the batter into the tart pan and spread it evenly with a spatula or the back of a spoon.
Bake for about 30-35 minutes.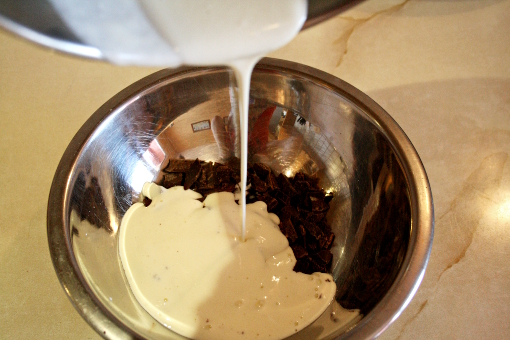 14. While the tart is baking you can make the ganache.
Place the chopped chocolate into a small bowl.
Heat the cream in a small saucepan over medium heat. Bring just to a boil.
Immediately pour the boiling cream over the chocolate.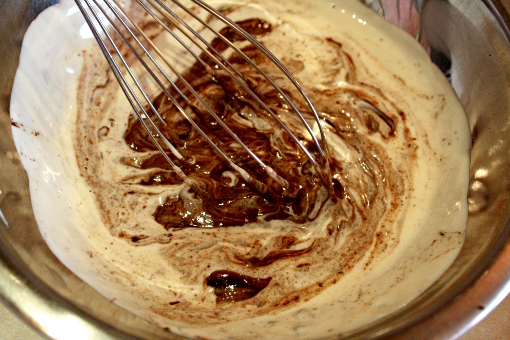 15. Stir until smooth.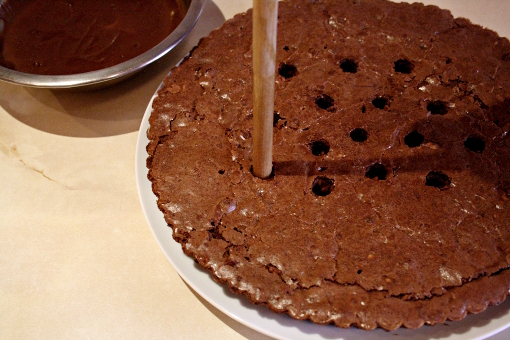 16. Remove the tart from the oven and let cool for about 20 minutes.
Then remove the tart from the pan.
With the end of a wooden spoon that is well greased (I dipped it in vegetable oil) make holes into the top of the tart.
It is good to twist the wooden spoon while inserting it. Thus you prevent the tart from tearing.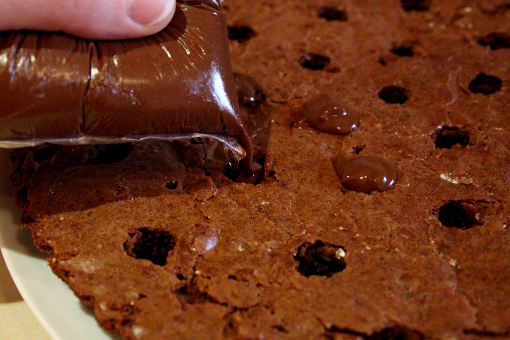 17. Using a small spoon (or a pastry bag, or a small plastic bag) fill the holes with the ganache.
Let the tart cool completely and then cover and refrigerate.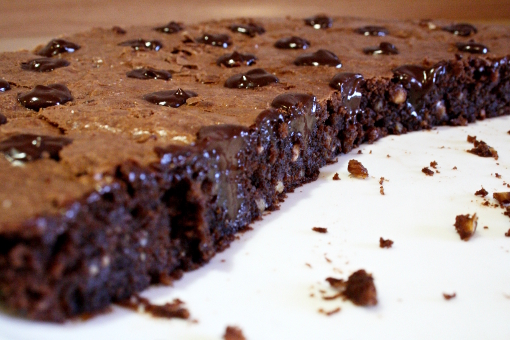 18. Well, only one half happened to get refrigerated in our household.
Yummy!
This recipe was adapted from here.