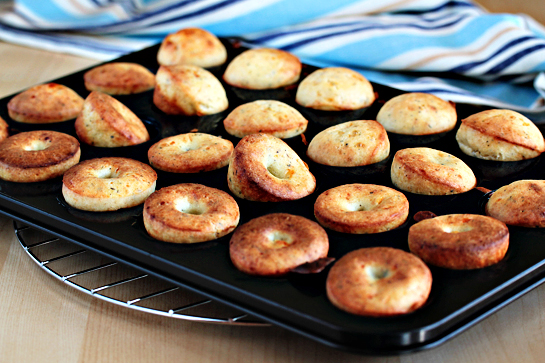 These are the first popovers I've ever made in my whole life.
I hadn't known much about them before… just until the day when I noticed a gorgeous post over on Tracy's blog where she, as I see it, convinced all people of this planet to make their own popovers immediately. Because there's just no other way they can keep on living their lives. That's how delicious Tracy's recipe looked.
So I gave them a try.
And liked them a lot.
At first sight, they might seem like a drier kind of bread thing, but they are not. They are moist, light and airy… like puffed up savory pancakes. But most of all, they are amazingly tasty.
Their flavor is a perfect combination of cheese, thyme and oregano goodness. And there's also a little bit of black pepper involved which really does the trick.
And the fun part? You need no fancy popover pans. These were prepared in a mini muffin pan and it worked out perfectly.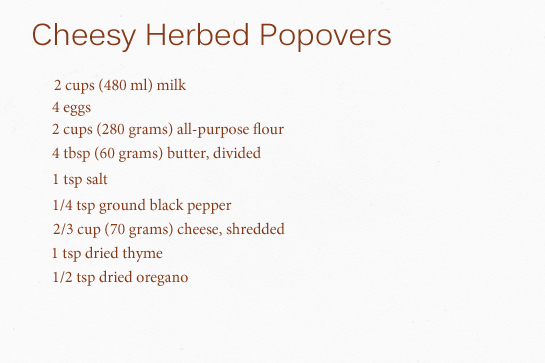 You want to make your own popovers? Here's what you need…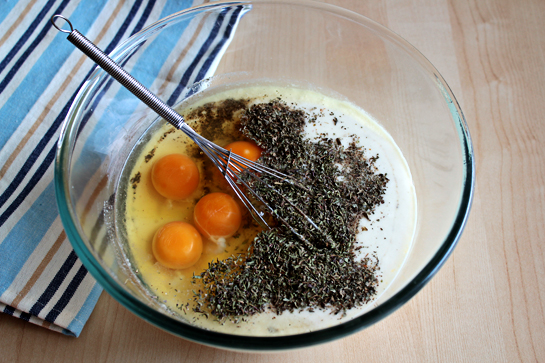 1. First, in a larger bowl, mix the milk, eggs, flour, 2 tbsp (30 grams) melted butter, salt, pepper and the herbs.
You can see a bit more herbs in the picture above. I was in a very generous mood when I was making my first batch, I admit. I made them again the other day with less herbs, and that tasted better.