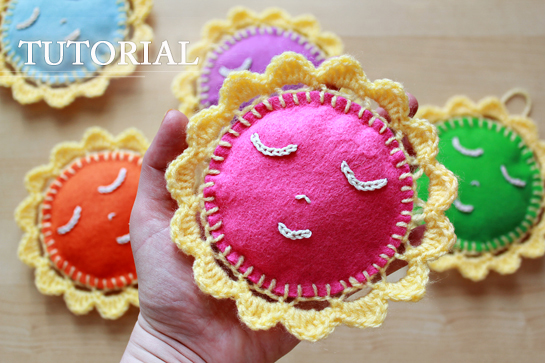 The Happy Little Suns are back… this time with a picture tutorial.
I'd say that it's quite simple to make them, the whole process requires only basic sewing and crocheting skills.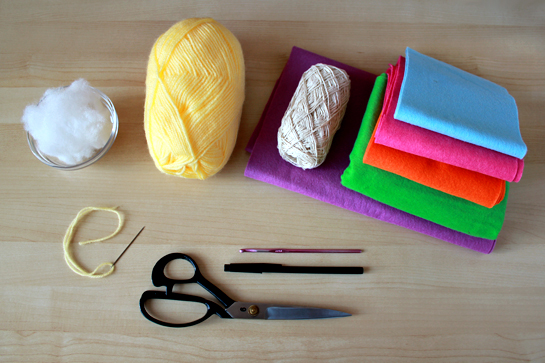 These are the needed supplies.
Felt: since each sun consists of two circles which measure about 4.2 inches (10.5 cm) in diameter, to make one sun you will need a piece of felt which measures about 9 x 5 inches (22 x 12 cm). Of course, you can create suns that will be larger or smaller than that.
Yarn: I have used sport weight yarn in beige color to embroider the face and worsted weight yarn in yellow color to crochet the border.
Crochet hook: G (4 mm).
Pen/marker, scissors, yarn needle.
A bowl:  I used one that measures about 4.2 inches (10.5 cm) in diameter. It is used to trace the edges of the sun.
Polyfill/toy stuffing: … pssst, I use cheap pillows from IKEA to get my polyfill. They cost only about $1 and they have tons of polyfill inside. Okay, maybe not tons, but it's still a LOT!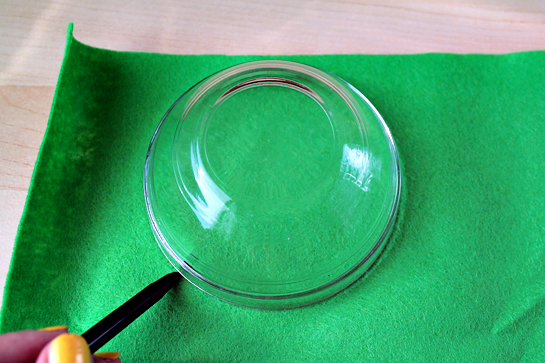 1. To begin, place the bowl upside-down on the piece of felt and trace the edges of the bowl with the marker.
Repeat to mark one more circle.