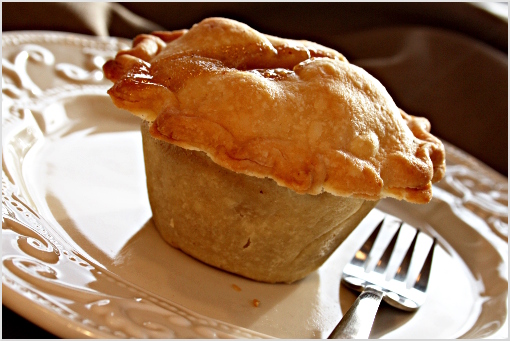 Would you like to know what I've been doing for the past two hours?
Sitting in the kitchen and staring at the Mini Apple Pies I've just made.
I LOVE the way they look… so cute, adorable and so much fun to make.
And I haven't even started talking about the way they taste – it's left me speechless… up till now…
Just try making them – your family will love you and your kids will surely be awed and remember them for quite some time.
These are the ingredients: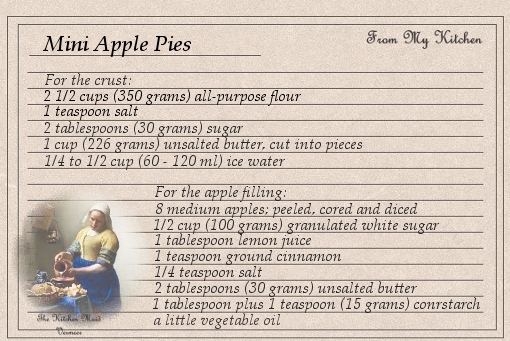 And this is how the story goes: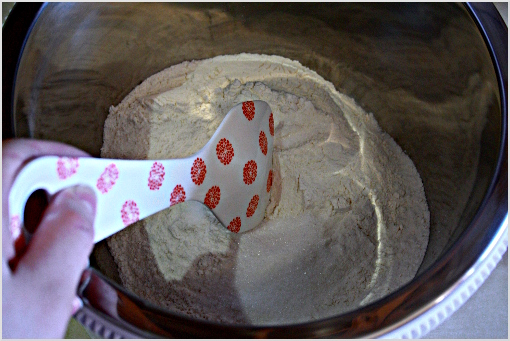 1. Place the flour, sugar (2 tablespoons/30 grams) and salt in the bowl of your electric mixer.
Stir with a spoon until combined (don't use the mixer yet… unless you want to disappear in white, dusty fog forever).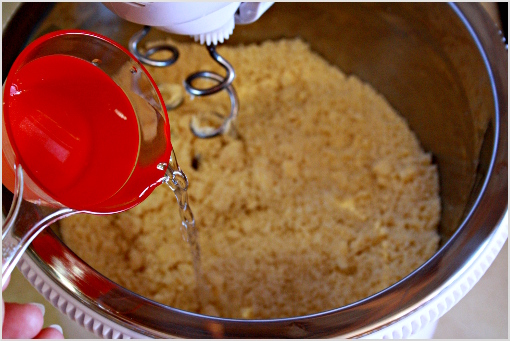 2. Add the butter (1 cup – 226 grams) and mix (now you have the permission to use the mixer) until the mixture resembles coarse meal.
3. Pour 1/4 cup (60 ml) water in a slow, steady stream until the dough holds together when pinched. If necessary, pour more water.
Mix for only about 30 seconds.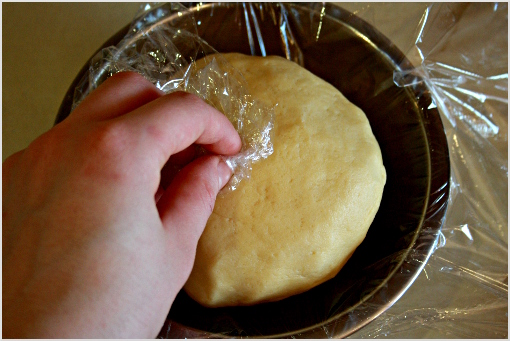 4. Remove the dough from the mixer bowl, cover with plastic wrap and refrigerate for about one hour before using.
5. Meanwhile, we can prepare the filling…
Peel the apples (I am using Golden Delicious here), core them and cut them into teeny tiny dices.
Place the cut apples into a bowl.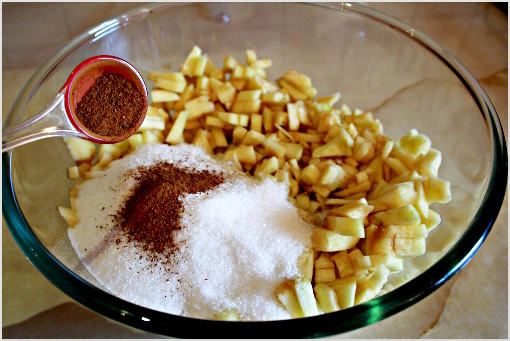 6. Add the sugar (1/2 cup – 100 grams), lemon juice, salt (1/4 teaspoon), cornstarch (some of you may know this as corn flour) and the wonderful, fragrant, heavenly cinnamon.
(What would I just be without cinnamon…? Probably some purposeless creature. I am sorry for this purposeless note.)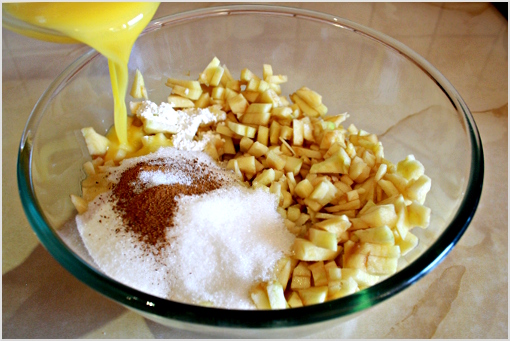 7. Melt the butter (2 tablespoons/30 grams) in your microwave and add it to the mixture.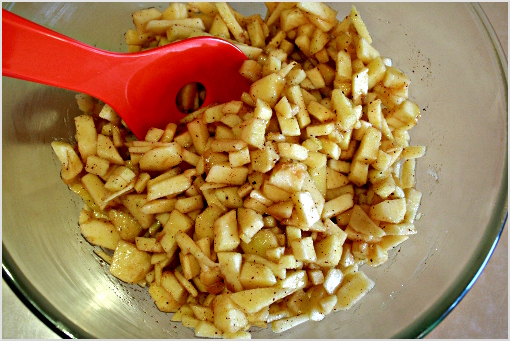 8. Mix, mix, mix.
I am glad to inform you that now we've reached the apple filling perfection.
Please, be stronger than me and try not to feast on this heavenly mixture at this stage.
9. Preheat the oven to 356 F (180 C).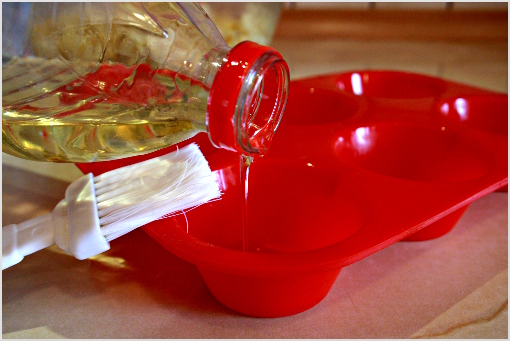 10. Grease your regular sized muffin tin with vegetable oil.
As you can see I am using a silicone muffin tin – this one doesn't need much oil… if any.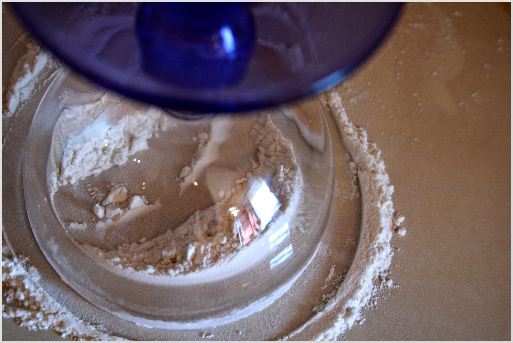 11. For our mini pies we need the bottom crust and the top crust – the bottom circle being slightly wider than the top one.
Hence, I searched my house for two glasses – the bigger one measuring about 4 1/2 inch (11 cm) and the smaller one being about 3 1/2 inch (8,5 cm) in diameter.
These perfectly fitted the regular muffin cup – which should be about 2 1/2 inch (6,5 cm) in diameter.
Enough with numbers.
I dipped the glass in flour.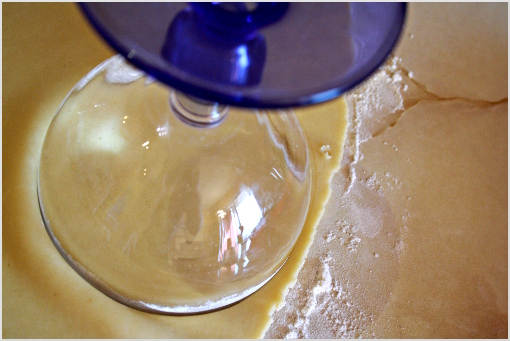 12. I removed the dough from the fridge and placed it on a lightly floured surface.
Using a rolling pin, I rolled it out to about 0.1-inch (3 mm) thickness.
Then I went on and cut out a circle from the dough.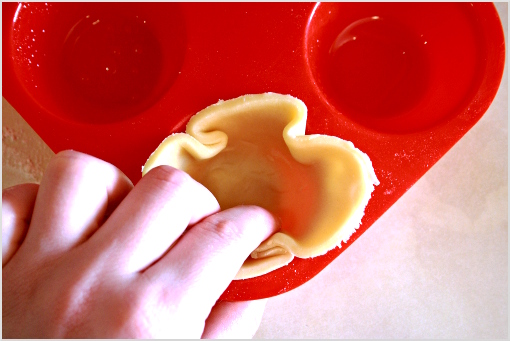 13. Now press the circle gently into the muffin cup.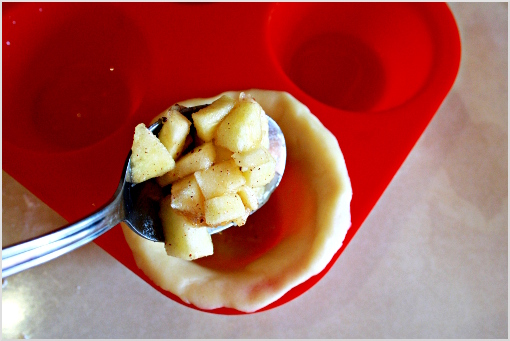 14. Fill the dough with the apple mixture so that it comes over the top of the muffin cup.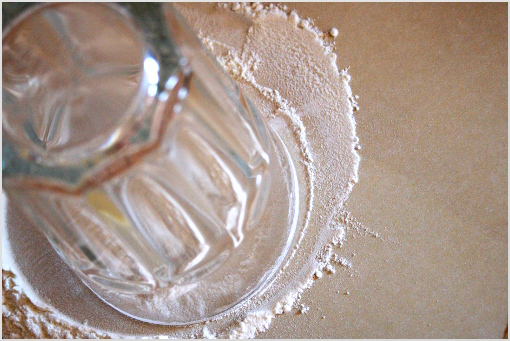 15. This is the smaller glass being dipped in flour.
Using the smaller glass, cut out another circle and…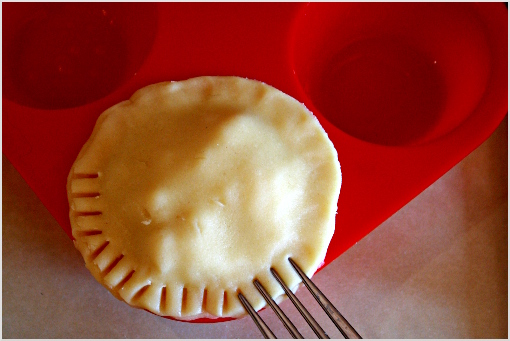 16.  … put it on top of your pie.
With your finger, press the edges down gently.
Then, using a fork, create some nice ornament.
Let your fantasy fly free and create any ornaments that come to your mind.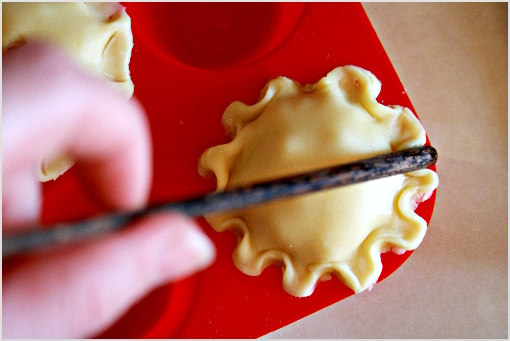 Here, I grabbed my bamboo chopstick and created another decoration.
At long last, my chopsticks found some use around here… I think they are happy now…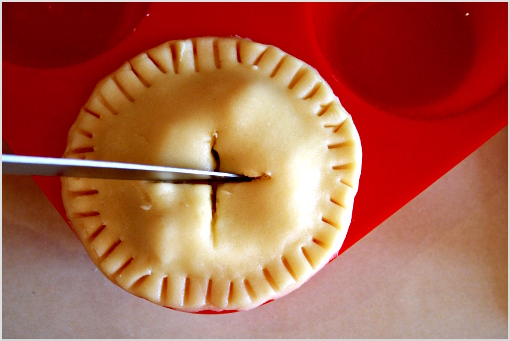 17. Using a sharp knife (which is exactly what I am NOT using here), make two slits in the centers of your cute pies to allow the steam to escape.
Continue doing this process until you've run out of the dough and apple filling.
18. Place in the oven and bake for about 25-30 minutes or until golden brown.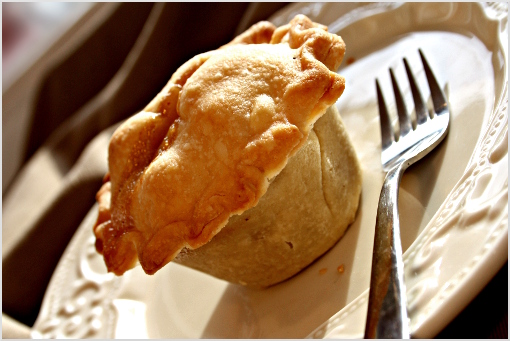 19. Once they are done take them out of the oven and let them sit for about 15 or 20 minutes so they get cool enough to handle.
Enjoy dear friends!
This recipe makes 11 pies.
(If you'd like to see more of my posts, click this.)