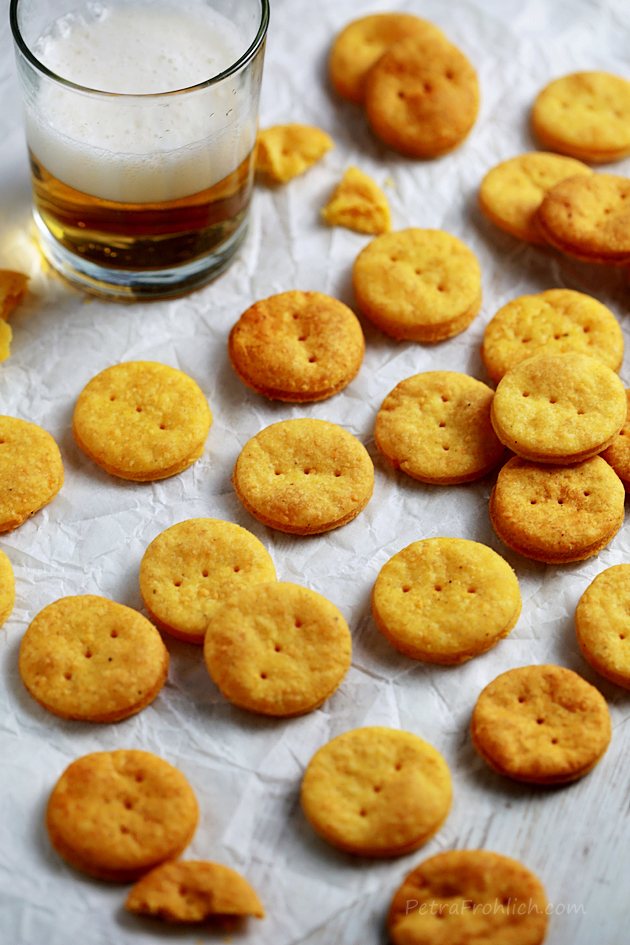 Have you ever made your own crackers? I definitely recommend trying it. They are so easy to make! Not only will your effort be rewarded with a couple batches of wonderfully crunchy cheese crackers but your home will smell like heaven too.

This recipe is structured in a way that it gives you measures to spice up half of the dough while leaving the other half just 'plainly' cheesy. So yes, you will actually end up with two kinds of delicious crackers, cheesy ones and chili ones.

Divine!

You can find all the details below…

Happy baking!

With love,
Petra
Spicy Cheddar Crackers
Author:
www.ZoomYummy.com
Prep time:
Cook time:
Total time:
Ingredients
½ stick (55 grams) unsalted butter, at room temperature
8 ounces (230 grams) sharp cheddar cheese, finely grated
½ tsp salt
¼ tsp coarsely ground black pepper
1 cup (130 grams) all-purpose flour
2 tbsp cold water
...
For Chili Cheese Crackers (these amounts will spice half of the cracker dough) :
⅛ teaspoon garlic powder
¼ teaspoon chili powder
½ teaspoon sweet paprika powder
Instructions
In the bowl of your electric mixer, beat together the butter, cheese, salt and pepper. It will come together in a soft ball. With the mixer on low-speed, slowly add flour. Mixture will become dry and crumbly. Add two tablespoons of water and beat until the mixture just comes together - the dough should be moist but not wet. Use your hands to form a dough ball.
Divide the dough in half and add chili seasoning to half of the dough. Knead the spices into the dough. Wrap each disk of cracker dough in plastic wrap and refrigerate for 30 minutes.
While the dough chills, preheat the oven to 375°F (190°C). Line a baking sheet with parchment paper and set aside.
On a lightly floured work surface, roll the dough out very thin, about an eighth of an inch (3 mm) thick. Cut out rounds of dough with a 1¾-inch (4.5 cm) round cutter dipped in flour. Place a portion of the crackers on the prepared baking sheet and dot the center of each cracker with a fork. The pieces can be close together as they won't expand much when baking. Bake for 12 minutes until fragrant, golden brown and crisp. Allow to cool before serving.
This lovely recipe was adapted form JoyTheBaker.com.