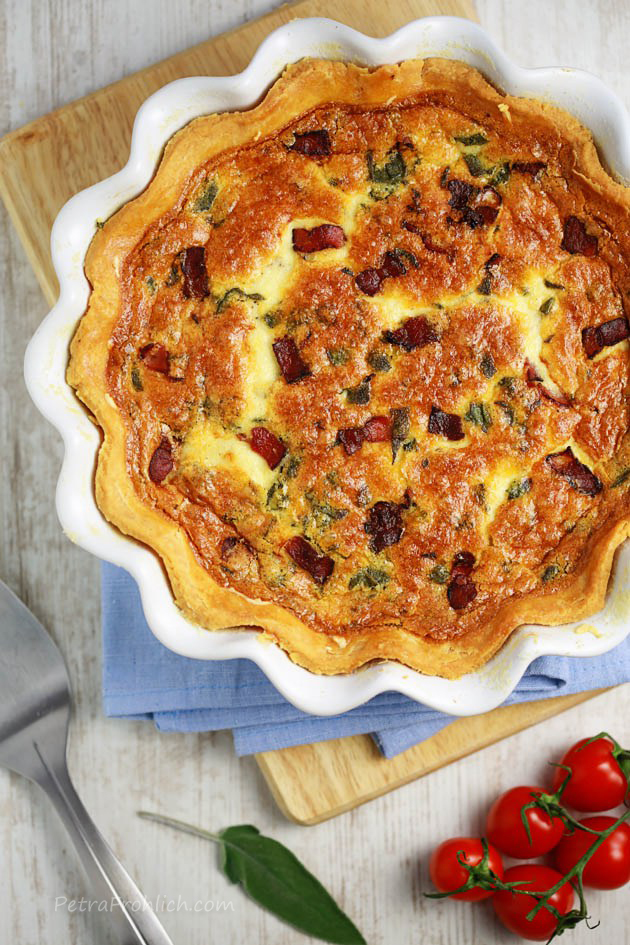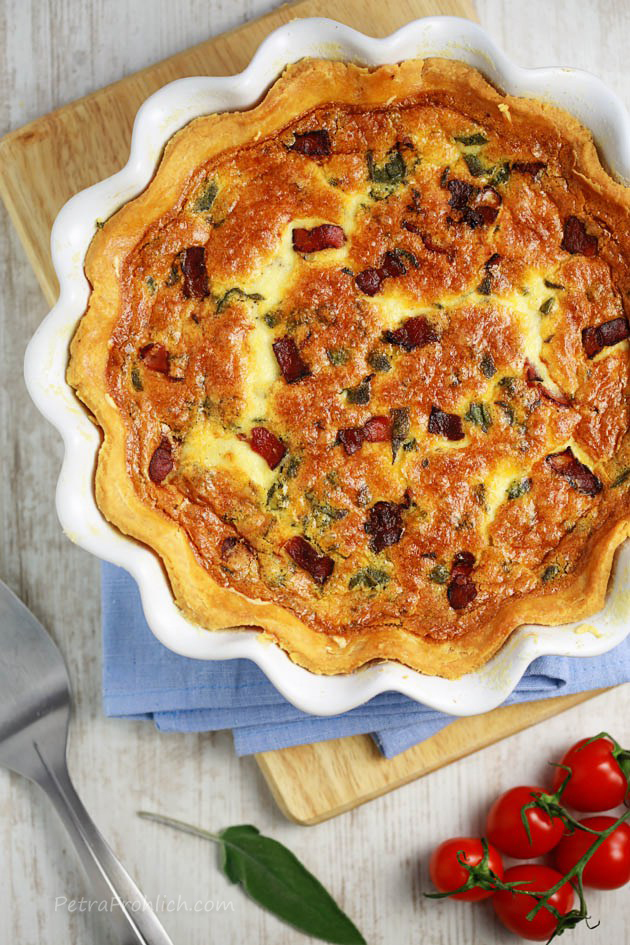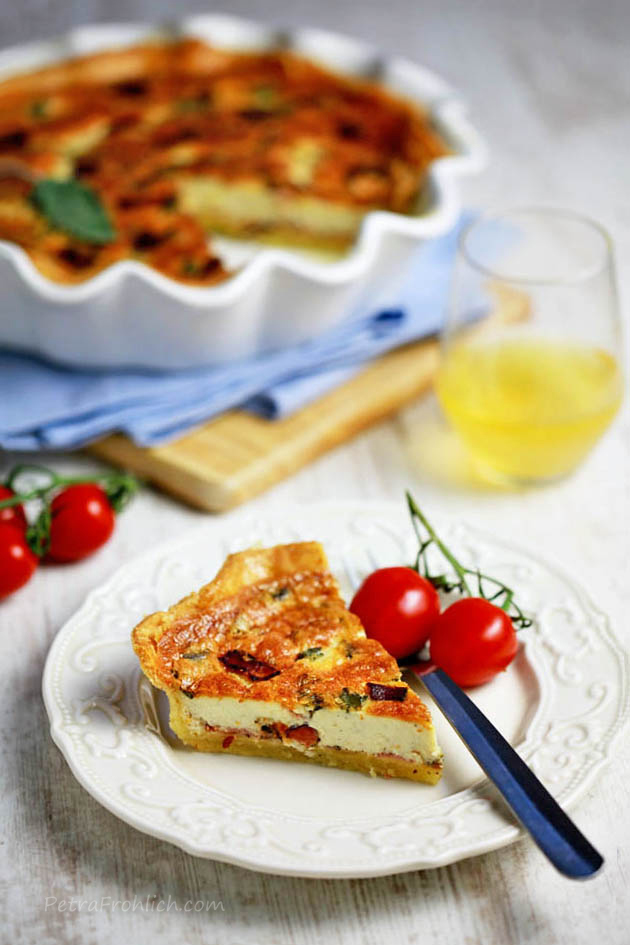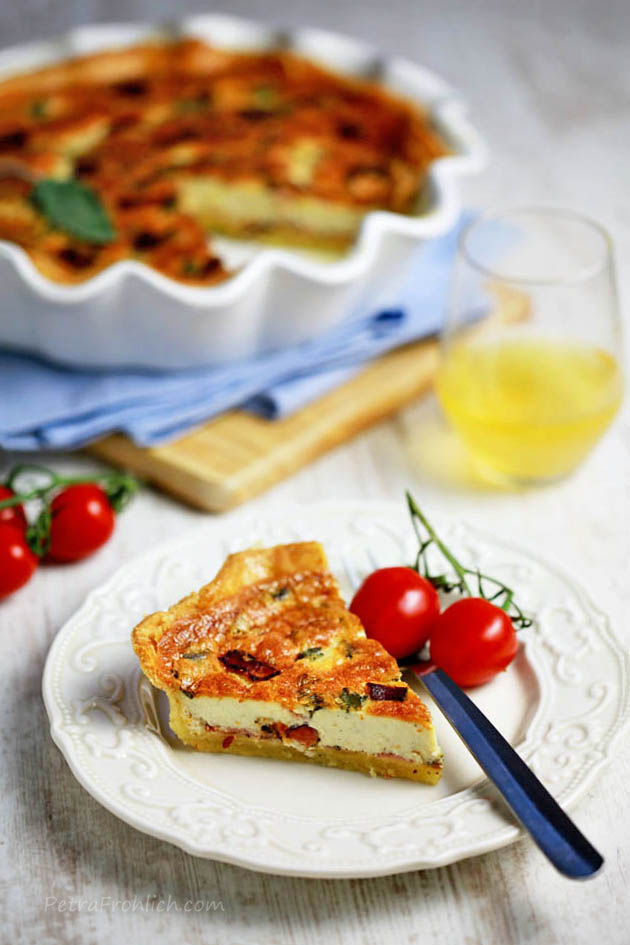 This quiche, dear friends, might easily be the yummiest quiche I have ever tasted in my whole life.

It is truly something.

As the original author mentions, 'this mashup of Julia Child recipes, combining elements of her quiche Lorraine and quiche au fromage, then pouring them into a butter based pie crust results in a serious breakfast feast'.

What a feast, indeed!

Just imagine the flakiest crust full of the most delicious buttery flavor. Then, if you dare, proceed to imagine it covered with a layer of flavorful cheese and bacon, all topped with the silkiest creamiest filling with just the right amount of fresh sage thrown in.

Heaven in the mouth, pure heaven.

You neeeeeed to try this, guys.

Enjoy!

Love,
Petra
Cheddar, Bacon and Sage Quiche
Author:
www.ZoomYummy.com
Prep time:
Cook time:
Total time:
Ingredients
CRUST:
1¼ cups (160 grams) all-purpose flour
½ tsp salt
10 tbsp (150 grams) unsalted butter, chilled, cut into ½-inch (1¼ cm) cubes
1 egg white, lightly beaten
½ cup Cheddar, grated
FILLING:
6 strips bacon, cut into ½-inch (1¼ cm) pieces
3 eggs
1½ cups (360 ml) heavy cream
2 tbsp chopped fresh sage leaves
¼ tsp ground black pepper
¼ tsp grated nutmeg
½ tsp salt
1 tbsp (15 grams) unsalted butter, cubed
Instructions
To make the crust, in the bowl of your electric mixer (or food processor), combine flour and salt.
Add butter and pulse until mixture forms pieces the size of beans.
Adding 2 to 5 tablespoons of ice water (I used 4 tbsp), 1 tablespoon at a time, pulse mixture until it is just moist enough to hold together.
Shape into a ball, cover with plastic wrap and flatten into a disk.
Refrigerate at least 1 hour.
Heat oven to 350 °F (170 °C).
On a lightly floured surface, roll out the dough and press it into a 9-inch quiche or pie pan.
Line with parchment paper and fill with pie weights, rice or dried beans.
Bake for 20 minutes, then remove the weights and parchment paper and bake for 5 to 7 minutes more, until lightly golden.
Brush the crust with egg white, then sprinkle the cheese evenly over the bottom of the pie crust.
Bake for another 10 minutes, until the cheese is just melted. Remove from the oven.
Meanwhile, in a large pan over medium heat, cook the bacon until lightly browned but not yet crisp.
In a medium bowl, whisk together the eggs, cream, sage (reserve a little for the top of the quiche), pepper, nutmeg and salt.
Sprinkle the bacon over the quiche crust (reserve a few pieces for the top of the quiche), then carefully pour in the egg mixture. Dot with the butter pieces, sprinkle with reserved sage and bacon and return to the oven.
Bake for 30 to 40 minutes, until the top is puffed and golden and the middle is almost set.
Let it cool for 15 minutes before serving.
(This wonderful recipe was adapted from NYtimes.com.)