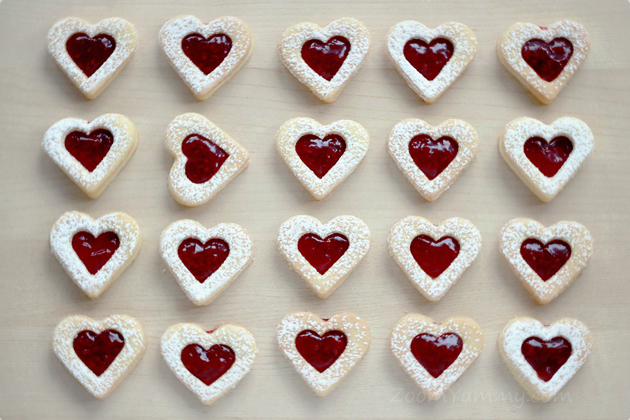 With Valentine's Day fast approaching, you might be searching for ideas how to surprise those special loved ones in your life. Well, if baking is your thing, then these tender jam-filled hearts could be just the right gift to prepare.

Here is how…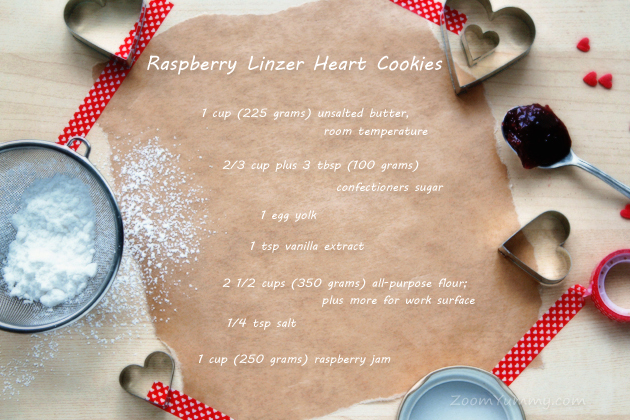 These are all the ingredients that you need.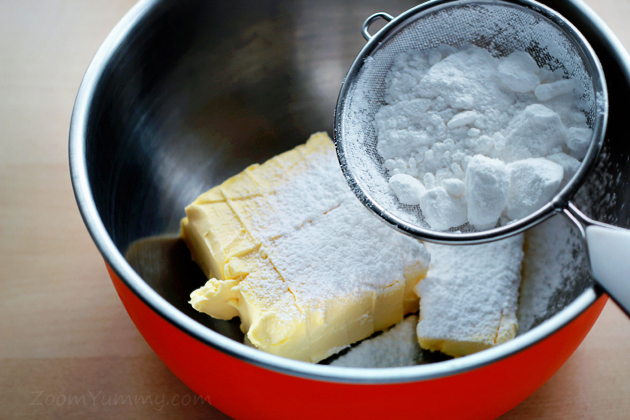 1. Preheat the oven to 325 °F (165 °C).

2. Line two baking sheets with parchment paper.

3. In a bowl, combine the butter and 2/3 cup (80 grams) sugar.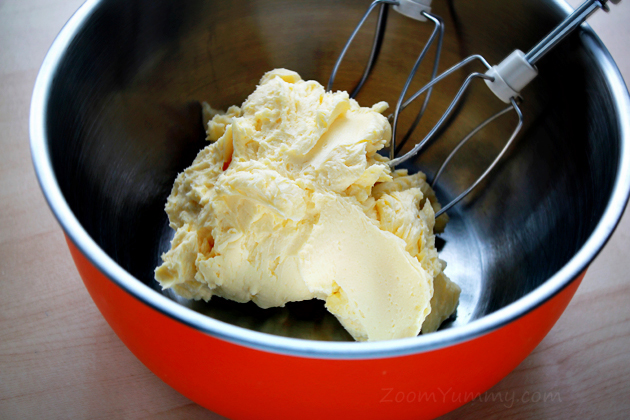 4. Beat the butter and sugar until fluffy.
5. Beat in the egg yolk and vanilla.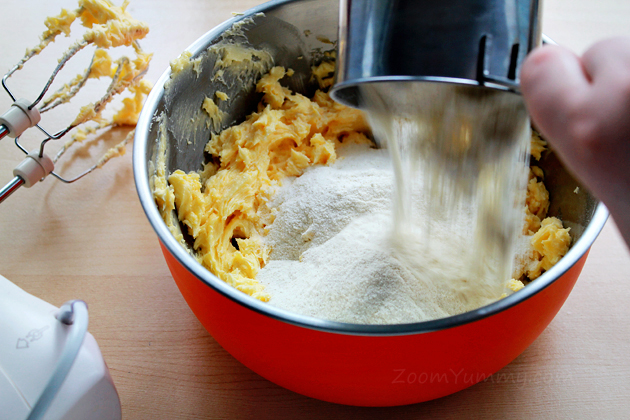 6. Then beat in the flour and salt.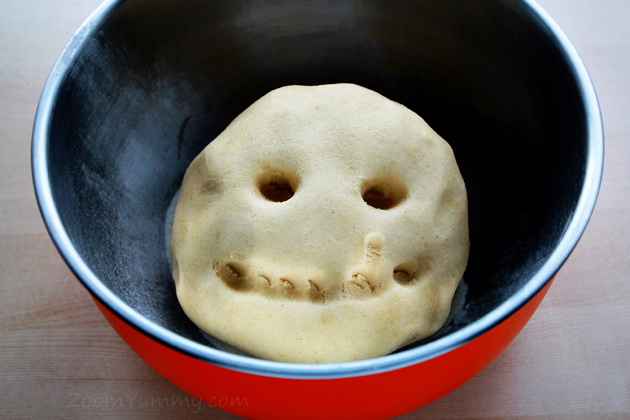 7. Shape the dough into a ball.
8. On a rather generously floured work surface, roll out the dough into about 1/8-inch (3 mm) thickness.

9. You will need two sizes of heart-shaped cookie cutters now (I used a 2 1/4-inch = 6 cm one and 1 1/4-inch = 3 cm one). Using the bigger cutter, cut out cookies. Then use a smaller heart cutter to cut a window out of half of the cookies.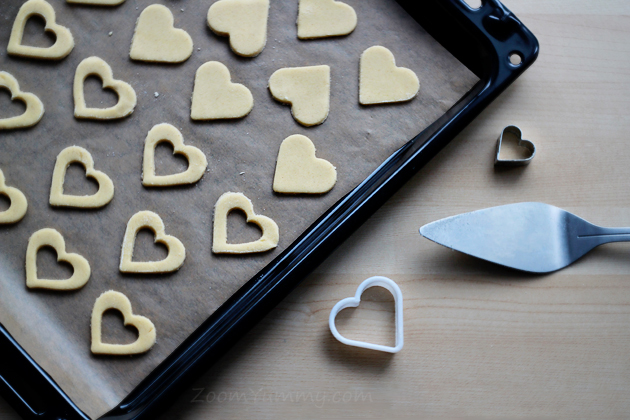 10. With a spatula, carefully transfer the cookies to the prepared baking sheets.

11. Repeat with the remaining dough. Gather scraps and roll out again to make more cookies.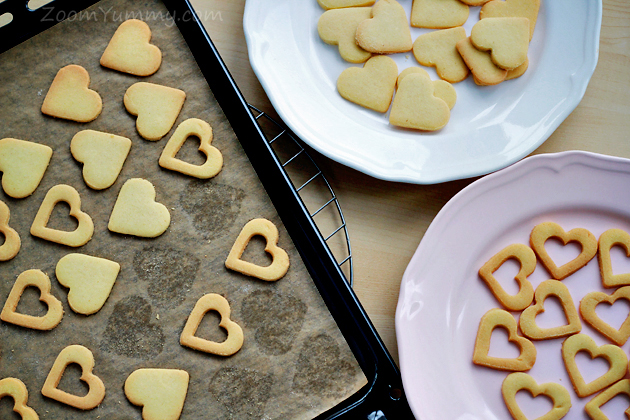 12. Bake cookies in batches until the edges of cookies are just golden, about 13 minutes. Let cool for 5 minutes, then transfer onto plates to cool completely.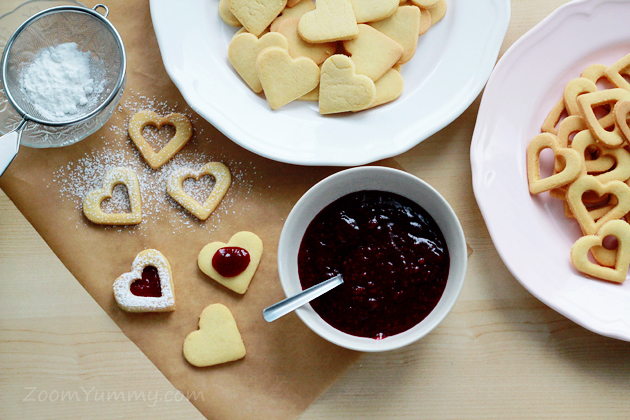 13. Spread 3/4 tsp jam over flat side of each cookie that doesn't have a window. Top with the remaining cookies (dust them with confectioners sugar before), flat side down, so that jam shows through windows.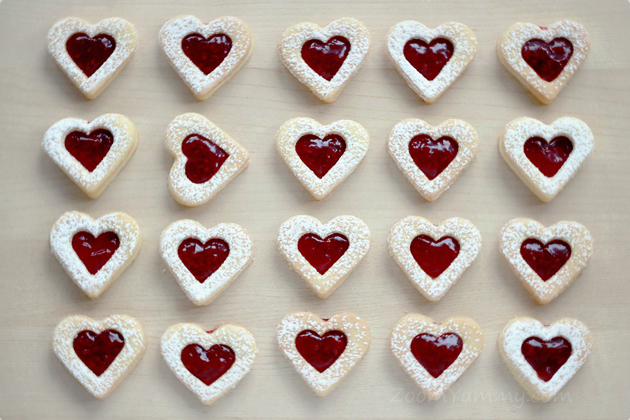 And that's it.

Easy, playful and so yummy!

Happy baking!

Love,
Petra

(This recipe was adapted from www.myrecipes.com. It makes about 45 cookies.)