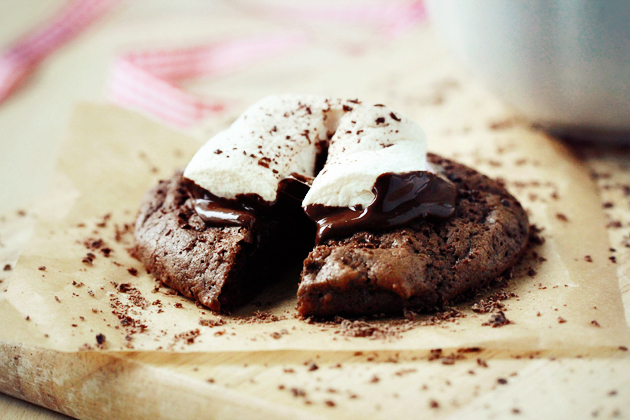 'Tis the season to be jolly… and to make cookies, of course!

Yippee!

If you are looking for some new cookie ideas for this year's Christmas, then I'd like to introduce this recipe to you.

I love it. And I think you'll like it too.

Prepare for the things to be gorgeous and heavenly. Because we are going to make cookies that are not only filled with a lot of chocolate, there's some more of the chocolate deliciousness added in the end and it is all topped with irresistible marshmallows… and what else? … even more chocolate, naturally.

They taste simply awesome!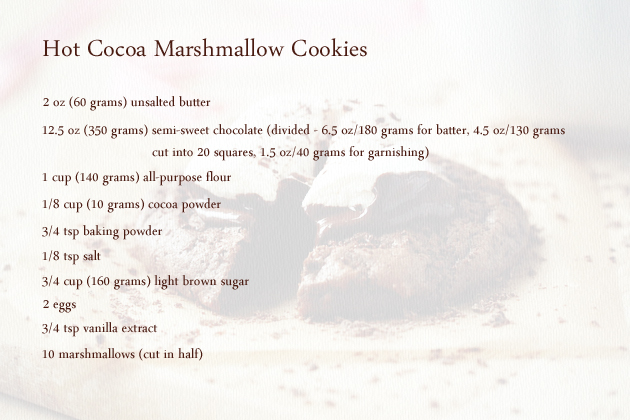 Here's what we need.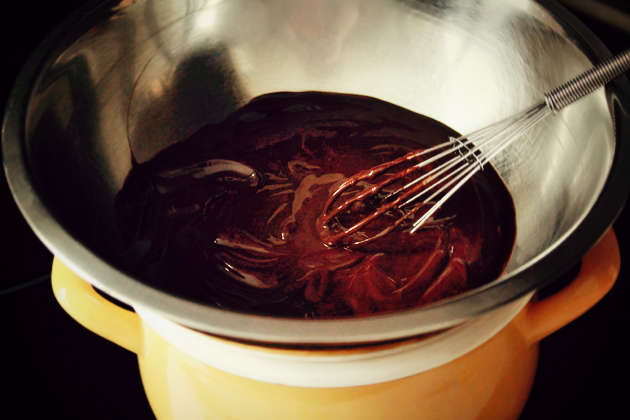 And this is the story…

1. To make the batter, first melt the chocolate (6.5 oz/180 grams) and butter. I'd put these ingredients in a metal bowl a placed the bowl over a pot of boiling water. The steam melted the ingredients slowly and gradually. Also, the mixture needs to be stirred quite often.

When melted, remove the pot from heat and leave the bowl placed over the pot.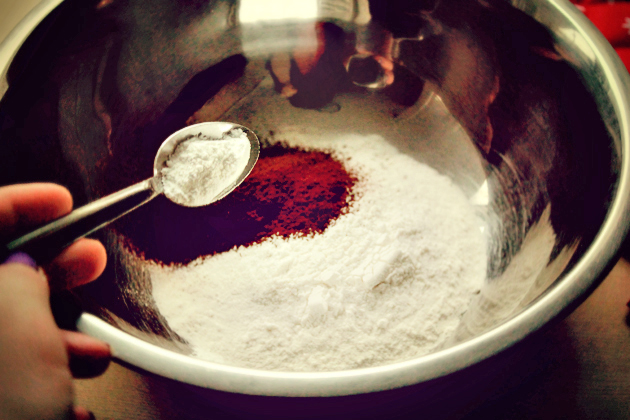 2. In a medium bowl, whisk together the flour, cocoa powder, baking powder and salt.



3. Using an electric mixer, beat the sugar, eggs and vanilla at low speed until smooth, 2 minutes.

4. Add the chocolate mixture in about 4 batches. Mix just until blended.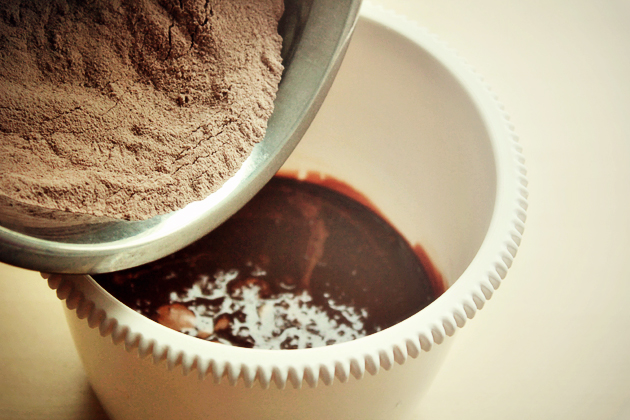 5. Add the flour mixture in 2 batches, mixing on low speed until just combined.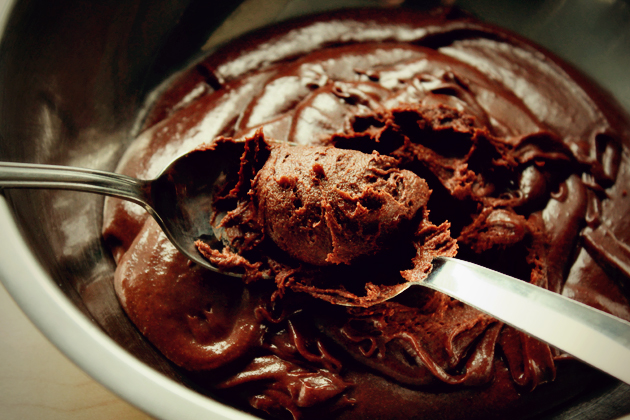 6. Refrigerate the dough for at least 1 hour.

7. Preheat the oven to 325 °F (160 °C).

8. Line a large baking sheet with parchment paper.

9. Using two tablespoon, form about 1 1/4-inch (3 cm) balls.

I totally recommend using the '2 different tablespoons' approach here. 🙂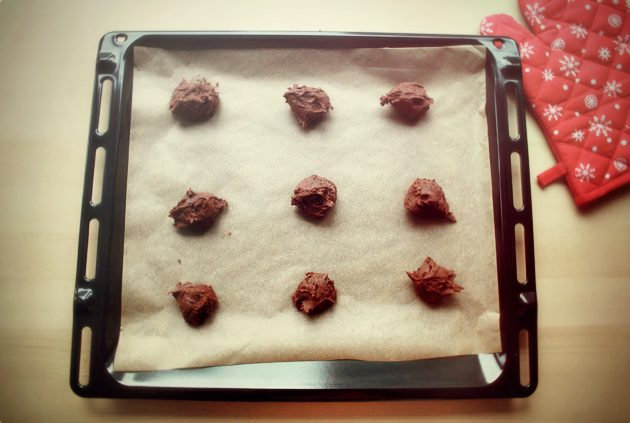 10. Arrange about 9 balls 2 inches apart on a cookie sheet.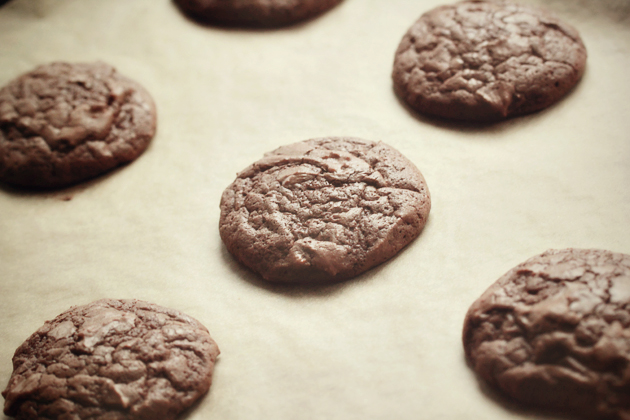 11. Bake until the tops of the cookies crack, about 12 minutes.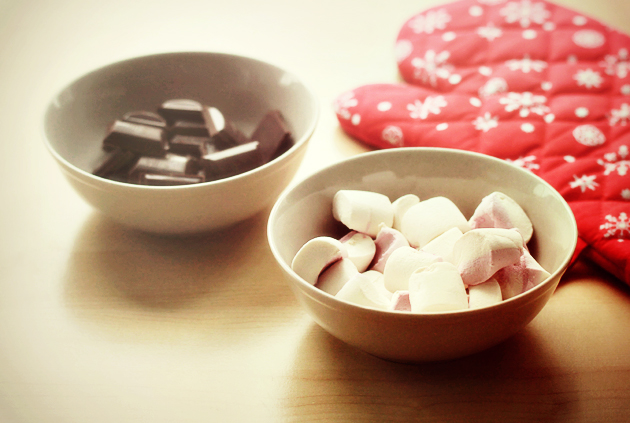 12. Meanwhile, cut (or break) the chocolate (4.5 oz/130 grams) into about 20 squares and cut or snip the marshmallows in half crosswise.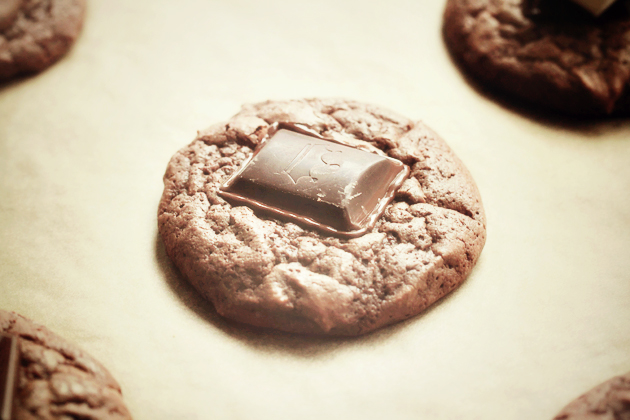 13. Remove the cookies from the oven, place a square of chocolate on top of each cookie, …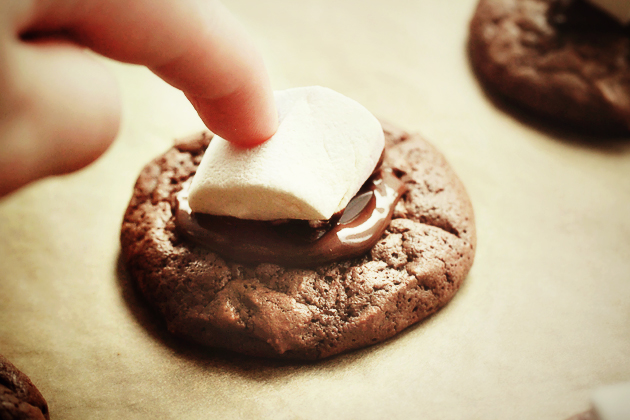 14. … then place a marshmallow half on top of each chocolate square and press lightly.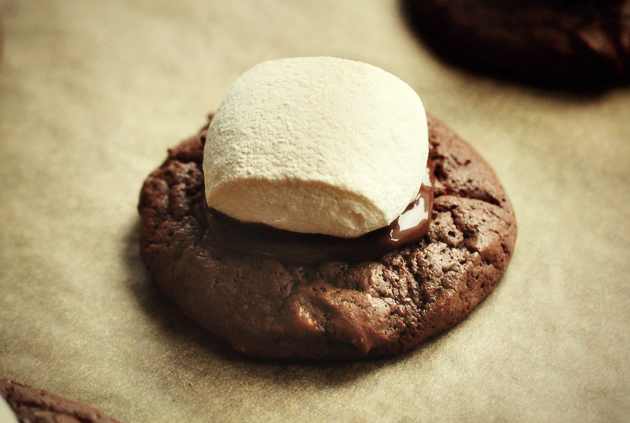 15. Bake until the marshmallows are just softened, about 4 minutes.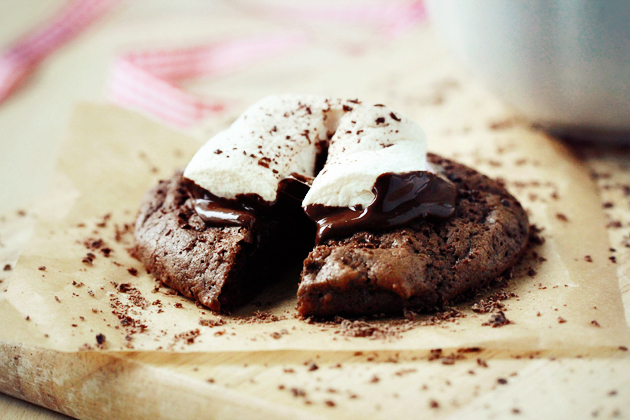 16. Transfer the pan to a cooling rack to cool for 5 minutes.

17. Grate some of the remaining chocolate over the hot cookies.

18. Using a spatula, transfer the cookies to a cooling rack.

19. Repeat the process with the remaining dough, marshmallows and chocolate. Bake each batch on a clean sheet of parchment.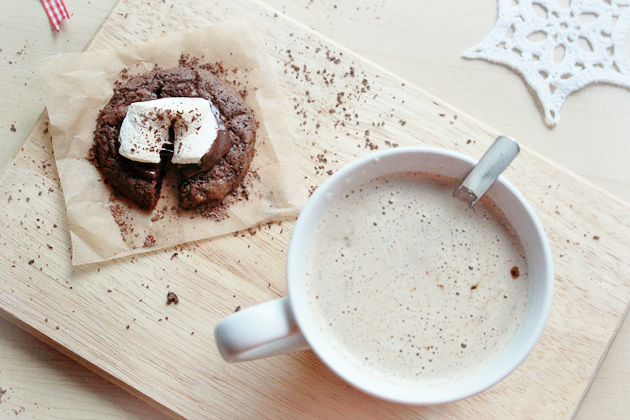 And most importantly, enjoy this deliciousness, dear friends.

Love,
Petra

(This gorgeous recipe was adapted from Pipandebby.com. It makes about 20 cookies.)