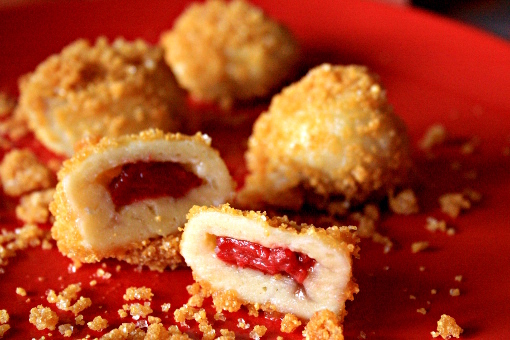 OK, the first plan today was to make plum dumplings, because I had some plums in the fridge from our last visit to my parents'.  As I was gathering the ingredients I opened the fridge and, to my surprise, the plums were gone.
My boyfriend, though he had been informed about my plans with them, just did what felt right for him last night.
What can you say?
Let's make strawberry dumplings!
And good they were!
~~~
These are the ingredients.
To make the dough you need:
4 larger potatoes
1/2 tsp salt
1 tbsp butter, softened
2 eggs, beaten
1 cup (130 grams) all-purpose flour, or as needed
To fill the dumplings you need:
about 20 fresh or canned strawberries, cut in halves
sugar
And to cover the dumplings you need:
1/2 cup (115 grams) butter, melted
1/2 cup (100 grams) white sugar
1 cup (120 grams) bread crumbs (I used grind corn flakes)
~~~
This is how it was all put together: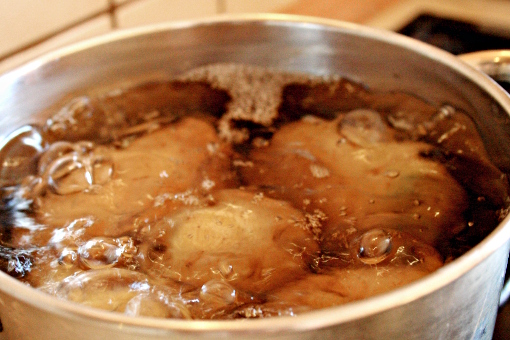 1. Clean the potatoes thoroughly and place them into a pot with enough water to cover.
Bring them to a boil and cook until tender. It should take about 35 minutes.
Then drain and let cool.
When potatoes are cool enough to handle, peel and mash them. Set aside to cool.
2. In a large bowl, mix together the prepared potatoes, salt, eggs and flour until well blended.
If the dough is still wet and very sticky you can add more flour. But be careful not to add too much because then the dough gets too tough and we don't want that.
Turn the dough out onto a floured surface and knead until smooth.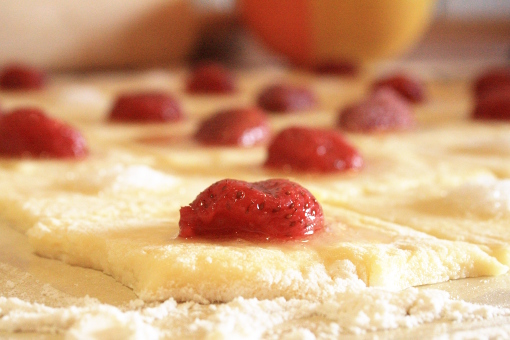 3. On a well floured surface roll out the dough to 1/4 inch (0,6 cm) thickness.
Cut the dough into even squares of about 2 1/3 inches (6 cm).
You can put 1/2 tsp sugar on each square (that is optional, but if you use fresh fruit, it is fine to use the sugar, because the fresh fruit is not so sweet).
But look at me!
I used canned (quite sweet) strawberries but still had put the little heap of sugar onto each square.
Somebody likes it sweet!
And then place a strawberry half on the top .
4. Bring the corners around to the top, …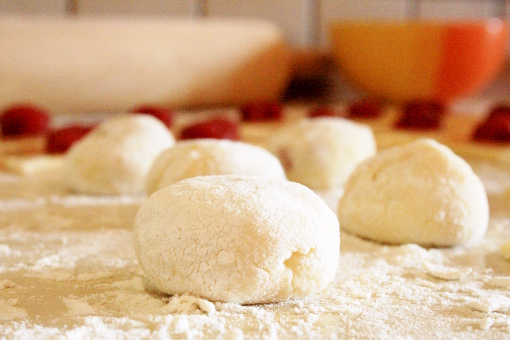 … pinch together all the seams to seal and form a nice neat dumpling.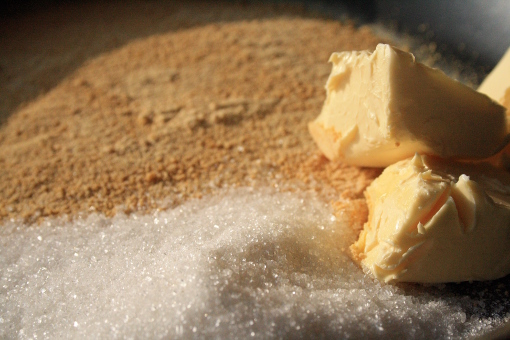 5. Melt the remaining 1/2 cup (115 grams) of butter in a pan over medium heat. Stir in bread crumbs and 1/2 cup (100 grams) of sugar. Continue to cook and stir until browned.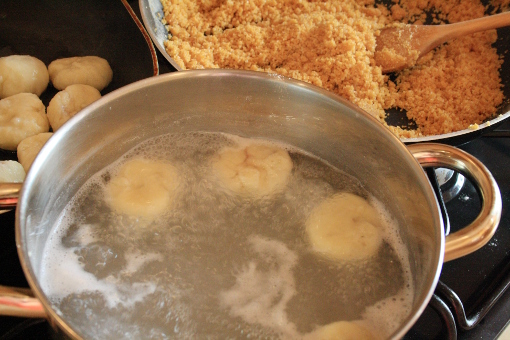 6. Bring a large pot of water to a slow boil. Place about 6 dumplings into the water at a time. Once they float to the surface (sometimes I have to help them, because they get stuck on the bottom), continue to cook them for about 5 more minutes. Transfer cooked dumplings to a bowl.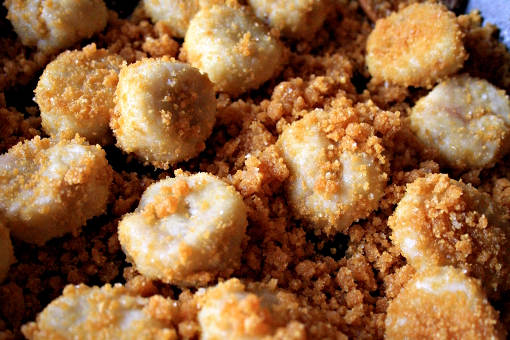 7. Roll warm dumplings in the mixture until covered.
These dumplings can be filled with many other fruits like plums, apricots or anything else you dare to put in them.
If you'd like to see more of my posts, click THIS.