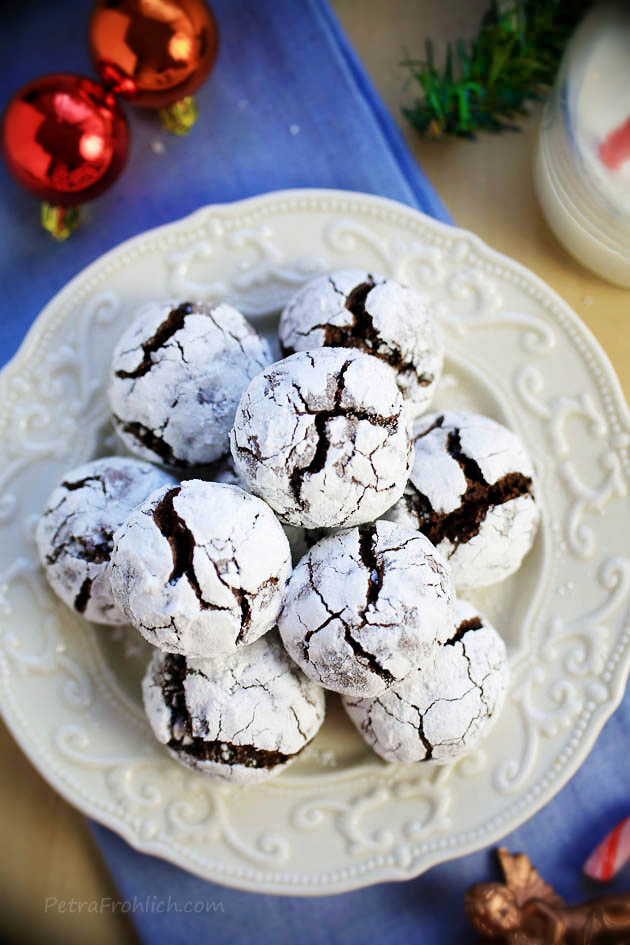 If you are looking for some last minute Christmas cookie ideas, then I am here to tempt you with these amazing chocolate crinkle cookies today.

They are super easy and quick to make, they are full of gorgeous chocolate flavor and they are just irresistible.

A perfect kind of cookies for gifting, party guests or maybe for Santa even.

Happy baking and Merry Christmas to all of you!!!

With love,
Petra

 
Chocolate Crinkle Cookies
Author:
www.ZoomYummy.com
Prep time:
Cook time:
Total time:
Ingredients
1 + ⅛ cups (150 grams) all-purpose flour
½ cup (40 grams) unsweetened cocoa powder
1 tsp baking powder
¼ tsp salt
¾ cup brown sugar
¼ cup (60 ml) vegetable oil
2 eggs
1 tsp vanilla extract
1 cup (90 grams) semisweet chocolate chips or chunks
½ cup (60 grams) powdered sugar (for coating)
Instructions
In a medium bowl, whisk together the flour, cocoa powder, baking powder and salt until combined. Set aside.
In the bowl of a stand mixer, add the oil and brown sugar. Beat for 2 minutes.
Add in the eggs, one at a time, beating until combined.
Add in vanilla until combined.
Then gradually fold in the flour mixture. Beat on medium-low speed until combined.
Finally fold in the chocolate chips or chunks.
Form the dough into a ball, place it in a bowl and cover with plastic wrap. Refrigerate for at least 2 hours.
When you're ready to bake the cookies, preheat the oven to 350°F (175 °C).
Line a large cookie sheet with parchment paper. Scoop the powdered sugar into a small bowl.
Roll the dough into 1-inch (2.5 cm) balls, dip each ball in the powdered sugar until it is completely covered on all sides and then place the dough balls at least 2 inches apart on the prepared baking sheet.
Bake for 12 minutes, then remove and let the cookies cool on the baking sheet for 3 minutes. Transfer the cookies to a wire rack, and let them cool completely.
Enjoy!
This recipe was slightly adapted from GimmeSomeOven.com.