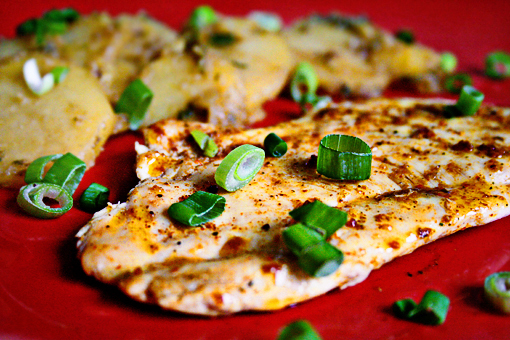 As you might have noticed, my greatest passion is to prepare simple and healthy dishes for this blog.
Okay, sometimes I just break loose and prepare a sweet little dessert.
Okay, okay …you mostly see me preparing desserts and you might have heard me saying about a million times how much I love baking and how I can't live without it, but listen folks – I am attending a wedding this Saturday and really need to squeeze myself into that cute dress I haven't even bought yet. That is the main reason why I've been treating myself to vegetable diets or lemon juice afternoons recently.
Yes, lately I've been determined to lose the weight of at least one well-fed elephant.
Or even more.
Because when I think, I think BIG.
So that is for the theory.
In practice, I'd like to note that chocolate has never tasted better than it does these days and I'll also be posting about those wonderful, wonderful cream cheese crepes soon.
And you know what?
I think I'll just blame the lack of my self-control on the full moon.
Yeah, that's exactly what I'll do.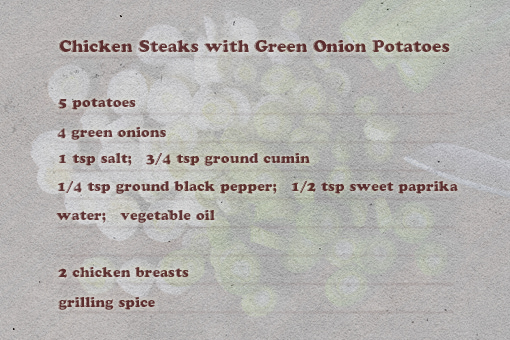 Now, back to the Chicken Steaks with Green Onion Potatoes.
This dish is truly wonderful, light and the determined ones will definitely appreciate its low calorie count.
In the picture above I am showing the ingredients that I've used to prepare it.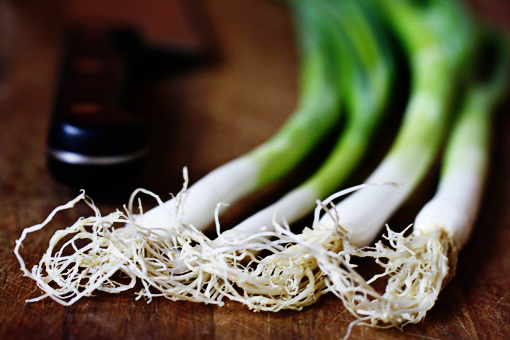 1. First, grab the young, green onions.
Aren't they just cute?
Place them on a cutting board and lop off their tops.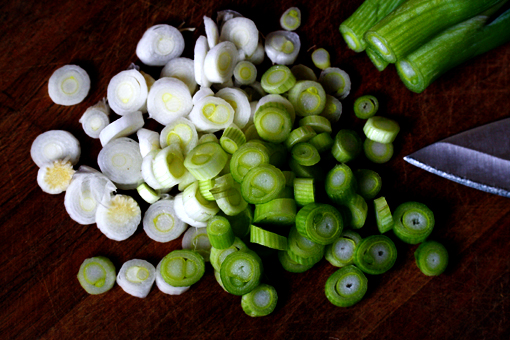 2. Slice the onions into little rounds.
Set aside a couple of the rounds for later.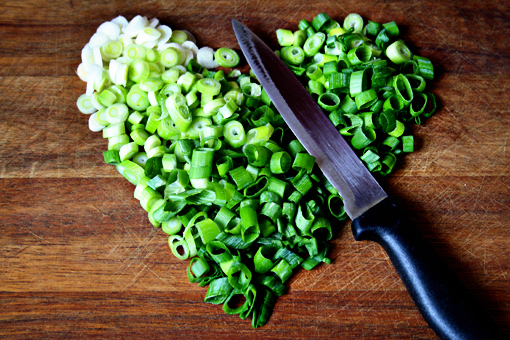 Then play with the chopped onions – form various shapes and take pictures of it all …let this activity last for the next 30 minutes or so, then start feeling really hungry and continue the cooking process.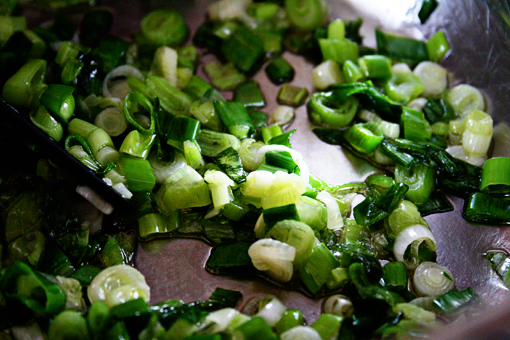 3. Heat up some oil in a medium pot and throw the onions in.
Fry them for a little while over medium heat.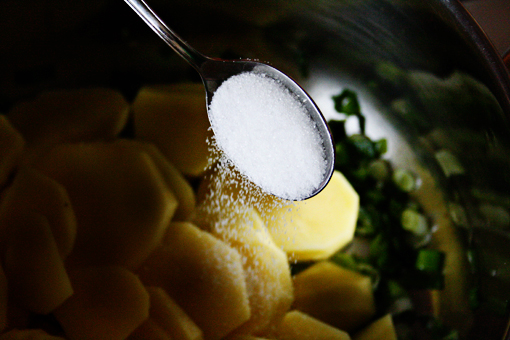 4. Peel, wash and slice the potatoes.
5. Add the potatoes to the onions.
6. Add the salt.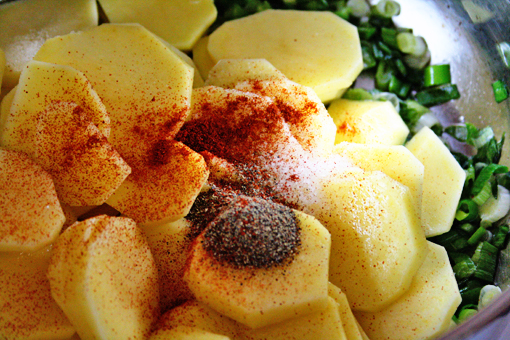 7. Then add the other spices –  red sweet paprika powder, ground black pepper and the ground cumin.
Stir it all together.
8. Add a little water – about 1/2 cup (125 ml), cover and let cook.
9. Keep your eye on the potatoes while they are cooking – stir them every now and then (!) and when the water evaporates add some more (this thing likes to burn a little so make sure there's always at least a little water in the pot).
The whole process – just until the potatoes were done – lasted (in my case) about 30 minutes.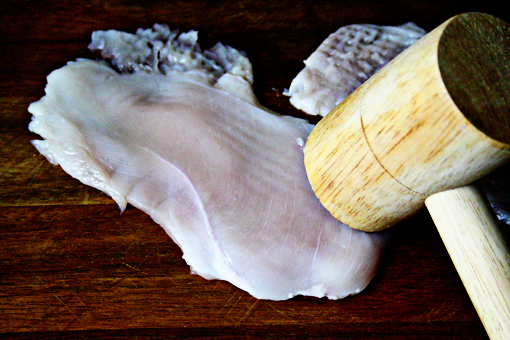 10. In the meantime, wash the chicken breasts and slice them in half lengthwise.
11. Pound the breasts lightly so that they are of even thickness.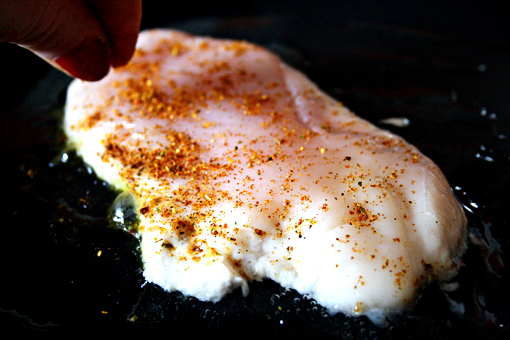 12. In a pan, heat up some vegetable oil.
13. Put the breasts in the pan and sprinkle them with your favorite grilling spice.
14. Fry over medium heat for about 5-7 minutes. Then turn the meat, sprinkle the other side with the grilling spice and  fry for another 5-7 minutes.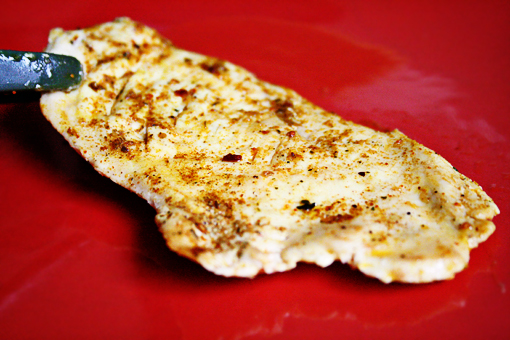 Now place your lovely, fragrant steak on a plate…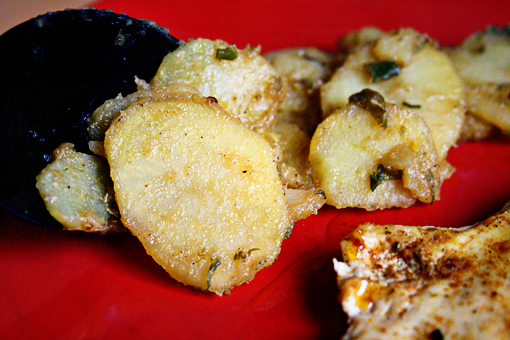 … and add the delicious, irresistible potatoes.
Yummy!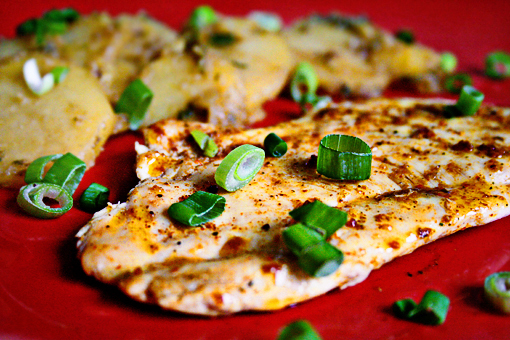 Sprinkle with the remaining onions that you've set aside.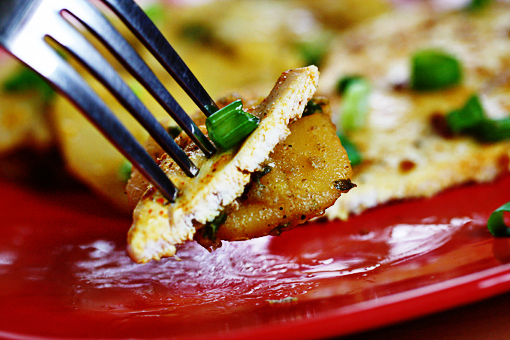 And enjoy, dear friends.
It's really good – even my man said so!
(This recipe makes 2 portions.)