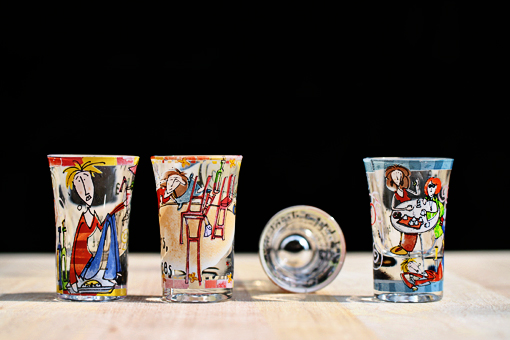 When this house-sitting mission of mine is over and I come back home I am going to have a giveaway.
I am SO going to have a giveaway!
I just can't wait.
Though I can't reveal exactly what the prize will be, I think I am allowed to describe it remotely in a few words. It's going to be funny, cute, very funny, you can play with it, it resembles the subjects in the picture above but there's much more and …have I mentioned it's going to be very funny?
Well, you'll see.
Back to the shot glasses above now …of course, they belong to my Mom. I suppose you might have gotten used to me chronicling Mom's colorful stuff during these days when I am defending my parents' house like a knight in shining armor.
These shot glasses are one of the most funny ones I have ever seen…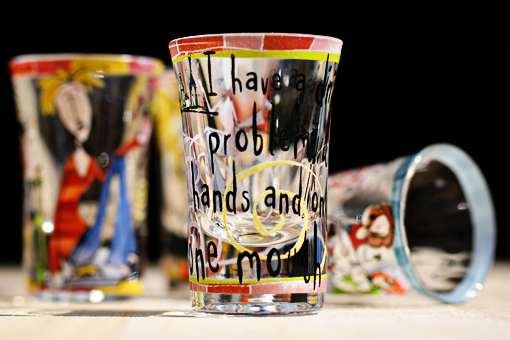 Not only are they wonderfully cheerful and colorful, they also want to reveal little snippets of an avid drinker's life.
An avid drinker once said: 'I HAVE A DRINKING PROBLEM – TWO HANDS AND ONLY ONE MOUTH.'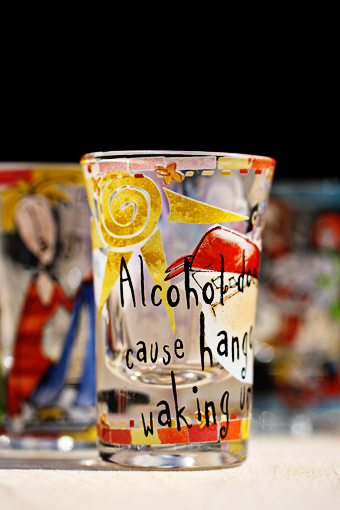 He/She has also once been overheard revealing this memorable truth: 'ALCOHOL DOESN'T CAUSE HANGOVERS, WAKING UP DOES!'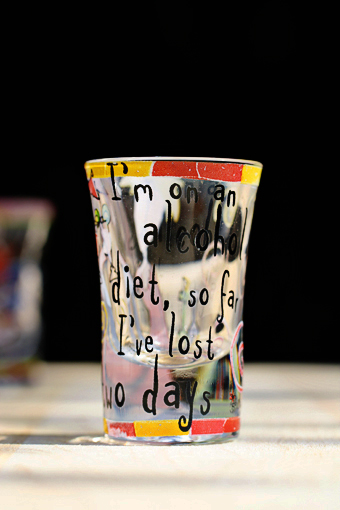 Oh, and I can totally feel what this person has to say: 'I'M ON AN ALCOHOL DIET, SO FAR I'VE LOST TWO DAYS.'
In my earlier (read: brain-absent) years, there were a lot of wine diets. They involved a lot of working by day and a couple of wine glasses by night.
And let me tell you, it worked wonders.
Though I'd like to try it again these days, I can't – my boyfriend just doesn't allow me.
At least I have the sweet memories to cherish…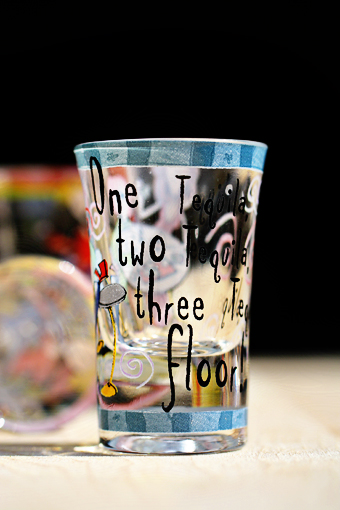 'ONE TEQUILA, TWO TEQUILA, THREE TEQUILA, FLOOR!'
I think that if this shot glass had more space for words there would definitely be the word 'bathroom' standing right before the word 'floor'.
I might or might not know a little about that …which might or might not be the reason why I am not a big fan of tequila.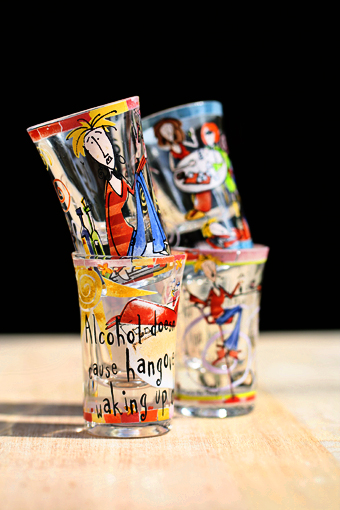 Another crazy, colorful, head-spinning tour is over, dear friends.
I hope you enjoyed it.
There's more to come soon …so stay tuned!
With love,
Petra
*hiccup*